Aadrai Waterfall Trek - Unexplored Jungle
At a short distance from Mumbai, Aadrai Jungle trek Waterfall in Malshej Ghat near Naneghat is an easy trek suitable for beginners and solo travelers. Andarban and Aadrai both are well known and similar but Aadrai is Less-crowded when compared to Andharban. Get ready for a memorable experience with Mischief Treks as we take you to the breathtaking Aadrai Waterfall Jungle trek in Malshej Ghat, Maharashtra. The name 'Aadrai' translates to 'uninterrupted flow' in the local language (Marathi), which perfectly captures the beauty and grace of this majestic waterfall. We take you to a completely Non-Crowded and unexplored Route away from the crowd. So, pack your backpacks, lace up your hiking boots, and join us for an adrenaline-pumping adventure like no other. Join us to explore the Unexplored Jungle route.Other popular locations are Naneghat, Nanemachi, Kalsubai, Malshej Ghat, Kalmandavi, Devkund, Visapur, Sandhan Valley, and God Valley. The route for Aadrai trek does not cover Kalu Waterfall, if you wish to visit Kalu Waterfall click here
One Day Trek
06 Oct, 06 Oct, 07 Oct, and more
Aadrai Waterfall, Maharashtra
Highlights
What makes this event special
Go on a Completely unexplored Non-Crowded route
Witness 2 Majestic Waterfall (Non Crowded)
Trek through the lush greenery of the Sahyadri Range
Enjoy a peaceful and less crowded trekking experience
Suitable for all age groups, making it a perfect adventure for families, friends, and solo travelers alike.
Walk admist dense forest to reach Waterfall.
Visit Nageshwar Temple and Ancient caves
Take a Dip into the natural Pond near Nageshwar Temple.
Aadrai Jungle trek | Non-Crowded | Offbeat | By Mischief Treks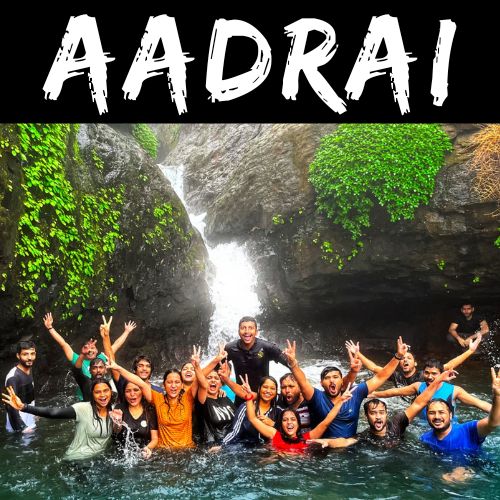 Album link: https://photos.app.goo.gl/KsSp65Mq4Euo6YWP7
Charges for Aadrai Waterfall Trek:
Without Mumbai Pickup: ₹ 750
(Participants need to reach the base village in their own vehicle)
With Pickup from Mumbai: ₹ 1400
(A Bus Pickup from Mumbai will be provided)
Aadrai Waterfall Jungle Trek Information

| | |
| --- | --- |
| Height/Altitude | 758 meters (2490 ft) |
| Base Village | Khireshwar, Maharashtra, IN |
| Best time to visit | June-October |
| Difficulty Level | Easy ( Click Here ) |
| Total Trek Distance | 7.5 Kilometers |
| Batch Size | 30 Participants |
| Organizer | Mischief Treks |
| Transport/Travel | Mumbai pickup available |
Note: Even the most "Easiest" trek is basically a TREK and not a tour or picnic. Its impossible for an Unfit person to complete even 50 percent of the easy trek. He/she may feel that the easy grade trek is actually words most "Difficult " trek. Please make sure you are fit to trek before booking. To understand What is Trek ( click here )
Itinerary
Timeline of the event.
Meeting Point:
Bus Pickup: Borivali (SNGP) - 10:45 pm
Self Drive: Those coming by own car need to reach Kalyan Bypass by 01:10 am and follow our vehicle till trek location (Those travelling by own vehicle to the base village).  
Three hours prior to the event date and time, we will be creating a WhatsApp group for coordination purposes. Exact GPS locations for each pickup point, coordinator contact, Live location of bus, etc will be shared in the group.
Bus Pickup points
11.00pm : Borivli  East (SGNP gate)
11.10pm : Goregaon - Pathanwadi Oberoi Mall
11.20pm : Andheri - Start of andheri flyover
11.30pm : Bandra - Kala Nagar WEH Bus Stop
11.45pm : Sion Station
12.00am : Amar Mahal bus stop, Ghatkopar/Chembur
12.35am : Thane - Teen haat naka
01.10am : Kalyan - NH3,  Kalyan bypass
Aadrai Waterfall Trek Schedule:
Reach base village approximately by 4:30 am
Rest and freshen up, have breakfast
Introduction and safety instruction session and start trekking towards the waterfall around 6.30am in dense forest.
Walk through A Non-Crowded Scenic route and reach our First Waterfall, spend good time here and then move towards our next waterfall. 
Start Descend around 11:00 am
Around 12:30 pm head back to base and have lunch
Start return journey to Mumbai around 2:30 pm 
Reach Mumbai tentatively by 08:00 pm depending on traffic conditions. 
Inclusions/Exclusions
What we'll give. What we won't
What is included in the tour
Pickup and Drop from Mumbai 
(If opted for)
Breakfast and Tea
Lunch Veg and Jain
Basic First Aid 
Trek Expertise charges
Safety Equipment charges
Govt / Local Body Charges as applicable
What is NOT included in the tour
Bottled water.
Any other expenses that are not mentioned above in inclusion section.
Any emergency evacuations/rescue (if required)
Identity proof.
Reliable shoes with good grip and extra pair of floaters.
Water (minimum 2 Ltrs) Compulsory.
Rain gear - windcheater/raincoat/poncho.
Keep your phone fully charged.
Mosquito repellent (optional)
Some ready-to-eat food like biscuits, plum cake, etc to keep your tummy happy.
Medicines (if you need any), Glucon D / Electrol / Enerzyl Powder (We will have a basic first aid kit with us).
A haversack to put all your things. Your hands need to be free while trekking.
And most imp thing, carry lot of enthusiasm and team spirit.
date & duration
Variant
price
Please do not apply to join our group if the terms and details mentioned on this page are not agreeable to you.
Fitness: Please make sure you are Physically Fit to complete the event and BEFORE Booking you have gone through all the details, FAQ, Points to note, About Us, and Disclaimer.
Food: The food during the event is home cooked food provided by local villagers living in tribal (Aadivasi) region. If you are choosy, cranky and grumpy about food, please avoid joining this event.
Transport: Mischief treks does not own busses, Jeeps, Trains, or Flight. The transport options are hired by us just like people hire Ola/Uber/Auto/Taxi/Train. Any issues regarding the transport vehicles need to be addressed to concerned transport service provider. Pickup-and-Drop for the event is arranged only as "help" towards common means to travel together, Mischief Treks does not provide transport services or takes any liability regarding the same. Our role and responsibility starts from base village where the trek conducted by us begins.
Trekking Shoes: Wear reliable shoes with good grip, the sole of the shoe gets ripped off if the shoe is not in good condition.
About us: Don't forget to check the About-Us page if you are new to trekking in Maharashtra.
Punctuality: In any adventure or sport event punctuality and discipline is utmost important. If you are late in catching the train/bus/cab, you will miss-out the pickup and will be considered dropout. If you are travelling in your vehicle, you may miss joining the group you are late. This is a group event and will not be personalized as per your timing.
Discounts: To be honest, Discounts and coupon codes are just a marketing trick to fool people. No one offers something below the pre-decided rate slab. The charges on website haven't yet been adjusted (inflated) to provide for discounts. Mentioned amount is the lowest actual charges and hence discounts are currently not possible. Each organiser charges a certain amount based on his understanding regarding 'Worth' of his own event.
Weather: This is a Monsoon Trek specially formulated according to past 10 years data of rainfall. This event is not suitable for Summer or Winter. The event is scheduled to be conducted unless road is blocked, train services are suspended, or Government issues a Ban for this location.
Batch Size: We Do-Not conduct trek with 100-150 people in the group. Our batch size is limited and we prefer to have a Non-Crowded group for safety reasons.
KYC Form: Once you have paid for the event you will receive a KYC form on WhatsApp as soon as your payment is verified by system. You need to submit this form within 3 hours of receiving the form. If you have booked for your friends too, you need to ask each of your friend to get this done. If you are booking just 1 day prior to event, the form needs to be submitted immediately to avoid any inconvenience (Refer FAQ section below)
CAUTION: Please be aware that even the easiest trek is fundamentally a "Trek," not a Tour, Hike, or Picnic. It's crucial to understand that an unfit individual might struggle to complete even half of an easy trek. Based on our prior experiences, an unfit person might perceive an easy-grade trek as the most difficult trek. Prior to making a booking for the event, ensure that you are in good physical and mental condition for trekking.
​To understand What is Trek ( click here )
How to Reach Aadrai Waterfall:
To get accurate travel info for reaching the meeting point at Aadrai and then moving further to the Base village:
Open Google search tab
Type the following words in the search window "My location to Aadrai Waterfall distance"
You shall get the exact time required to travel, modes of travel, and distance (kilometers) from your location.
FAQ - Frequently Asked Questions
Points to Note and FAQ's For Aadrai Waterfall Trek
Q. Can someone read out all details for me on phone?
Ans. All the details are mentioned on this page itself, once you scroll up you will all info on your screen. Sorry we do not verbally provide details on phone as it usually creates lot of misunderstanding and miscommunication. Also, its extremely important to read and understand all the details before you book the event so that you have absolute clarity. If something mentioned on this page is confusing , you can get clarity on chat by clicking on chat with us button on top. To discuss things that are not mentioned on this website we can arrange a callback from one of our trek leaders.
Q. I have booked/paid for the event, is my booking confirmed for the event?
Ans. No !, your booking can become invalid if you do not submit the "Most Important Details" required for emergency situations. For any Trek/Adventure event the organizers need to have your details at least 24 hours prior to the event. We do not allow anyone to the campsite until we have complete and authentic details of the person. This info is crucial in case of an emergency and is a mandatory KYC parameter. The link for the "personal details form" will be sent on WhatsApp immediately after you complete the booking instructions mentioned on the website. Submitting incomplete/incorrect/fake details in the form will make your booking invalid and no refund will be provided in such case.
Q. Why is submitting emergency contact details and KYC information mandatory?
Ans. Its a standard protocol and also a guideline by Govt of India. We are accountable for every "Human-Body" present at our campsite or trek is our responsibility and in case of any unfortunate event we will be asked by authorities to provide all relevant information about you. In order to comply with the authorities we have to take authentic information from you. Fake/Incomplete information or non-submission of the details will make your ticket (paid amount) invalid and no refund will be provided in such case. You will not be allowed to participate in the event.
Q. If I have opted for "with transport", which vehicle will be provided?
Ans. Transport from Mumbai is generally provided by bus. The bus capacity varies with reference to participant count. 17 seater, 26 Seater, 32 seater etc .. , if the participant count is low we may opt for Qualis/Sumo/ Tavera for transport
Q. What is provided in meals?
Ans. Breakfast will consist of poha and tea and Lunch will consist of Roti, seasonal veg, dal, rice, papad and pickle.
Q. Does the cancellation policy/rescheduling policy apply to me if I book on event day or last day?
Ans: Yes, the policy is applicable irrespective of the booking date. The cancellation / reschedule policy is applicable to everyone with immediate effect from the date and time of booking. The refunds/rescheduling requests will be processed based on the date and time of cancellation/reschedule request sent to us and the date and time of booking the event are irrelevant.
Q. What is the basis of cancellation/reschedule policy in case of medical or personal emergency of participant or organizing team?
Ans: The cancellation policy is based on fairness towards the participant and the organizing team. In case of medical/personal emergency, the loss arising out of cancellation/reschedule will be borne by the respective person. i.e. if the organizing team faces an emergency situation and the event gets canceled, the participant will not have to suffer financial loss. Similarly, if the participant faces an emergency situation, the organizing team will not have to suffer financial loss. The cancellation policy is designed with a completely unbiased approach towards the participant and organizing team and is aimed at fairness towards both.
Q. What if there is an issue with transport, i.e. the bus breaks down, AC is not working, tyre gets punctured? will we get a refund?
Ans. Mischief Treks as a team conducts treks only. All the support functions like transport, food etc are sourced from various other vendors to help the participants have it streamlined. Equipment failure can happen any time with any piece of machinery and we can try to get a replacement/repair from the vendor. This may consume time and the trek leader may decide to continue the trek as deemed fit to get the event completed. We as well as the participants have to bare with it. There are no refunds possible in such case. The Trek leader's decision to terminate the trek or continue the trek with available resources will be final and binding.
Q. We are coming by our own vehicle for the event, where should we reach for Aadrai Waterfall Trek?
Ans. You need to reach the Meeting point at scheduled meeting time. This is where we will be meeting, from here you can follow our vehicles. You will be given exact coordinates after you finish booking formalities. We will be creating a WhatsApp group for coordination, you will be provided all relevant details in the group. Please do not be late, we cannot keep other participants waiting. If you are not able to reach on time you will be considered a Drop-Out and no refund will be provided in such case.
Q. How many people will be coming for Aadrai Waterfall Trek?
Ans. Depends on the number of people booking the event. Generally, the batch size is approximately 20-25 participants. It is a Public place and we have no access to data on other organizers' bookings hence we cannot comment on the exact number of people planning to visit this place on a given date.
Q. Can kids participate in Aadrai Waterfall Trek?
Ans. Age does not matter, Fitness and adaptation is extremely Important. Once we had a 4 year old girl who completed entire trek easily, and sometimes even 22-25 year old people cant complete 10% of the event . If you are planning to trek with a kid , I recommend you to go through this Check this Blog: https://www.mischieftreks.com/can-kids-trek-in-maharashtra
Q. Is Aadrai Waterfall Trek safe for solo participants?
Ans. Yes Trek is safe and comfortable. Mostly 40% of the participants come solo and blend in with the trek leaders and the rest of the group.
Q. Is Aadrai Waterfall Trek safe for girls?
Ans. Mischief Treks has a track record of making our trekking and camping events extremely safe for girls. Normally 60 – 75 % of our participants are females. Apart from standard risks of any adventure activity, Mischief Treks events are safe for girls, women, kids and especially Men.
Q. How long is the Aadrai Waterfall Trek?
Ans. Normally it takes two hours to ascend and two hours to descend.
Q. Is Aadrai Waterfall Trek better than Andharban?
Ans. Yes, Aadrai is ten times better and beautiful as compared to Andharban trek. Aadrai has several water streams, valley crossing, and beautiful view of the Sahyadhri range of mountains. Whereas, Andharban has lost its charm due to overcrowding.
Q. Can we pay in cash or installment for Aadrai Waterfall Trek ?
Ans. Sorry we do not accept cash payments. For installment scheme you will have to pay one-time processing fee of Rs.500 per person.
Q. What is the last date of booking the Aadrai Waterfall Trek?
Ans. Bookings close once tickets are sold out. Ideally you need to book atleast 2-3 days in advance.
Q. How should I book the Aadrai Waterfall Trek?
Ans. All you have to do is press the book now button on this page and follow the instructions.
Q. How do we get in touch after reaching meeting point?
Ans. We will be creating a whatsapp group for coordination where you will be provided all the necessary information regarding contact person, exact point to meet etc..
Q. Will we be returning at exact time mentioned in the itinerary?
Ans. The Itinerary is for reference purpose only, it is based on average time taken during our previous events. Actual timeline for a particular date depends on Weather conditions, Traffic Conditions, Participants speed and endurance.
Q. Which are the best waterfalls near Mumbai?
Ans. There are several waterfalls at close proximity to Mumbai, these are best suited for one day visit, and are part of One-Day Trek by Mischief Treks. The most popular waterfalls are as follows:
Devkund waterfall
Nanemachi Reverse waterfall
Naneghat Waterfall
Aadrai waterfall
God Valley waterfall
Bhandardara Reverse Waterfall
Adoshi Waterfall Khopoli
Bendewadi Waterfall
Dabhosa Waterfalls
Devkund Waterfall
Dugarwadi Waterfall
Hidden Waterfall Cliff Jumping
Hidden Waterfall Rappelling
Hiradpada Waterfall
Juinagar Waterfall
Kalmandavi Waterfall
Kataldhaar waterfall
Kumbhe Waterfall
Kundmala Waterfall
Kune Falls
Lingya Ghat Waterfall
Milkybar Waterfall
Reverse Waterfall Lonavala
Secret Waterfall Cliff Jumping
Secret Waterfall Jungle Trail
Secret Waterfall Trek
Vihigaon Ashoka Water Falls
Waghoba Waterfall
Mischief Treks Secret waterfall is also one of the most desired locations in Monsoon. Rappelling activities are also done during monsoons in most of the waterfalls near Mumbai.
⭐⭐⭐⭐⭐
Aggregate Rating: 4.85 out of 5
Rating count: 2431
---
Information on Malshej Ghat:
Malshej Ghat, a magical paradise nestled in the Western Ghats of Maharashtra, comes alive during the monsoon season, revealing its true beauty. As the rains grace the region, Malshej Ghat transforms into a breathtaking spectacle of nature's beauty. The ghat is adorned with countless waterfalls that gush down the mountains. The mist-covered valleys and lush greenery paint a picture of serenity, making it a haven for nature enthusiasts and photographers alike. One of the highlights of Malshej Ghat during the monsoon is its diverse birdlife. For adventure seekers, Malshej Ghat offers exciting trekking opportunities. The Aadrai Forest Trek, Kalu Waterfall Trek, Ganpati Gadad Trek, Naneghat Trek and Harishchandragad Trek are all based in the same region.
The monsoon season, from June to September, is undoubtedly the best time to experience the beauty of Malshej Ghat. So, pack your rain gear, embrace the monsoon spirit, and get ready to immerse yourself in the breathtaking landscapes and natural wonders of this monsoon paradise.
Best Treks in Malshej Ghat for Monsoon:
---
Non-Crowded Trek Location near Mumbai
Discreet, Serene and offbeat trekking location.
We are mischief Treks are constantly looking for providing true nature experience to our participants. But, unfortunately people wish to go for treks that are extremely overcrowded to the extent your body starts stinking with sweat of random strangers. All this for just for viral social media content. On the other hand those who wish to experience Exclusive Non-Crowded treks we will surely keep hosting such treks as this one. The Aadrai Waterfall Trek by Mischief Treks is one of the true nature experience efforts by Mischief Treks.
---
Events by Mischief Treks
---
Tours starting from Mumbai
---
Following are the most sought-out one day treks in Maharashtra. These treks are suitable for a day visit and offer adventurous experience during Monsoon and Winter season.
Bhandardara Trek
Jivdhan Fort Trek
Karnala Bird Sanctuary
Karnala Fort Trek
Kataldhar Waterfall Trek
Koraigad Trek
Korigad Trek
Kundalika Valley Trek
Lohagad Trek
Madhe ghat Waterfall Trek
Nanemachi Trek
Raigad Fort Trek
Raireshwar Trek
Rajgad Fort Trek
Rajmachi Trek
Sanjay Gandhi National Park
Sinhagad
Sudhagad Fort Trek
Takmak Fort Trek
Waterfall Rappelling
---
September 17, 2023 Update: Weather conditions at Aadrai Jungle
The weather in the month of September is pleasant, slight drizzle is expected late at night. The visibility is clear and night sky looks splendid. Average temperature for the day expected to be around 27°C. Chance of rain 25%. The terrain has started filling up with tiny flowers. These flowers are called 'Sonki' flowers.
Aadrai Jungle Trail - Start Point, Khireshwar, Maharashtra, India
View on Map
Cancellation, Rescheduling And Refund Policy
90% will be refunded if canceled 15 days (360+ hrs) in advance.
75% will be refunded if canceled 10 days (240+ hrs) in advance.
50% will be refunded if canceled 05 days (120+ hrs) in advance.
0% refund if canceled in less than 05 days (120 hours) of the event date and time.
0% refund if the participant drops out, misses bus pickup, or does not reach the meeting point on the scheduled date and time.
If the event itself gets canceled, you will be given the option to switch to any other event or any other date, Or you can opt for 100% refund. If you need to cancel your current booking and/or reschedule your booking to any other date, it can be done free of cost if the rescheduling request is sent 120 hours prior to the trek. From 0hrs - 120 hours prior to the trek date and time free rescheduling is not permitted. It will be counted as cancellation done in less than 120hours the of event date and time. It's a humble request, please do not give medical reasons, crib, argue or try to blackmail us if you drop out or cancel/reschedule the trek in the last 5days. The basis of the cancelation policy is to protect the participant and the organizers from undue financial losses arising out of unforeseen situations. If the event gets canceled due to the medical/personal emergency of the organising team member, the participants will not have to suffer financial loss. Similarly, if there is a medical/personal emergency at the participant's end, the organizing team will not have to suffer financial loss.