Ratangad Trek - The Jewel Fort
Ratangad Fort is hill fort located at an height of 4255 feet above sea level. The name "Ratangad" translates to Jewel Fort in Hindi and it truly is a Jewel amongst all the forts in Sahyadri's. In October the entire fort is covered with Flowers, Colorful flowers blossom at the fort and its surrounding. We give you this Opportunity to witness these small tinzy tiny flowers. This year we'll be able to see "Karvi flowers" they grow in every 7 years and this makes the event more special this year. Ratangad has a natural rock peak with a cavity in it at the top which is called 'Nedhe' or 'Eye of the Needle'. The base village for this trek is Ratanwadi, and this fort is situated just 23 kms from Bhandardhara. This gives you an opportunity to also witness the Mesmerizing views of Bhandardhara lake. Ratangad comes under Ajoba mountain range, once you reach the top you get a panoramic view of forts and great mountains surrounding Ratangad fort. Mountains and forts like Kulang, Alang, Harishchandragad, Kalsubai, Katarabai, Ajoba and Ghanchakkar can be seen from here. There's an ancient temple at the base of the fort dedicated to lord shiva which goes by the name "Amruteshwar temple", this temple  If you are looking for Easy treks for beginners click here: https://www.mischieftreks.com/collections/easy-trek-for-beginners
Ratangad Fort trek is at a short distance from Mumbai. This is a easy-moderate difficulty level trek and one of the best One-day treks in Maharashtra. Popular treks: Harischandragad, AMK, Kalsubai, Sandhan Valley, and Aadrai. This trek is safe for Girls, Family, Couples, Women, and Solo travelers.
Charges for Ratangad Fort Trek: 
Without Kasara Pickup: ₹750 (Participants need to reach the base village in their own vehicle)
Pickup from Kasara: ₹ 1400 (A shared Jeep Pickup from Kasara will be provided)
Ratangad Fort Trek information

| | |
| --- | --- |
| Height/Altitude | 4255 ft (1296 m)  |
| Base Village | Ratanwadi |
| Best Time to Visit | June to Feb |
| Difficulty Level | Easy-Moderate |
| Ratangad Trek Distance | 5 Kilometers  |
| Duration | 6 hours |
| Charges/Fees | INR 750 onwards |
| Batch Size | 25 Participants |
| Trek Organised by  | Mischief Treks |
One Day Trek
30 Sep, 07 Oct, 14 Oct, and more
Ahmednagar, Maharashtra
Highlights
What makes this event special
Water cisterns
Blossom Season Special Trek.
Sonki and Karvi Flowers
View of Bhandardara lake
Witness waterfalls during Monsoon
Picturesque views from the top
Ancient Caves
Majestic all the mighty mountains and forts like Alang, Madan, Kulang, Harishchandragad
Ratangad Fort Trek by Mischief Treks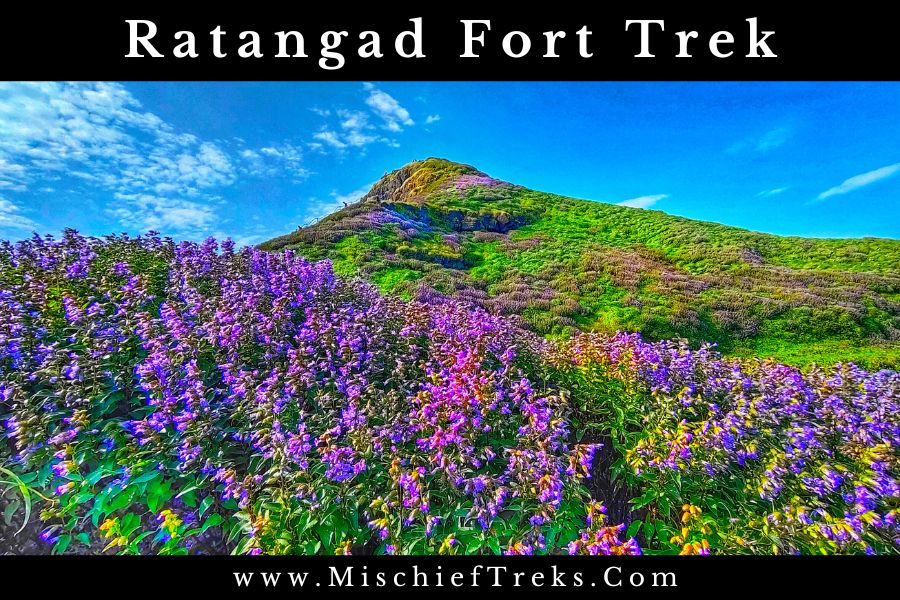 Image clicked in October 2022
Itinerary
Timeline of the event.
Meeting Point:  Kasara ticket booking counter window no 3, on platform 4
Three hours prior to the event date and time, we will be creating a WhatsApp group for coordination purposes. Exact GPS locations for each pickup point, coordinator contact, will be shared in the group.
Catch the Kasara Fast Local train from the station nearest to you
Train timings:
CSMT-9.32 pm
Dadar-9.50 pm
Kurla-10.00 pm
Ghatkopar-10.06 pm
Thane-10.27 pm
Kalyan-11.01 pm
Kasara-12.11 am
We'll meet you at Kasara ticket booking counter window no 3, on platform 4.
We will start our journey in a Jeep from Kasara station at 12.20 am. 
Our next stop will be at Baba ka Dhaba for a washroom break within 15 minutes. i.e. around 12.45 am. You can freshen up over here.
Note: Those coming in their own vehicle need to reach Baba da Dhaba before 12.20 am and follow our vehicle to the trek location in your own car/bike.
Trek Schedule
Once we meet at the meeting point we'll be heading towards our pickup vehicles. 
We would start our journey towards Harihar around 12:30 am and stop at Baba da dhaba around 12:50 am.
We'll be having a 15 mins break over here and then continue our journey towards Ratangad 
We'll be reaching base village by 05:00 am, we would rest, freshen up and have breakfast.
Post breakfast we would be having a short safety and introduction round before we start our trek.
We will start our trek by 06:30 am and enjoy the mesmerizing flowers and butterflies that we will encounter on our trek.
We'll be reaching Top by 10:00 am
Explore the majestic view from the fort 
Around 01:30 pm reach back to base and have lunch
Start return journey to Mumbai around 02:40 pm 
Reach Mumbai tentatively by 08:00 pm depending on traffic conditions. 
IMPORTANT: Please make sure you are physically fit to complete the event and before registration, you have gone through all the details,  Itinerary, FAQ, Points to note, About-Us, Fees, and Disclaimer. Do not register for events without reading and understanding the details mentioned on the event details page.
Inclusions/Exclusions
What we'll give. What we won't
What is included in the tour
Pickup and drop from Kasara ( If opted for )
Lunch (pure veg)
Breakfast and Tea
Govt / Local Body Charges as applicable
Trek expertise charges
Basic First Aid
What is NOT included in the tour
Any personal expenses such as soft drinks etc.
Any emergency evacuations/rescue (if required)
Any other expenses that are not mentioned above.
Identity proof.
Good and reliable trekking shoes and extra pair of floaters.
Water (minimum 2 Ltrs) Compulsory.
Torch with extra batteries - do not depend on the phone.
Raincoat / windcheater / Poncho.
Keep your phone fully charged.
Mosquito repellent (optional)
Some ready-to-eat food like biscuits, plum cake, etc to keep your tummy happy.
Medicines (if you need any), Glucon D / Electrol / Enerzyl Powder (We will have a basic first aid kit with us).
A haversack to put all your things. Your hands need to be free while trekking.
And most imp thing, carry lot of enthusiasm and team spirit.
Please do not apply to join our group if the terms and details mentioned on this page are not agreeable to you.
Fitness: Please make sure you are Physically Fit to complete the event and BEFORE Booking you have gone through all the details, FAQ, Points to note, About Us, and Disclaimer.
Food: The food during the event is home cooked food provided by local villagers living in tribal (Aadivasi) region. If you are choosy, cranky and grumpy about food, please avoid joining this event.
Transport: Mischief treks does not own busses, Jeeps, Trains, or Flight. The transport options are hired by us just like people hire Ola/Uber/Auto/Taxi/Train. Any issues regarding the transport vehicles need to be addressed to concerned transport service provider. Pickup-and-Drop for the event is arranged only as "help" towards common means to travel together, Mischief Treks does not provide transport services or takes any liability regarding the same. Our role and responsibility starts from base village where the trek conducted by us begins.
Trekking Shoes: Wear reliable shoes with good grip, the sole of the shoe gets ripped off if the shoe is not in good condition.
About us: Don't forget to check the About-Us page if you are new to trekking in Maharashtra.
Punctuality: In any adventure or sport event punctuality and discipline is utmost important. If you are late in catching the train/bus/cab, you will miss-out the pickup and will be considered dropout. If you are travelling in your vehicle, you may miss joining the group you are late. This is a group event and will not be personalized as per your timing.
Discounts: To be honest, Discounts and coupon codes are just a marketing trick to fool people. No one offers something below the pre-decided rate slab. The charges on website haven't yet been adjusted (inflated) to provide for discounts. Mentioned amount is the lowest actual charges and hence discounts are currently not possible. Each organiser charges a certain amount based on his understanding regarding 'Worth' of his own event.
Batch Size: We Do-Not conduct trek with 100-150 people in the group. Our batch size is limited and we prefer to have a Non-Crowded group for safety reasons.
KYC Form: Once you have paid for the event you will receive a KYC form on WhatsApp as soon as your payment is verified by system. You need to submit this form within 3 hours of receiving the form. If you have booked for your friends too, you need to ask each of your friend to get this done. If you are booking just 1 day prior to event, the form needs to be submitted immediately to avoid any inconvenience (Refer FAQ section below)
CAUTION: Please be aware that even the easiest trek is fundamentally a "Trek," not a Tour, Hike, or Picnic. It's crucial to understand that an unfit individual might struggle to complete even half of an easy trek. Based on our prior experiences, an unfit person might perceive an easy-grade trek as the most difficult trek. Prior to making a booking for the event, ensure that you are in good physical and mental condition for trekking.
​To understand What is Trek ( click here )
⭐⭐⭐⭐⭐
Aggregate Rating: 4.85 out of 5
Rating count: 2431
Trek and Tour Events by Mischief Treks
---
September 17, 2023 Update: Sonki and Karvi Flowers at Ratangad
The weather in the month of September is pleasant, slight drizzle is expected late at night. The visibility is clear and night sky looks splendid. Average temperature for the day expected to be around 27°C. Chance of rain 25%. The terrain has started filling up with tiny flowers. These small yellow flowers are called 'Sonki' flowers and the purple flowers are called "Karvi Flowers".
Cancellation, Rescheduling And Refund Policy
90% will be refunded if canceled 15 days (360+ hrs) in advance.
75% will be refunded if canceled 10 days (240+ hrs) in advance.
50% will be refunded if canceled 05 days (120+ hrs) in advance.
0% refund if canceled in less than 05 days (120 hours) of the event date and time.
0% refund if the participant drops out, misses bus pickup, does not reach the meeting point on the scheduled date and time.
If the event itself gets canceled, you will be given the option to switch to any other event or any other date, Or you can opt for 100% refund. If you need to cancel your current booking and/or reschedule your booking to any other date, it can be done free of cost if the rescheduling request is sent 120 hours prior to the trek. From 0hrs - 120 hours prior to trek date and time, free rescheduling is not permitted. It will be counted as cancellation done in less than 120hours of event date and time. It's a humble request, please do not give medical reasons, crib, argue or try to blackmail us if you drop out or cancel/reschedule the trek in the last 5 days. The basis of the cancelation policy is to protect the participant and also the organizers from undue financial losses arising out of unforeseen situations. If the event gets canceled due to the medical/personal emergency of the organising team member, the participants will not have to suffer financial loss. Similarly, if there is a medical/personal emergency at the participant's end, the organizing team will not have to suffer financial loss.