Kedarnath Rishikesh and Chopta | COMBO Tour
A trip to Kedarnath feels like opening a door to salvation. Mighty snow-capped Garhwal Himalayan ranges, legendary temple walls and one of the twelve Jyotirlingas of Lord Shiva makes this destination a once-in-a-lifetime experience. Bathe in the aura of spirituality and thrill as you trek amidst the mighty Himalayas all the way to the head of the beautiful Mandakini River.
This Combo tour to Kedarnath, Rishikesh, Chopta and Tungnath is one of best trek/tour this season. Kedarnath temple trek difficulty level is Easy. 
Kedarnath Temple, Rishikesh, Chopta, and Tungnath Combo Tour Dates
Kedarnath temple doors have opened 25th April 2023 and the temple will close on 14th Nov 2023. BEWARE, Extreme-Overcrowding can be expected in the month of April and May. Average temperature in the month of March 2023 is -3°c to 9°c. Average temperature in the month of April 2023 is -4°c to 6°c. Average temperature in the month of May 2023 is -1°c to 14°c. Average temperature in the month of June 2023 is -3°c to 18°c. Average temperature in the month of July 2023 is -7°c to 20°c. 
Combo Tour Charges 
Initial booking amount:  Rs.5000/-
Balance payment needs to be made 10 Days prior to event date and time. Total amount for the combo tour: 17999/-
Kedarnath Tour 2023 Information

| | |
| --- | --- |
|  Tour Location | Kedarnath Temple, Uttarakhand |
|  Best Time to Visit | Apr to Nov |
|  Difficulty Level | Easy - Tour  |
|  Duration | 5 Nights | 6 Days |
|  Charges/Fees | INR 17999  |
| Temple Opening Date | April 25, 2023 |
|  Suitable For: | All age groups |
|  Tour Organised by  | Mischief Treks |
|  Category |  Group Tour |
5 Nights 6 Days
22 Oct and 05 Nov
Kedarnath, Uttarakhand
Highlights
What makes this event special
Witness one of the twelve Jyotirlingas of Lord Shiva, Kedarnath Shrine amidst the snow covered mountain peaks
 Get a chance to visit the Bhairav Temple dedicated to Bhairav, a fierce manifestation of Lord Shiva
Behold the glory of Kedarnath Temple which stands tall at an average height of 11759 ft. above sea level
Seek blessings from GauriKund Temple on your way to Kedarnath which is dedicated to Goddess Parvati
Kedarnath Temple Tour From Mumbai by Mischief Treks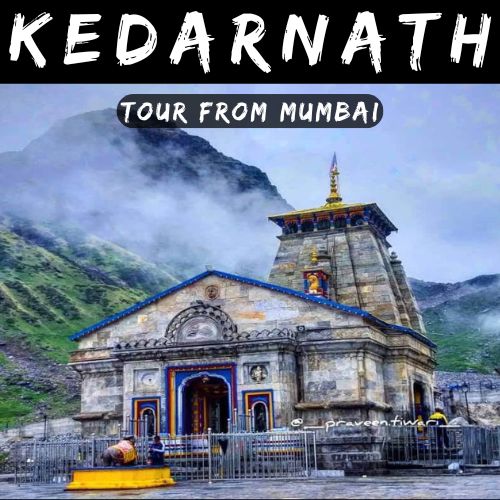 Best time to visit Kedarnath Temple is June-November 2023. This is a group tour from Mumbai, Participants may opt to travel from Mumbai along with the group, or can directly meet at Haridwar railway station. Trek to Kedarnath Temple is 16Km. The Yatra is safe and suitable for girls, women, and solo travelers.
Itinerary
Timeline of the event.
Detailed Itinerary  
Day1: Departure from Haridwar to Sonprayag
You will be picked from Haridwar Railway Station at 6:30 am and will be taken directly to the Sonprayag.
Have your lunch in the midway and you will reach the destination in the evening.
Check in into the hotel and enjoy the evening.
Overnight stay at Sonprayag.
Day 2: Trek toward Kedarnath 
Next in line is the most awaited Kedarnath Ji & Kedar Temple. We'll wake up early and start our trek towards Kedarnath. This gives you a chance to see a landscape never seen before, the on-foot trek experience is an unmatched and must-do activity. Overnight stay at Kedarnath
Day 3: Kedarnath to Guptkashi / Sonprayag
We wake up at 5 in the morning to seek the blessings of Kedarnath Ji. We start early to visit them in the brisk golden sunrise; enjoy the serenity and the sacredness of the temple. Post that we Trek down to Gaurikund and drive to Guptkashi. Dinner and Overnight stay at Guptkashi
Day 4: Guptkashi to Chopta (Tungnath)
Early Morning after breakfast we head Towards Chopta, and those who are not tired will start our trek towards Tungnath (Optional)  also cover Chandrashila peak to observe the beautiful view. This is an optional trek, people can choose to relax at the campsite. Trekkers will reach back to the base village by late evening, overnight in Chopta
Day 5: Drive to Rishikesh
In the morning Post breakfast, we drive to Rishikesh. If time permits we will attend the Ganga Arti at Triveni Ghat. Overnight at Rishikesh.
Day 6: River Rafting | Departure to Haridwar
In the morning, we enjoy thrilling River Rafting in Rishikesh. Have lunch and depart for Haridwar with memories to last a lifetime. We reach Haridwar late in the evening around 6:00 pm. One can book tickets to their respective hometown, post 7:00 pm from Haridwar.
Inclusions/Exclusions
What we'll give. What we won't
What is included in the tour
Breakfast for 5 days (except day 1)
Dinner for 5 days
Accommodation on a Triple/Quad sharing basis in Camp/Hotel/Homestay
Transportation to and from Haridwar
Local Transportation during the Trip
Trip leader
Basic First Aid
Trek expertise
Assistance in travelling
All tolls, taxes, Parking Charges
Driver allowance
What is NOT included in the tour
Any personal expenses like Insurance, laundry, phone calls, beverages
Mules or Porter's to carry personal luggage
Entry fees if any at sightseeing which is very nominal
Adventure Activities
Anything not mentioned under inclusions 
Identity proof.
Good and reliable trekking shoes and extra pair of floaters.
Torch with extra batteries - do not depend on the phone.
Keep your phone fully charged.
Some ready-to-eat food like biscuits, plum cake, etc to keep your tummy happy.
Medicines (if you need any), Glucon D / Electrol / Enerzyl Powder (We will have a basic first aid kit with us).
A haversack to put all your things. Your hands need to be free while trekking.
We will provide you with complete assistance in planning your travel from your hometown to the meeting point.
MPORTANT: Please make sure you are physically fit to complete the event and before booking you have gone through all the details, FAQ, Points to note, and Disclaimer.
FAQ - Frequently Asked Questions
Points to Note and FAQ's about Kedarnath Tour
Following are the frequently asked questions regarding Kedarnath Trek
Q. How do I get all the details about the tour, like charges, meeting time, pickup time and location, inclusion, exclusion, things to carry, etc? Can someone read it out for me on phone?
Ans. All the details are mentioned on this page itself, once you scroll up you will all info on your screen. Sorry we do not verbally provide details on phone as it usually creates lot of misunderstanding and miscommunication. Also, its extremely important to read and understand all the details before you book the event so that you have absolute clarity. If something mentioned on this page is confusing , you can get clarity on chat by clicking on chat with us button on top. To discuss things that are not mentioned on this website we can arrange a callback from one of our Tour leaders.
Q. I have booked/paid for the event, is my booking confirmed for the event?
Ans. No !, your booking can become invalid if you do not submit the "Most Important Details" required for emergency situations. For any Trek/Adventure event the organizers need to have your details at least 24 hours prior to the event. We do not allow anyone to the campsite until we have complete and authentic details of the person. This info is crucial in case of an emergency and is a mandatory KYC parameter. The link for the "personal details form" will be sent on WhatsApp immediately after you complete the booking instructions mentioned on the website. Submitting incomplete/incorrect/fake details in the form will make your booking invalid and no refund will be provided in such case.
Q. Why is submitting emergency contact details and KYC information mandatory?
Ans. Its a standard protocol and also a guideline by Govt of India. We are accountable for every "Human-Body" present at our campsite or trek is our responsibility and in case of any unfortunate event we will be asked by authorities to provide all relevant information about you. In order to comply with the authorities we have to take authentic information from you. Fake/Incomplete information or non-submission of the details will make your ticket (paid amount) invalid and no refund will be provided in such case. You will not be allowed to participate in the event.
Q. Does the cancellation policy/rescheduling policy apply to me if I book on event day or last day?
Ans: Yes, the policy is applicable irrespective of the booking date. The cancellation / reschedule policy is applicable to everyone with immediate effect from the date and time of booking. The refunds/rescheduling requests will be processed based on the date and time of cancellation/reschedule request sent to us and the date and time of booking the event are irrelevant.
Q. What is the basis of cancellation/reschedule policy in case of medical or personal emergency of participant or organizing team?
Ans: The cancellation policy is based on fairness towards the participant and the organizing team. In case of medical/personal emergency, the loss arising out of cancellation/reschedule will be borne by the respective person. i.e. if the organizing team faces an emergency situation and the event gets canceled, the participant will not have to suffer financial loss. Similarly, if the participant faces an emergency situation, the organizing team will not have to suffer financial loss. The cancellation policy is designed with a completely unbiased approach towards the participant and organizing team and is aimed at fairness towards both.
Q. How many people will be coming for Kedarnath Tour/Kedarnath Trek?
Ans. Depends on the number of people booking the event. Generally, the batch size is approximately 20-25 participants.
Q. Is Kedarnath Tour/Kedarnath Trek safe for solo participants?
Ans. Yes is safe and comfortable. Mostly 40% of the participants come solo and blend in with the leaders and the rest of the group.
Q. Is Kedarnath Tour/Kedarnath Trek safe for girls?
Ans. Mischief Treks has a track record of making our events extremely safe for girls. Normally 60 – 75 % of our participants are females.
Q. Can we pay in cash or installment for Kedarnath Tour/Kedarnath Trek?
Ans. Sorry we do not accept cash payments. There are no installment scheme.
Q. What is the last date of booking the Kedarnath Tour/Kedarnath Trek?
Ans. Bookings close once tickets are sold out. Ideally you need to book atleast 1 month advance.
Q. How should I book Kedarnath Tour/Kedarnath Trek?
Ans. All you have to do is press the Register button on this page and follow the instructions.
Q. How do we get in touch after reaching meeting point?
Ans. We will be creating a whatsapp group for coordination where you will be provided all the necessary information regarding contact person, exact point to meet etc..
Q. Will we be returning at exact time mentioned in the itinerary?
Ans. The Itinerary is for reference purpose only, it is based on average time taken during our previous events. Actual timeline for a particular date depends on Weather conditions, Traffic Conditions, Participants speed and endurance.
⭐⭐⭐⭐⭐
Aggregate Rating: 4.85 out of 5
Rating count: 2431
Kedarnath Temple, Kedarnath, Uttarakhand, India
View on Map
Cancellation, Rescheduling And Refund Policy
90% will be refunded if canceled 15 days (360+ hrs) in advance.
50% will be refunded if canceled 10 days (240+ hrs) in advance.
25% will be refunded if canceled 05 days (120+ hrs) in advance.
0% refund if canceled in less than 05 days (120 hours) of the event date and time.
0% refund if the participant drops out, misses bus pickup, or does not reach the meeting point on the scheduled date and time.
If the event itself gets canceled, you will be given the option to switch to any other event or any other date, Or you can opt for 100% refund. If you need to cancel your current booking and/or reschedule your booking to any other date, it can be done free of cost if the rescheduling request is sent 360 hours prior to the trek. From 0hrs - 360 hours prior to the trek date and time free rescheduling is not permitted. It will be counted as cancellation done in less than 120hours the of event date and time. It's a humble request, please do not give medical reasons, crib, argue or try to blackmail us if you drop out or cancel/reschedule the trek in the last 5days. The basis of the cancelation policy is to protect the participant and the organizers from undue financial losses arising out of unforeseen situations. If the event gets canceled due to the medical/personal emergency of the organising team member, the participants will not have to suffer financial loss. Similarly, if there is a medical/personal emergency at the participant's end, the organizing team will not have to suffer financial loss.