Manali Kasol and Kullu Tour from Mumbai
Celebrate Christmas and New Year Party during Manali Tour. Package includes Kasol, Kulu, Manikaran, train tickets, AC Bus, tent, and hotel/hostel booking. The option for train tickets can be excluded while booking in case you wish to arrange train travel till Delhi on your own.
Join us for a journey to Kasol, Kullu, and Manali, these cool spots up in the Himalayas. Think of this like its a perfect blend of peace, fun, and Nature's finest experience.
Kasol. It's like a village straight out of a fairy tale, with lush greenery and the Parvati River serenading you. It's so quiet you can hear your thoughts (or maybe the river's singing). 
Kullu – a place that's all about vibrant markets. It's like stepping into a crayon box, but with local crafts and super yummy snacks. You're in for a visual and taste bud treat!
And Manali... the most favourite destination where the mountains are like big, friendly giants. If you're into hiking, skiing, or just enjoying epic views, this is the spot. This trip is like a recipe for adventure and culture, seasoned with the beauty of the Himalayas. Come along, and we promise, you'll have stories to tell that are funnier than that one time you tried to dance like no one's watching!
6 Nights 7 Days
23 Dec, 30 Dec, 13 Jan, and more
Manali, Himachal Pradesh
Highlights
What makes this event special
A scenic train journey from Mumbai, offering a unique travel experience.
A visit to the serene hot springs in Manikaran.
Exploring Israeli culture and enjoying time at Kasol's charming cafes.
Thrilling Swiss camping experience in the Kullu region, complete with music and dance.
Sightseeing in Manali, including the Hidimba Temple, Tibetan Monastery, and more.
Engaging in adrenaline-pumping sports activities in Solang Valley, such as paragliding, valley crossing, and ziplining.
Experiencing the beauty of Pandoh Dam and a Pashmina shawl factory en route to Manali.
Comfortable overnight stays in picturesque locations.
Memorable encounters with natural beauty, cultural diversity, and adventure throughout the tour.
Manali Tour - Christmas and New Year trip to Kasol and Kheerganga.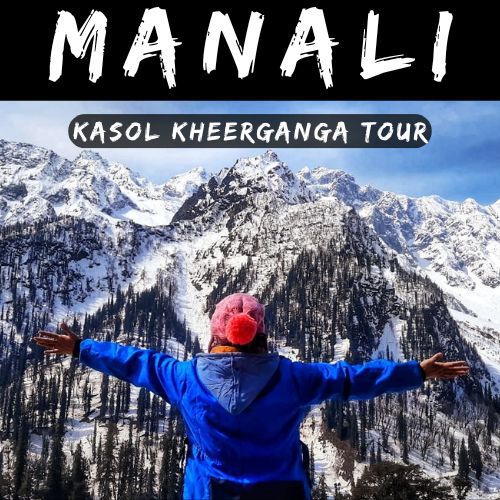 Charges:
You need to pay just pay 5000/- as partial advance towards booking. Balance amount as per options you select needs to be paid 20 Days prior to event date and time.
Charges for Other Batches:
Tour without train tickets: 14,999/-
Tour with train tickets: 16,499/-
(Train ticket from Mumbai to Delhi)
Charges for Christmas and New Year Batch
Tour without train tickets: 19,499/-
Tour with train tickets: 20,999/-
(Train ticket from Mumbai to Delhi)
| Date | Time | Status |
| --- | --- | --- |
| 23-Dec-2023 | 06:30 PM | Sold-Out |
| 30-Dec-2023 | 06:30 PM | Available |
| 13-Jan-2024 | 06:30 PM | Available |
| 21-Jan-2024 | 06:30 PM | Available |
| 03-Feb-2024 | 06:30 PM | Available |
| 23-Feb-2024 | 06:30 PM | Available |
| 10-Feb-2024 | 06:30 PM | Available |
The Event dates mentioned above are for the travel starting from Mumbai.
Itinerary
Timeline of the event.
Day 0: Travel to Delhi
Those who have opted for Train journey from Mumbai can join us at Mumbai Central at 18:30 pm, we will be boarding the Golden Temple train (12903).
Day 1: Delhi - Kasol
Reach Delhi by 13:50, People traveling by their own need to report by 06pm, The bus for Kasol departs by 19:00.
Day 2: Kasol – Manikaran | Hot Spring Of Manikaran, Kasol Tour
Begin your day in the serene heaven of Kasol. Immerse yourself in the soothing embrace of the natural hot springs in Manikaran. Dive into the tapestry of Israeli culture, wandering through the charming cafes at Kasol. As the day draws to a close, rest your head in a cozy overnight heaven nestled in the peaceful outskirts of Kasol.
Day 3: Head for Kullu from Kasol | Swiss camping
Have breakfast in the morning. We start our journey to Kullu. As we travel through the magnificent mountain landscapes, delight in the breathtaking scenery that unfolds around us. With nightfall, we arrive at our destination, where you can relish an evening of music, dance, and camaraderie in the cozy ambiance of Swiss camping.
Day 4: Off to Manali! | River Rafting, Pandoh Dam, Pashmina Shawl Factory
After an unforgettable exploration of Kullu, our journey unfolds as we set our course for our next destination 'Manali'. Post breakfast, we hit the road, eager to discover the marvels that await in this beautiful place. En route, we pause to visit the impressive Pandoh Dam and a renowned Pashmina shawl factory. Along the way, we have the opportunity to partake in thrilling sports activities, adding excitement to our adventure. By the evening, we reach the picturesque town of Manali, where a peaceful overnight stay awaits.
Day 5: Solang Valley, here we come! | Valley Hopping, Paragliding, Valley Crossing, Zippling
Start our journey to the captivating Solang Valley and immerse yourself in its breathtaking beauty. If you seek adventure and excitement, our Kullu Manali tour package has a delightful surprise for you! Upon reaching the valley, you can partake in exhilarating sports activities that promise non-stop adrenaline rushes. From thrilling paragliding to exciting valley crossing and ziplining, the options are endless. As the day unfolds, return to Manali in the evening and savor a delectable dinner to conclude today's Manali adventure. Your night's rest awaits in the charming town of Manali.
Day 6: Manali Sightseeings | Goodbye Kasol, Kullu & Manali
Following a yummy breakfast, our exploration continues with visits to the Hidimba Temple, Tibetan Monastery, Vashisht Temple, and the Museum of Himachal Culture & Folk Art. Later in the evening, we begin our journey back to Delhi, carrying with us the cherished memories of this remarkable trip.
Day 7: Reach Delhi - Tour Ends | (train journey continues) 
We will be reaching Delhi by morning and the tour ends here. Those who have booked train, will continue the journey to Mumbai or their respective cities. 
Inclusions/Exclusions
What we'll give. What we won't
What is included in the tour
Accommodation throughout your journey (For twin sharing 2000 per person extra)
Seamless Internal Transfers for your convenience
Enjoy scenic train journeys with tickets from Mumbai-Delhi-Mumbai 
(if opted for)
Breakfasts - 4 
Dinner at Kheerganga Camp & Dhobi
Evening Snack at the Dobhi Camp
AC Volvo Bus from Delhi to Kasol 
Volvo Bus Kullu from to Delhi 
What is NOT included in the tour
Meals onboard train journey.
Unforeseen handling costs due to sudden changes in weather, natural calamity, etc., aren't included in the package.
All charges related to Porter for handling your luggage at any / all locations.
Adventure Activities
Things not included in inclusions
ID Proof
Trekking Shoes Compulsory
Flashlight with extra batteries
Backpack
Sunscreen and cap
Necessary toiletries
Change of clothes – including some warm, woollen, jackets, thermals, woollen socks and a raincoat/windcheater (as Kheerganga can get quite cold even during the summer)
Bottled water – at least 3 litres and some ready-to-eat food items.
How to reach Manali:
To get accurate travel info for reaching Manali as well as driving directions follow below mentioned steps
Open Google search tab
Type the following words in the search window "My location to Manali Himachal distance"
You shall get the exact time required to travel, modes of travel, and distance (kilometers) from your location.
FAQ - Frequently Asked Questions
What is the procedure for train tickets after making payment?
Ans. Once you have made the payment for online booking, We will be sending you a KYC form (within 24-48 Hrs) to be submitted for yourself and participants in your group. After we receive the KYC details we will forward the relevant information to a ticketing agent for getting the train tickets booked in your name. The ticketing agent takes minimum 1 working day to get the processing done.
The tickets booked on your behalf will be either on RAC, Waiting List, or Confirmed Tickets depending on how soon or late you make the booking. The tickets are issued by Indian Railways, Mischief Treks or Ticketing agent cannot assure or have control on seat allocation or status of the ticket issued by Indian Railways. Our assistance is limited to get the booking done on your behalf.
Note: Kindly refer cancellation policy mentioned on this page for situations arising out of tickets getting cancelled by Indian Railways.
I have booked/paid for the event, is my booking confirmed?
Ans. No !, your booking can become invalid if you do not submit the "Most Important Details" required for emergency situations. We do not allow anyone to the tour until we have complete and authentic details of the person. This info is crucial in case of an emergency and is a mandatory KYC parameter. The link for the "KYC" will be sent on WhatsApp after you complete the booking instructions mentioned on the website. Submitting incomplete/incorrect/fake details in the form or not submitting the form within 24 hours of receiving it, will make your booking invalid and no refund will be provided in such case.
Why is submitting KYC information mandatory?
Ans. Its a standard protocol and also a guideline by Govt of India. We are accountable for every "Human-Body" present at our event is our responsibility and in case of any unfortunate event we will be asked by authorities to provide all relevant information about you. In order to comply with the authorities we have to register authentic information from you.
Does the cancellation/rescheduling policy apply immediately after booking?
Ans. Yes, the policy is applicable irrespective of the booking date. The cancellation / reschedule policy is applicable to everyone with immediate effect from the date and time of booking. The refunds/rescheduling requests will be processed based on the date and time of cancellation/reschedule request sent to us and the date and time of booking the event are irrelevant.
Can someone read out details for me on phone?
Ans. We understand that you may have questions about the event, and we're here to help. However, we want to ensure that you have the most accurate and clear information. That's why we encourage you to at least once Read the details on this page. You'll find all the information you need to know, right on your screen.
If you find something on this page that is confusing, or not mentioned on the page, Click on the "WhatsApp icon on this page" and our team will be happy to provide clarification in writing.
We don't provide details over the phone because doing so can lead to misunderstandings and miscommunication. To avoid situations like "Mujhe laga ki aap ne aaise bola tha" or "Mujhe to phone pe ye nahi batahha tha" it's recommended to once check for clarification provided on this page. It's crucial to have a complete understanding of all the aspects of this event before making a booking to ensure you have absolute clarity.
For any questions or concerns that aren't covered on this website, we can arrange a callback from one of our experienced Trek leaders. All you need to do is, let us know your query (which is not already clarified on this page) and we shall get a callback arranged.
⭐⭐⭐⭐⭐
Aggregate Rating: 4.85 out of 5
Rating count: 2431
Weather Update as on 15-Nov-2023:
The weather Manali, Kullu and Kasol is pleasant as of now, rain showers are not expected. The visibility is bit Hazy. Average temperature for the day expected to be around 22°C. The winters are closer now so soon we will be getting the news of our first snow of the season.
Cancellation, Rescheduling And Refund Policy
90% will be refunded if cancelled 30 days (720+ hrs) in advance.
75% will be refunded if cancelled 20 days (480+ hrs) in advance.
50% will be refunded if cancelled 10 days (240+ hrs) in advance.
0% refund if cancelled in less than 10 days (240 hours) of the event date and time.
0% refund if the participant drops out, misses bus pickup, does not reach the meeting point on scheduled date and time.
Cancellation based on External Factors like Weather, Train, or Natural Calamities.
If the event itself gets cancelled by Mischief Treks, The participant will be given the option to switch to any other event or any other date, Or you can opt for 100% refund. No charges will be deducted and the Participant will gets full refund of the amount paid by him/her.
If the Participant has initiated the cancellation request, The percentage of refund is applicable after deduction of third-party cancellation charges i.e. train and stay. The cancellation charges of train tickets and stay need to be paid by the participant. For this event the stay cancellation charges are 1500/- per person and train cancellation charges will be as applicable as per Indian Railways rules.
In case the train tickets booked for the tour remain in waiting until 24 hours prior to departure date, We can assist in getting Tatkal Tickets as per tatkal timing of IRCTC. Additional charges for Tatkal or premium needs to be paid by the participant as applicable.
In case tatkal or premium tatkal is not available and existing waiting list ticket gets cancelled by IRCTC, The participant will have to cancel his/her tour as per Point number 2 in this section.
Based on availability the Participant may be provided an option to reschedule the tour for a later date. The Rescheduling will be done as per residual amount after deducting stay cancellation charges and this would require differential charges to be paid by the participant.
Rescheduling request by Participant
If you need to reschedule your booking to any other date, it can be done after paying cancellation charges for stay and travel, booked for the given date.
Rescheduling can only be done based on availability for the given date.
NOTE: Please do not book this event if you do not agree to the terms and details mentioned on this page. This mutually agreed cancellation policy is applicable to the participant and us as well. The Date and time of cancellation request sent to us will be considered for calculation of the applicable slab given above. The date and time of booking the event are not relevant for calculating the number of days and hours remaining between the event date and cancellation request. It's a humble request, please do not give medical reasons, crib, argue or try to threaten/blackmail us if you drop out or cancel/reschedule the trek due to the situation at your end .
The basis of the cancelation policy is to protect the participant and the organizers from undue financial losses arising out of unforeseen situations. If the event gets canceled due to the medical/personal emergency of the organising team member, the participants will not have to suffer financial loss. Similarly, if there is a medical/personal emergency at the participant's end, the organizing team will not have to suffer financial loss.