This tour leads you to few of the Least explored travel destinations, This tour will be full of adventure, exploring beautiful places, trying local delicacy, Making new friends and loads of memories to take back home with you. This is the best suitable Tour who's looking for some change in daily monotonous Life. 
Meghalaya Kaziranga Tour Package is specially designed for people from Mumbai. This Tour is safe and suitable for Families, Couples, Groups, Girls, and Solo Travelers. We'll be visiting Shillong, Mawphlang forests, Indo-Bangladesh border, Nohkalikai falls and Mawsmai Caves
Meghalaya Kaziranga Tour Information

| | |
| --- | --- |
|  Tour Location |  Borjhar, Assam |
|  Best Time to Visit |  Oct-Jun |
|  Difficulty Level |  Easy - Tour  |
|  Duration |  6N|7D |
|  Charges/Fees |  INR 24999 onwards |
|  Batch Size |  25 Participants |
|  Suitable For: |  All age groups |
|  Tour Organised by  |  Mischief Treks |
|  Category |  Group Tour |
6 Nights 7 Days
12 Nov and 10 Dec
Borjhar, Assam
Highlights
What makes this event special
Spend some memorable time at the Umiam Lake.
Live through the different cultures at the Don Bosco Museum.
Visit the Elephant Falls at 'Shillong: Scotland of the East'.
Pay obeisance to the sacred groves in the Mawphlong forest.
Fill your heart with some patriotism at the Indo-Bangladesh border.
Take a boat ride in the cleanest river – Umngot.
Take a walk on the 'Living Root Bridge'.
Wander through Mawlynnong – awarded as the cleanest village in Asia.
Explore the Mawsmai Caves.
Click breathtaking pictures of India's tallest plunge waterfall: Nohkalikai Falls.
Take a close look at the one horned Rhino at the Kaziranga National Park.
Experience the local Assamese culture at the Orchid Park.
Meghalaya Kaziranga Tour from Mumbai By Mischief Treks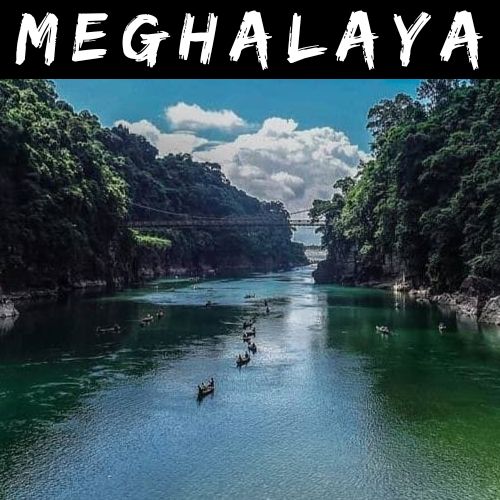 Itinerary
Timeline of the event.
Day 1: Head from Guwahati to Shillong
Hello Guwahati! Today we shall visit the Umiam Lake as we drive from Guwahati to Shillong. It is one of the most picturesque places in Meghalaya. Situated between beautiful pine covered hills, Shillong is known as the 'Scotland of the East'.  You will surely enjoy the architecture which has a British touch to it. In the evening, we shall visit the beautiful Don Bosco Museum and one can also explore the local street market of Shillong, known as the 'Police Bazar'.
After a fun day we shall have an overnight stay in Shillong.
Day 2: A Memorable Sightseeing in Shillong and a trip to Laitlum Canyon and Mawphlang forests
Today we will visit the Laitlum Grand Canyon which is a major tourist attraction. After the visit you will head towards Mawphlang forests and take a guided tour to the sacred groove. This groove is considered to be sacred since the ancient days and it has been preserved by the traditional religious sanction. If time permits, we shall also visit the Elephant Falls.
Overnight stay in Shillong.
Day 3: A day at Dawki & Mawlynnong
Today is totally going to be a thrilling day as we shall visit the Indo-Bangladesh border! 
We drive to Dawki and visit the Indo-Bangladesh border. After spending sometime at the border, get into the fun boat ride in the clean waters of Umngot River.
Here in Meghalaya, villages have their own charm and hence we takes you to the Mawlynnong Village which is located in the East Khasi Hills of Meghalaya, also known 'God's own Garden' and which is also awarded as the cleanest village of Asia. In this village you will also find the 'Living Root Bridge'. This bridge is handmade from the roots of rubber fig trees by the Khasi and Jaintia tribal groups.
Overnight stay at Mawlynnong.
Day 4: A day Scheduled especially for some Fantastic Sightseeing in Cheerapunjee (Sohra)
Today get ready for a visit to the Nohkalikai Falls and Seven Sisters Falls. Make the most of the beautiful views and click pictures. 
Meghalaya is known for the numerous caves it hosts. After the refreshing view of the Nohkalikai Falls and Seven Sisters Falls, We'll take you to the unique Mawsmai Caves. 
Overnight stay in Cherapunjee.
Day 5: Drive from Cherapunji to Kaziranga National Park
The drive is long but a scenic one as you see a transformation from the hilly terrain of Meghalaya onto the plains of Assam. En route we can spot numerous traditional Assamese homes with villagers working in the fields. A special feature of the Assamese household is a man-made fishpond made in the courtyard of every house.
After a period of relatively warm temperatures, soon we shall enter a cooler area, with fresher air, as you get closer to the national park. On reaching the homestay, relax as we sink in the silence after a long day's drive.
Overnight stay at Kaziranga.
Day 6: Wildlife Safari and Orchid Park at Kaziranga
Kaziranga National Park has two safaris – one in a Jeep and the other over an Elephant. There are 2 sessions when these safaris are conducted, one being early in the morning while the other being in the afternoon. You can opt for either or both.
Between these safaris, we visit the Orchid garden where you can find different types of flowers, over 70 species of the bamboo plant and much more. Also, we can indulge into some local cuisine & culture at the Orchid garden. 
Overnight stay at Kaziranga.
Day 7: Drive to Guwahati
Our trip concludes with the last breakfast of the trip. Post breakfast we depart for Guwahati to catch our flight/train back home.
Inclusions/Exclusions
What we'll give. What we won't
What is included in the tour
Triple/Quad sharing (as per availiblity), (Twin sharing, 2000 Per person extra)
Comfortable & Hygienic accommodation at Shillong, Cherapunjee, Mawlynnong & Kaziranga.
Breakfast & dinner
All permits & entries
Guide at Mawphlang sacred grove forest.
Boating in Umngot river
Internal travel from airport to airport.
What is NOT included in the tour
Lunch
Kaziranga Safari
Any personal expenses like cold drinks etc.
Excess stay & meals due to bad weather conditions/strikes, resulting in flight delays or any other form of transport.
Anything not included in the Inclusions.
Identity card.
Mask (Mandatory)
2 litre water.
Camera (Optional).
Enerzal Powder or Glucon D powder.
Snacks & Biscuits.
Extra Pair of Clothes.
Warm clothing for night.
Clean napkin & towel.
Sunscreen.
Torch.
Mosquito Repellent.
Cap, sunglasses, scarf.
Haversack or Backpack.
Please carry medicines if you need any.
Hand Sanitizer.
FAQ - Frequently Asked Questions
Points to Note and FAQ's about Meghalaya Kaziranga Tour
Following are the frequently asked questions regarding Meghalaya Kaziranga Tour
Q. How do I get all the details about the tour, like charges, meeting time, pickup time and location, inclusion, exclusion, things to carry, etc? Can someone read it out for me on phone?
Ans. All the details are mentioned on this page itself, once you scroll up you will all info on your screen. Sorry we do not verbally provide details on phone as it usually creates lot of misunderstanding and miscommunication. Also, its extremely important to read and understand all the details before you book the event so that you have absolute clarity. If something mentioned on this page is confusing , you can get clarity on chat by clicking on chat with us button on top. To discuss things that are not mentioned on this website we can arrange a callback from one of our Tour leaders.
Q. I have booked/paid for the event, is my booking confirmed for Meghalaya Kaziranga Tour?
Ans. No !, your booking can become invalid if you do not submit the "Most Important Details" required for emergency situations. For any Trek/Adventure event the organizers need to have your details at least 24 hours prior to the event. We do not allow anyone to the campsite until we have complete and authentic details of the person. This info is crucial in case of an emergency and is a mandatory KYC parameter. The link for the "personal details form" will be sent on WhatsApp immediately after you complete the booking instructions mentioned on the website. Submitting incomplete/incorrect/fake details in the form will make your booking invalid and no refund will be provided in such case.
Q. Why is submitting emergency contact details and KYC information mandatory?
Ans. Its a standard protocol and also a guideline by Govt of India. We are accountable for every "Human-Body" present at our campsite or trek is our responsibility and in case of any unfortunate event we will be asked by authorities to provide all relevant information about you. In order to comply with the authorities we have to take authentic information from you. Fake/Incomplete information or non-submission of the details will make your ticket (paid amount) invalid and no refund will be provided in such case. You will not be allowed to participate in the event.
Q. Does the cancellation policy/rescheduling policy apply to me if I book on event day or last day?
Ans: Yes, the policy is applicable irrespective of the booking date. The cancellation / reschedule policy is applicable to everyone with immediate effect from the date and time of booking. The refunds/rescheduling requests will be processed based on the date and time of cancellation/reschedule request sent to us and the date and time of booking the event are irrelevant.
Q. What is the basis of cancellation/reschedule policy in case of medical or personal emergency of participant or organizing team?
Ans: The cancellation policy is based on fairness towards the participant and the organizing team. In case of medical/personal emergency, the loss arising out of cancellation/reschedule will be borne by the respective person. i.e. if the organizing team faces an emergency situation and the event gets canceled, the participant will not have to suffer financial loss. Similarly, if the participant faces an emergency situation, the organizing team will not have to suffer financial loss. The cancellation policy is designed with a completely unbiased approach towards the participant and organizing team and is aimed at fairness towards both.
Q. What if there is an issue with transport, i.e. the bus breaks down, AC is not working, tyre gets punctured? will we get a refund?
Ans. Mischief Treks as a team conducts treks/tours only. All the support functions like transport, food etc are sourced from various other vendors to help the participants have it streamlined. Equipment failure can happen any time with any piece of machinery and we can try to get a replacement/repair from the vendor. This may consume time and the trek/tour leader may decide to continue the event as deemed fit to get the event completed. We as well as the participants have to bare with it. There are no refunds possible in such case. The Trek/Tour leader's decision to terminate the event or continue the event with available resources will be final and binding.
Q. How many people will be coming for Meghalaya Kaziranga Tour?
Ans. Depends on the number of people booking the event. Generally, the batch size is approximately 20-25 participants.
Q. Is Meghalaya Kaziranga Tour safe for solo participants?
Ans. Yes is safe and comfortable. Mostly 40% of the participants come solo and blend in with the leaders and the rest of the group.
Q. Is Meghalaya Kaziranga Tour safe for girls?
Ans. Mischief Treks has a track record of making our events extremely safe for girls. Normally 60 – 75 % of our participants are females.
Q. Can we pay in cash or installment ?
Ans. Sorry we do not accept cash payments. There are no installment scheme.
Q. What is the last date of booking Meghalaya Kaziranga Tour?
Ans. Bookings close once tickets are sold out. Ideally you need to book atleast 1 month advance.
Q. How should I book Meghalaya Kaziranga Tour?
Ans. All you have to do is press the book now button on this page and follow the instructions.
Q. How do we get in touch after reaching meeting point?
Ans. We will be creating a whatsapp group for coordination where you will be provided all the necessary information regarding contact person, exact point to meet etc..
Q. Will we be returning at exact time mentioned in the itinerary?
Ans. The Itinerary is for reference purpose only, it is based on average time taken during our previous events. Actual timeline for a particular date depends on Weather conditions, Traffic Conditions, Participants speed and endurance.
⭐⭐⭐⭐⭐
Aggregate Rating: 4.85 out of 5
Rating count: 2431
Guwahati Airport, New Airport Road, Borjhar, Guwahati, Assam, India
View on Map
Cancellation, Rescheduling And Refund Policy
90% will be refunded if cancelled 30 days (720+ hrs) in advance.
75% will be refunded if cancelled 20 days (480+ hrs) in advance.
50% will be refunded if cancelled 10 days (240+ hrs) in advance.
0% refund if cancelled in less than 10 days (240 hours) of the event date and time.
0% refund if the participant drops out, misses bus pickup, does not reach the meeting point on scheduled date and time.
If the event itself gets cancelled, you will be given the option to switch to any other event or any other date, Or you can opt for 100% refund.
The 100% refund is applicable after deduction of third-party cancellation charges i.e. train and stay. The cancellation charges of train tickets and stay need to be paid by the participant. For this event the stay cancellation charges are 500/- and train cancellation charges will be as applicable as per Indian Railways rules.
If you need to reschedule your booking to any other date, it can be done free of cost if the rescheduling request is sent 720 hours prior to the event date and time. From 00 hrs - 720 hours prior to the event date and time, free rescheduling is not permitted. It will be counted as cancellation done in less than 720hours of event date and time. It's a humble request, please do not give medical reasons, crib, argue or try to threaten/blackmail us if you drop out or cancel/reschedule the trek in the last 10 days. This mutually agreed cancellation policy is applicable to you and us as well. The Date and time of cancellation request sent to us will be considered for calculation of the applicable slab given above. The date and time of booking the event are not relevant for calculating the number of days and hours remaining between the event date and cancellation request.