Meghalaya Tour | From Mumbai
This tour leads you to few of the Least explored travel destinations, This tour will be full of adventure, exploring beautiful places, trying local delicacy, Making new friends and loads of memories to take back home with you. This is the best suitable Tour who's looking for some change in daily monotonous Life. 
We'll be visiting Cherrapunjee, Step waterfalls of Wei Sawdong, Nongriat trek, Rainbow falls, Nohkalikai falls, Caving, Krang Suri falls etc. This tour Package from Mumbai is specially designed for people from Mumbai. Tour is safe and suitable for Kids, Families, Couples, Solo, Girls, and Group. 
​Charges for Meghalaya Tour: 
Ex Guwahati: ₹ 24999 (This ticket gets you all the things mentioned in the inclusion. You need to reach Guwahati, Train tickets are not included in this ticket)
Meghalaya Kaziranga Tour Information

| | |
| --- | --- |
|  Tour Location | Meghalaya |
|  Best Time to Visit |  Oct-Jun |
|  Difficulty Level |  Easy - Tour  |
|  Duration |  8D |
|  Charges/Fees |  INR 24999 onwards |
|  Batch Size |  25 Participants |
|  Suitable For: |  All age groups |
|  Tour Organised by  |  Mischief Treks |
|  Category |  Group Tour |
08 Days
Available on request
Guwahati, Assam
Highlights
What makes this event special
The living root bridges, built 200 years ago
Umiam Lake, the mesmerizing man made reservoir.
The eye catching Wei Sawdong & Krang Suri Falls.
Legendary Nohkalikai falls.
Natural swimming pools amidst the valleys.
The natural amusement park at Mawlyngbna.
Cleanest Village and Cleanest River.
Indo-Bangladesh border.
Visit the city of Shillong popularly known as the Scotland of the East.
Pure backpacking experience.
Experiencing the Khasi culture to the core.
Meghalaya Tour By Mischief Treks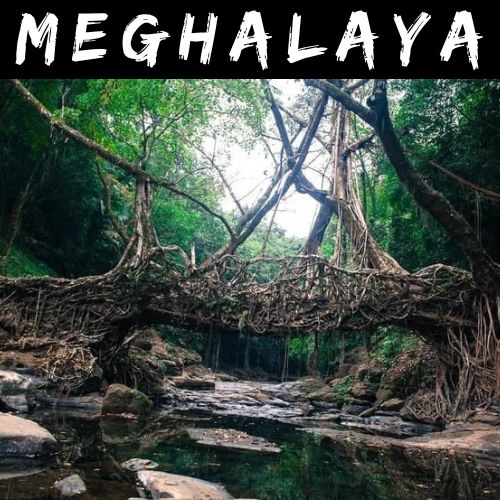 Itinerary
Timeline of the event.
Day 1 :  Entering the Gateway to the Northeast
Reach Guwahati airport & meet the Team at the arrival terminal. Guwahati is popularly known as the gateway to the northeast as it connects all seven sister states to the rest of India. The drive on NH 40 will lead you away from the bustling capital city of Assam to a cooler and greener Meghalaya. On the way, you will get a glimpse of the beautiful Umiam Lake or Barapani as they locally call it and make a stopover to take pictures if you wish.
We will call it a day in Cherrapunjee also known locally as "Sohra". Cherrapunjee along with Mawsynram in Meghalaya receives the highest rainfall in the world. On arrival, you may relax & enjoy the beautiful weather. After having some hot & tasty local dinner we can spend the rest of the evening gazing at the stars and then slip into our warm & cozy beds. Adventure awaits from the next day onwards.
Day 2:  A Trek to Remember!
Forget having a bath in the morning as we proceed to the beautiful step waterfalls of Wei Sawdong. Take a dip & refresh yourself as the next adventure will surely make you break a sweat. 
Proceed towards Tyrna village which acts as the base point for Nongriat village trek. Even we don't prefer to go down that path alone so our wonderful warm and fit as a fiddle guide will lead us into the jungle, acting more like a motivator than anything else. This trek is nothing like a typical trek as you need to climb down 3000 steps (you can count it as you go down). Your knees will start to give in and you will be drenched in sweat but you will recover every drop of it when you reach your destination - the double decker living root bridge. There will be pit stops along the way for you to drink water and try some local lime juice unless you want to beat the time set to trek down by one of the guys which stands at 1 hour to trek down. As soon you as you reach Nongriat you can put down your minimal baggage (only carry essentials for two days to make the trek easier, leaving the rest of the stuff back at the homestay) and come back to chill by the water bodies near the double decker bridge while getting a fish pedicure (yeah at no cost at all). Overnight stay at local accommodation.
Day 3 :  Behold Paradise
Wake up early in the morning and after breakfast proceed for the trek in the jungle. The morning air won't make you feel tired as you cross many more living root bridges and a few hanging bridges to reach Rainbow falls . The trekking time one way is approximately 2 hours and it's better to see the rainbow falls in the afternoon as the sunlight would trigger the rainbow as the sun moves towards west.
If you are a good swimmer then you can swim near the waterfalls or chill out in the smaller pools.We do have a surprise spot over here just waiting for you to take a dip in it The place is scenic and spectacular. So please carry a basic camera and if you have binoculars you could also spot some birdlife. There is absolutely no need for bottled water as the water from the springs is much better and purer than the packaged water. However sunscreen, some loose clothing and trekking shoes will do just fine. Let's not talk about the butterflies now as they will mesmerize you while you are down in Nongriat. Overnight stay at local accommodation.
Day 4 : Drive to the Natural Amusement park, Mawlyngbna
Bid goodbye to your hosts as we leave early to head towards Mawlyngbna. The steep climb to reach the parking spot on the well laid steps takes will drain you out and rest should be taken in case you get tired. We shall visit the legendary Nohkalikai falls if we manage to make it to Tyrna in time.
If you grew up in Mawlyngbna, you would never need an amusement park in your life. From serene spots in the jungle to exciting river activities, this place has it all.  Our local guide will take you on a short walk to one of our favourite spots in the jungle to unwind from where you shall witness one of the best sunsets. After having sumptuous dinner at a local restaurant you may then return to your accommodation and call it a day. Here in this village we get a real feel of the Khasi culture.
Day 5 : Water Activities and Caving at Mawlyngbna
You may start your second day on a more adventurous note as we go Caving! -  A walk into the world of stalagmites. These are dark caves with waterways flowing through them while you will see magnificent formations of limestone on all sides, formed due to the natural process of erosion. Once you crawl your way out, be prepared for an adventure that you would've never experienced -  river trekking or "river canyoning" as the guides call it. You could also choose to kayak or laze around the lake alternatively. Once you get done with all of that water, freshen up, have lunch & post lunch we shall go for a short but fascinating trek to Split Rock. This is a small corridor formed between two huge rocks. Nobody yet knows the scientific reason for its occurance. Enjoy this climb, descend and crawl activity before you choose your spot to enjoy a fabulous sunset overlooking the plains of Bangladesh. Take your time and relax under the carpet of stars. Overnight at Mawlyngbna.
Day 6 : Pay homage to the Cleanest Village
Leave early in the morning and head towards Mawlynnong – which has been awarded the "cleanest village award in Asia". One can spot Bangladesh region atop the many viewpoints over here. Have hot lunch in a local restaurant and proceed to see the Indo-Bangladesh border at Dawki.
Afterwards head towards most awaited moment of the trip i.e. camping besides the clean Umngot River. We shall call it a day with dinner, bonfire and story session besides the river.
Day 7 : Explore Shillong
Today wake up early and opt to go for a boat ride in the river. On a clear day, one can easily see the river bed. Have locally available breakfast and head for the last leg of our thrilling journey. On the way to pay a visit to the thrilling Krang Suri falls and a couple of more unknown beautiful waterfalls as well.
Reach Shillong in evening and relax. It is said that the rolling hills around the city reminded the British of their own Scotland and hence the name "Scotland of the East". While in Shillong you can either chill at one of the cafes or chose to explore the local market popularly known as the "Police Bazar". Overnight stay at Shillong.
Day 8 :  The Final Goodbye
Wake up, enjoy breakfast and then pack your bags for the return journey to Guwahati. The long drive through Meghalaya will have numerous viewpoints, you could stop and admire the spots as long as you have time to make it for your flight/train back home. Arrive at Guwahati by afternoon and bid goodbye to the north east.
Inclusions/Exclusions
What we'll give. What we won't
What is included in the tour
Stay in comfortable, clean and hygienic sharing dormitory accommodation  / Home stays / Triple / Quadruple Sharing Tented Accommodation 
Breakfast & Dinner on all days
All permits, entries etc.
Internal travel during the trip. Pickup from the airport.
Guides at Nongriat and Mawlyngbna
What is NOT included in the tour
Shopping
Your Personal Purchases
Day 1 Breakfast and Day 8 Dinner
All Day Lunch
Excess stay & meals due to bad weather conditions/strikes, resulting in flight delays or any other form of transport.
Anything not mentioned in the Inclusions
Valid Identity Proof (Passport/Voter ID Card/Aadhaar card), along with 5 photocopies for each document.
5 Passport Size Color photographs
Water bottles
A light-weighted Haversack or Backpack, and a smaller day pack
Good pair of trekking shoes and a pair of flip-flops
Thermal Inners
Fleece Jackets
Windcheater/poncho
Head Torch - Necessary for Caving
Personal clothing
Track pants, shorts
Towel, napkins, etc.
Cap, sunglasses, etc.
Camera, binoculars, etc. (Optional)
Toiletries – Sunscreen, Moisturizer, Light towel, Lip balm, Wet wipes, Toothbrush, Toothpaste, Hand Sanitizer, etc.Extra Polythene Bags (To segregate clothes).)
Any medicines that you consume normally, post consulting a doctor.
Mosquito repellent.
Snacks & Biscuits to munch.
Enerzyl or Glucon D powder.
FAQ - Frequently Asked Questions
Points to Note and FAQ's about Meghalaya Tour
Following are the frequently asked questions regarding Tour
Q. How do I get all the details about the tour, like charges, meeting time, pickup time and location, inclusion, exclusion, things to carry, etc? Can someone read it out for me on phone?
Ans. All the details are mentioned on this page itself, once you scroll up you will all info on your screen. Sorry we do not verbally provide details on phone as it usually creates lot of misunderstanding and miscommunication. Also, its extremely important to read and understand all the details before you book the event so that you have absolute clarity. If something mentioned on this page is confusing , you can get clarity on chat by clicking on chat with us button on top. To discuss things that are not mentioned on this website we can arrange a callback from one of our Tour leaders.
Q. I have booked/paid for the event, is my booking confirmed for the event?
Ans. No !, your booking can become invalid if you do not submit the "Most Important Details" required for emergency situations. For any Trek/Adventure event the organizers need to have your details at least 24 hours prior to the event. We do not allow anyone to the campsite until we have complete and authentic details of the person. This info is crucial in case of an emergency and is a mandatory KYC parameter. The link for the "personal details form" will be sent on WhatsApp immediately after you complete the booking instructions mentioned on the website. Submitting incomplete/incorrect/fake details in the form will make your booking invalid and no refund will be provided in such case.
Q. Why is submitting emergency contact details and KYC information mandatory?
Ans. Its a standard protocol and also a guideline by Govt of India. We are accountable for every "Human-Body" present at our campsite or trek is our responsibility and in case of any unfortunate event we will be asked by authorities to provide all relevant information about you. In order to comply with the authorities we have to take authentic information from you. Fake/Incomplete information or non-submission of the details will make your ticket (paid amount) invalid and no refund will be provided in such case. You will not be allowed to participate in the event.
Q. If I have opted for "with transport", which vehicle will be provided?
Ans. Transport from travel city is generally provided by bus. The bus capacity varies with reference to participant count. 17 seater, 26 Seater, 32 seater etc .. , if the participant count is low we may opt for Qualis/Sumo/ Tavera for transport
Q. Does the cancellation policy/rescheduling policy apply to me if I book on event day or last day?
Ans: Yes, the policy is applicable irrespective of the booking date. The cancellation / reschedule policy is applicable to everyone with immediate effect from the date and time of booking. The refunds/rescheduling requests will be processed based on the date and time of cancellation/reschedule request sent to us and the date and time of booking the event are irrelevant.
Q. What is the basis of cancellation/reschedule policy in case of medical or personal emergency of participant or organizing team?
Ans: The cancellation policy is based on fairness towards the participant and the organizing team. In case of medical/personal emergency, the loss arising out of cancellation/reschedule will be borne by the respective person. i.e. if the organizing team faces an emergency situation and the event gets canceled, the participant will not have to suffer financial loss. Similarly, if the participant faces an emergency situation, the organizing team will not have to suffer financial loss. The cancellation policy is designed with a completely unbiased approach towards the participant and organizing team and is aimed at fairness towards both.
Q. What if there is an issue with transport, i.e. the bus breaks down, AC is not working, tyre gets punctured? will we get a refund?
Ans. Mischief Treks as a team conducts treks/tours only. All the support functions like transport, food etc are sourced from various other vendors to help the participants have it streamlined. Equipment failure can happen any time with any piece of machinery and we can try to get a replacement/repair from the vendor. This may consume time and the trek/tour leader may decide to continue the event as deemed fit to get the event completed. We as well as the participants have to bare with it. There are no refunds possible in such case. The Trek/Tour leader's decision to terminate the event or continue the event with available resources will be final and binding.
Q. How many people will be coming for the tour?
Ans. Depends on the number of people booking the event. Generally, the batch size is approximately 20-25 participants.
Q. Is Tour safe for solo participants?
Ans. Yes is safe and comfortable. Mostly 40% of the participants come solo and blend in with the leaders and the rest of the group.
Q. Is this tour safe for girls?
Ans. Mischief Treks has a track record of making our events extremely safe for girls. Normally 60 – 75 % of our participants are females.
Q. Can we pay in cash or installment ?
Ans. Sorry we do not accept cash payments. There are no installment scheme.
Q. What is the last date of booking the event?
Ans. Bookings close once tickets are sold out. Ideally you need to book atleast 1 month advance.
Q. How should I book the event?
Ans. All you have to do is press the book now button on this page and follow the instructions.
Q. How do we get in touch after reaching meeting point?
Ans. We will be creating a whatsapp group for coordination where you will be provided all the necessary information regarding contact person, exact point to meet etc..
Q. Will we be returning at exact time mentioned in the itinerary?
Ans. The Itinerary is for reference purpose only, it is based on average time taken during our previous events. Actual timeline for a particular date depends on Weather conditions, Traffic Conditions, Participants speed and endurance.
⭐⭐⭐⭐⭐
Aggregate Rating: 4.85 out of 5
Rating count: 2431
Guwahati Airport (GAU), Borjhar, Guwahati, Assam, India
View on Map
Cancellation, Rescheduling And Refund Policy
90% will be refunded if cancelled 30 days (720+ hrs) in advance.
75% will be refunded if cancelled 20 days (480+ hrs) in advance.
50% will be refunded if cancelled 10 days (240+ hrs) in advance.
0% refund if cancelled in less than 10 days (240 hours) of the event date and time.
0% refund if the participant drops out, misses bus pickup, does not reach the meeting point on scheduled date and time.
If the event itself gets cancelled, you will be given the option to switch to any other event or any other date, Or you can opt for 100% refund.
The 100% refund is applicable after deduction of third-party cancellation charges i.e. train and stay. The cancellation charges of train tickets and stay need to be paid by the participant. For this event the stay cancellation charges are 500/- and train cancellation charges will be as applicable as per Indian Railways rules.
If you need to reschedule your booking to any other date, it can be done free of cost if the rescheduling request is sent 720 hours prior to the event date and time. From 00 hrs - 720 hours prior to the event date and time, free rescheduling is not permitted. It will be counted as cancellation done in less than 720hours of event date and time. It's a humble request, please do not give medical reasons, crib, argue or try to threaten/blackmail us if you drop out or cancel/reschedule the trek in the last 10 days. This mutually agreed cancellation policy is applicable to you and us as well. The Date and time of cancellation request sent to us will be considered for calculation of the applicable slab given above. The date and time of booking the event are not relevant for calculating the number of days and hours remaining between the event date and cancellation request.