Igatpuri Secret Camping Watersports & Waterfall Trek
Monsoon Camping near Mumbai with watersports like Rafting, Boating, Waterfall Trek, Kayak, and Lakeside Tent at a non-crowded secret location in Igatpuri. This location is suitable for Family, Solo travelers, Females, Girls, Couples and kids. Unlike Pawna, Alibaug and Bhandardara its not crowded and is Exclusive. This Campsite is situated deep inside the woods. This Campsite is away from the busy cities and noise, deep into the arms of nature. You will get the opportunity to wake up in the morning to the sweet chirping of birds around you, Cold air brushing your face, Breathtaking view of the lake. Rainy weather can offer excellent opportunities for capturing stunning photographs of rainbows, raindrops on leaves, and dramatic cloud formations.  
Many people tend to avoid camping during the rainy season, which means you may find quieter and less crowded camping sites. This can provide a more peaceful and private camping experience. Embrace the wet conditions and engage in water-related activities such as waterfall treks, kayaking in lake and live up a 'True'  nature experience.
Overnight Camping
Available on request
Igatpuri, Maharashtra
Highlights
What makes this event special
Rafting in the Lake
Kayaking
Coracle and Tubing
Archery
Rifle shooting
Swimming in lake
Waterfall Trek (as opted)
Camping with a Beautiful View(as opted)
Authentic local food
Waking up to the Chirping of birds
Camping amidst forest at a Non-Crowded Campsite.(as opted)
Getting one of it's kind experience near Mumbai.
Igatpuri Camping - Watersports - Waterfall Trek - Offbeat - Non-Crowded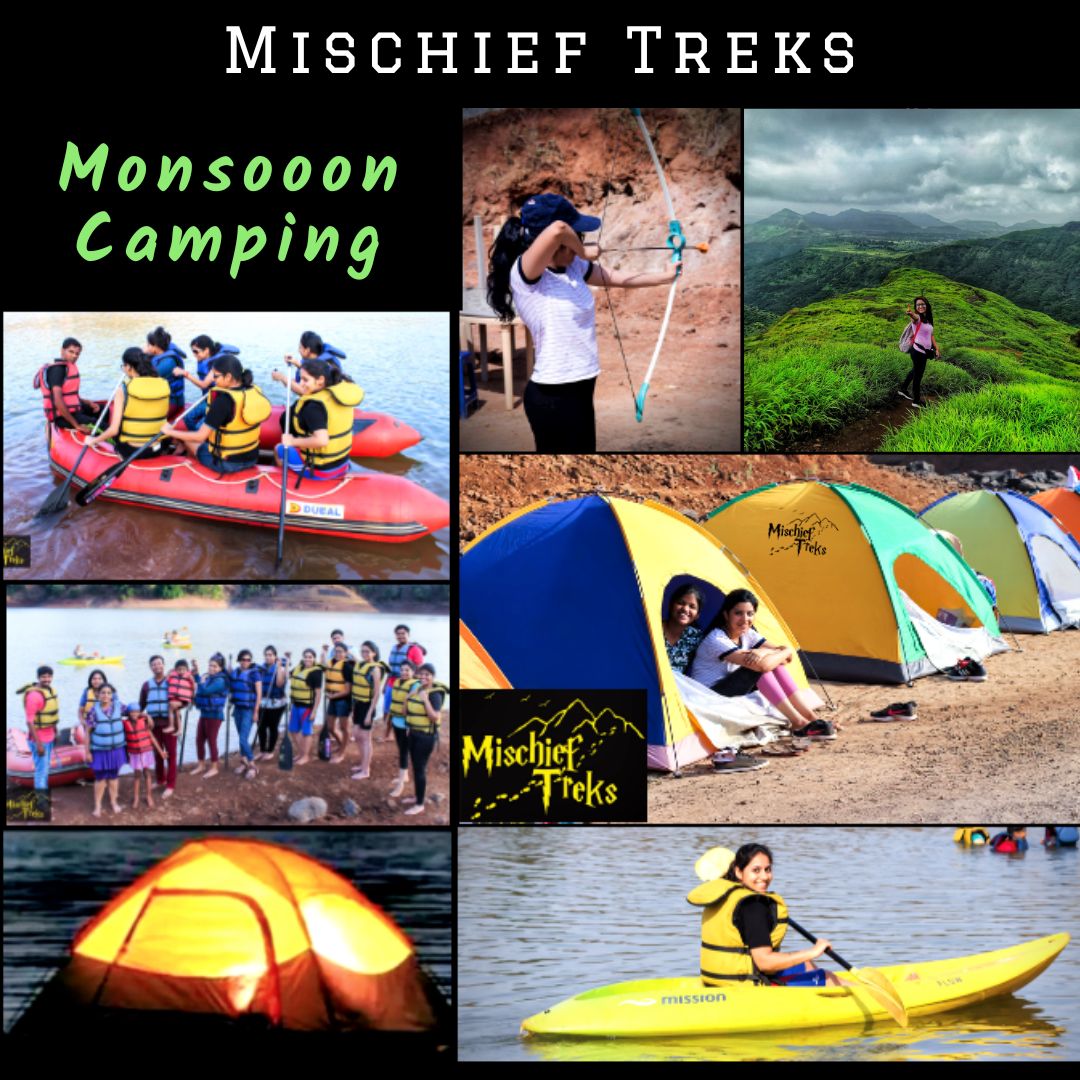 Photo Album Link : "Click Here"
https://photos.app.goo.gl/M4NpDroSPkUwA4mt8
---
Charges : Monsoon Rain Camping and Watersports
Without pickup and Drop: You need to reach the campsite in your own vehicle, the camping and watersports charges are Rs.1400 per person
Pick and Drop from Kasara Local Train Station :Pickup Time: 2:47 pm Kasara / next day 9:00 am pickup from the campsite, the camping and watersports charges along with pickup are Rs.1700 per person
Itinerary
Timeline of the event.
Schedule for Camping and Watersports 
Those coming by own vehicle need to reach the basecamp at 04:00pm. For those opting for Kasara pickup need to catch the train mentioned below from your nearest local train station. 
Train timings:
CSMT-12:30 pm
Dadar-12:43 pm
Kurla-12:50 pm
Ghatkopar-12:54 pm
Thane-01:12 pm
Kalyan-01:37 pm
Kasara-02:47 pm
As soon as the train reaches the station local shared jeeps will be waiting outside the station to take you to the campsite. The jeeps will halt at a Dhaba (10 min) for participants to freshen up and proceed to the campsite.
DAY 1:
Once you reach you can freshen up, settle down in your tents.
Then you can start with the Watersports activities, get geared up for the watersports.
High tea and Snacks will be served and then you can continue with your Watersports at the campsite.
Dinner will be served around 09:00 pm.
You can call off the day go to rest or spend time enjoying the nature.
DAY 2:
Wake up at your own leisure time and freshen up.
08:00 AM: Breakfast will be served.
Short Waterfall Trek 
You can continue your Watersport Activities post breakfast incase you couldn't finish them on Saturday pre sunset.
Approx 10.00 am : Check out of the campsite.
---
How to reach Igatpuri Basecamp:
To get accurate travel info for reaching meeting point and then moving further to the Base village
1. Open Google search tab
2. Type the following words in search window "My location to Igatpuri Secret camping and Watersports" to find exact route info, Distance, time taken for travel, and modes of transport available. Same can be done for to find details for  Kasara to Basecamp  
3. Your screen will display the exact time required to travel, modes of travel, and distance (kilometers) from your location.
Inclusions/Exclusions
What we'll give. What we won't
What is included in the tour
Pickup and drop from Kasara station ( If opted for )
Tent accommodation on twin sharing basis.
Camping,
Evening Snacks,
Dinner,
Breakfast,
Kayaking,
Rafting,
Swimming,
Coracle Ride,
Archery
Rifle Shooting.
Waterfall Trek
What is NOT included in the tour
Bottled water, soft drinks, etc.
Any other personal expenses.
Bonfire and BBQ (coz it can't be done during monsoon)
Anything not specifically mentioned in the inclusions.
Identity Proof (must)
Torch with extra battery (Must)
A bottle of water (atleast 2 Ltrs)
Rain and water protection for your stuff.
Some ready to eat food. Plum cakes, Biscuits etc.
Optional- Extra Mats/Sleeping Bag or blanket to add on to comfort level in tent.
Medicine that you require usually (We do have a basic first aid kit)
Please avoid wearing Gold and other ornaments or carry precious items.
Extra pair of clothes.
Sorry no more public batch Events available. You could get in touch with us at mischieftreks@gmail.com if you'd like to make a private batch booking.
IMPORTANT Points to Note
Do not register for this event without reading and understanding the details mentioned on this page.
Please make sure you are physically fit to complete the event, and before registration you have gone through all the details, Itinerary, FAQ, Points to note, About-Us, Fees, Points to note and understood it well. Please avoid this event if any of the details or terms are not agreeable to you.
About the Campsite:
Exclusive Monsoon Camping near Mumbai with watersports like Rafting, Boating, Waterfall Trek, Kayak, and Lakeside Tent at a non-crowded secret location in Igatpuri. This is a raw and basic campsite in forest region at Igatpuri. As this basecamp is purely tribal (Adivasi) area in the forest it provides a "True" camping experience.
Monsoon Camping: Camping in Monsoon is adventurous and exciting. It also Participants need to be aware about challenges during Monsoon camping, this is not a regular camping event.
Food: The food is prepared by local villagers and is basic home cooked food. If you are a choosy person and does not prefers having simple and basic village home cooked food, we recommend you to carry your own food.
Punctuality: In any adventure or sport event punctuality and discipline is utmost important. If you are late in catching the train, you will miss-out the pickup and will be considered dropout. If you are travelling in your vehicle, you may miss activities if you are late. This is a group event and will not be personalized as per your timing.
Coordination: Once your booking and KYC formality is done, you shall get a confirmation email about the same. 6 hours prior to scheduled date and time of your camping, we will be sharing contact details that you will require "after" reaching the Kasara Station or the campsite. Apart from those details, rest all details are available on this page itself.
How to reach Igatpuri Secret camping and watersports from Mumbai, Nashik, Thane, Navi Mumbai and Vasai-Virar.

FAQ - Frequently Asked Questions
Igatpuri Secret Camping Watersports & Waterfall Trek
Q. How should I book the igatpuri Secret Lakeside Camping and Water Sports?
Ans. All you have to do is press the "Book Now" button on this page and follow the instructions. But, DO NOT book this event unless you have read and understood the details explained on this page.
Q. How do I get all the details about the event ?
Ans. All the details are mentioned on this page itself, once you scroll up you will all info on your screen. Sorry, we do not verbally provide details on the phone as it usually creates a lot of misunderstanding and miscommunication. Also, its extremely important to read and understand all the details before you book the event so that you have absolute clarity. If something mentioned on this page is confusing, you can get clarity on chat by clicking on the WhatsApp Icon on your screen. To discuss things that are NOT mentioned on this website we can arrange a callback from one of our trek leaders.
Q: I have booked/paid for the event, is my registration confirmed?
Ans. No ! , Your Registration can become invalid if you do not submit the "Most Important Details" required for emergency situations. For any Trek/Adventure event the organizers need to have your details within 2 hours of receiving Confirmation mail. We do not allow anyone to the campsite until we have complete and authentic details of the person. This info is crucial in case of an emergency and is a mandatory KYC parameter. The link for the "personal details form" will be sent to your once your payment is verified and confirmed from our end. Submitting incomplete/incorrect/fake details in the form or Non-Submission will make your booking invalid and no refund will be provided in such case.
Q. Why is submitting emergency contact details and KYC information mandatory?
Ans. Its a standard protocol and also a guideline by Govt of India. We are accountable for every "Human-Body" present at our campsite or trek is our responsibility and in case of any unfortunate event we will be asked by authorities to provide all relevant information about you. In order to comply with the authorities we have to take authentic information from you. Fake/Incomplete information or non-submission of the details will make your ticket (paid amount) invalid and no refund will be provided in such case. You will not be allowed to participate in the event.
Q. Can we pay in cash or on-spot at Igatpuri secret camping?
Ans. Sorry, we do not accept cash payments, on-spot payments, or installments. Advance booking is compulsory.
Q. What is the last date of booking Igatpuri secret camping?
Ans. Registrations close once tickets are sold out. Ideally, you need to book at least 2-3 days in advance.
Q. Are kids allowed at Igatpuri secret camping?
Ans. Kids of any age are welcome.
Q. Does the Igatpuri secret camping campsite have a Washroom Facility?
Ans. We have three washrooms available at 2-4 min walking distance from the lake which is a source of drinking water for villagers. It is a common washroom for all participants of the camping event.
Q. We are coming by our own vehicle for camping event where should we reach & how far is campsite ?
Ans. The campsite is at approx 45 min driving distance from Kasara station, once the booking process is completed we will be providing you all the relevant details i.e. Google map location, Camp incharge's number etc.
Q. Is the cab owned by the organiser , if not how does it work?
Ans. Incase you do not wish to book a cab for yourself on your own, we help you in getting a cab booked from the open market by contacting various cab service providers. We do not have any control over the cab service providers. Its similar to you taking an auto or cab from open market. Our role is limited to getting your travel coordinated with the cab service provider. The charges are based on distance between your residence and destination. If you deviate from the route, or delay in returning, additional charges will apply.
Q. What all things are provided in the tent?
Ans. The tent contains a Styrofoam mat which is similar to a yoga mat, and a blanket for each person. We suggest you to bring (optional) a bedsheet or blanket to add on to the comfort levels.
Q. What is provided in meals?
Ans. Dinner will consist of veg and nonveg options. rice, chapati, daal, seasonal veg, salad, Chicken curry.
Q. How many people will share the tent OR can we have separate tent for ourselves?
Ans. We have tents of 4 different size . 2/3 person capacity tents are available, you can chose from any of these as per number of persons coming along with you. Tent size is as per standard international norms for tents. The 2 person tent is dimension: 200 x 150 x 110 cm. The 3 person tent has dimensions 200 x 200 x 130 cm. The 4 person tent has dimensions 220 x 250 x 150cm. After booking the event you need to email/message us your preference of tent size atleast 2 days prior to the event date. Allotment of tent size depends on availability of tents.
Q. Does Mischief Trek crew organise / supervise / control Camping event?
Ans. Mischief Treks is purely a booking coordinator between you and the camp-incharge. We do not own or control this commercial campsite. The details of camp incharge will be shared with you once the booking is confirmed.
Q. What does Collaborated-Camping / Commercial-Camping mean?
Ans. Locations which are extremely commercialised and attract huge crowd are categorised as commercial locations. Example : Pawna, Bhandardhara, Igatpuri, Alibag etc. These places generally have hundreds of people for camping. There are several organizers/Travel-agents organising camping events in the same location at same time. These are the places gone viral on social media and everyone in the city has it on their To-Do-List. The camping setup is more like a lodge with cloth walls. Generally a lot of comfort facilities and activities are provided in commercial camping locations like loud music and lights, DJ, proper bedding, concrete washrooms, washbasins, tables, chairs, carpet etc . The entire region looks like a fair (mela) lighted up with music and excitement.
The role of Mischief Treks is limited to coordination of bookings. On the other hand camping events organised and hosted by Mischief Treks team are conventional in nature. These camping locations are completely non-commercial and provide raw camping experience away from crowded locations.
Q. If we are not satisfied with the services at campsite whom to contact/complain or provide feedback/review ?
Ans.For Commercial locations : All the complaints, feedbacks, reviews to be addressed to the camp incharge of the commercial camping location you chose to book. Details of campsite incharge will be shared with you on whatsapp after your booking process is completed. Mischief Treks does not hold any responsibility of commercial locations chosen by you. For Conventional camping events hosted by Mischief Treks : All the complaints, feedbacks, reviews to be addressed to Mischief Treks team. email : mischieftreks@gmail.com . Our team ensures proper arrangements of camping events hosted by us.
Q. Why are toilets away from the tents?
Ans. The water in lake is source of drinking water for nearby villages. As per general guidelines toilets need to be atleast 100 mtr away from all the sources which feed water to the lake during rainy season.
Q. How many people will be at the camping event?
Ans. The count varies every weekend, for some weekends its 30-50 people and for some weekends in holiday season it goes upto 300 people at this camping location.
Q. Is there network, charging point, electricity at campsite?
Ans. The campsite is a lakeside location away from civilization, you intermittent network connectivity is experienced. There is no electricity in the region. Its a Tribal area.
Q. How far is the campsite from Kasara and how is the road condition?
Ans. The road till Kasara ghaat is good as its a national highway. Post that few patches have potholes and/or the road is broken for few meters. Its a 17km road from Kasara to campsite.
Q. Does the cancellation policy/rescheduling policy apply to me if I book on event day or last day?
Ans: Yes, the policy is applicable irrespective of the booking date. The cancellation / reschedule policy is applicable to everyone with immediate effect from the date and time of booking. The refunds/rescheduling requests will be processed based on the date and time of cancellation/reschedule request sent to us and the date and time of booking the event are irrelevant.
Q. What is the basis of cancellation/reschedule policy in case of medical or personal emergency of participant or organizing team?
Ans: The cancellation policy is based on fairness towards the participant and the organizing team. In case of medical/personal emergency, the loss arising out of cancellation/reschedule will be borne by the respective person. i.e. if the organizing team faces an emergency situation and the event gets canceled, the participant will not have to suffer financial loss. Similarly, if the participant faces an emergency situation, the organizing team will not have to suffer financial loss. The cancellation policy is designed with a completely unbiased approach towards the participant and organizing team and is aimed at fairness towards both.
⭐⭐⭐⭐⭐
Aggregate Rating: 4.85 out of 5
Rating count: 2431
Places to visit and attractions near Igatpuri Secret Camping
Vaitarna Dam:
This is a huge dam built on the Vaitarna River that offers a scenic view of the surrounding hills and valleys. It is also a popular spot for boating, fishing, and camping.
Vihigaon Waterfall:
This is a stunning waterfall that cascades from a height of 120 feet. It is also a hotspot for rappelling and adventure activities.
Ghatandevi Temple:
This is an ancient temple dedicated to Ghatandevi, the protector of the ghats. It is located near the Tringalwadi Fort, which is another historical attraction in Igatpuri.
Vipassana Centre (Dhamma Giri):
Vipassana center in Igatpuri, also known as Dhamma Giri, is one of the world's largest meditation centers and the main center of a rapidly growing global Vipassana organization. It is dedicated to the teaching of Vipassana Meditation as taught by S. N. Goenka. Vipassana means to see things as they really are, and it is a technique of self-observation and mental purification that leads to happiness, peace, and liberation. It teaches the strict form of meditation first taught by Gautam Buddha in the 6th century BC. It is one of the most peaceful and serene places to visit in Igatpuri.
Tringalwadi Fort:
This cool fort is up in the Igatpuri area of Nashik, Maharashtra. It sits on a hill, kind of like a big rock, and was built to keep an eye on the old trade route connecting Konkan to Nashik. Some say it's been around since the 10th century, and you can spot some old caves nearby. The Mughals took over in 1636, and the British captured it in 1818. The entrance gate is carved from a massive rock, and there's even a little temple on top dedicated to Bhavani Mata!
Harihar Fort:
Another gem in Nashik, Maharashtra, this triangular prism of a fort stands tall at 3676 feet. It dates back to the Seuna (Yadava) dynasty days and was used by Shivaji and others. Mughals took it in 1636, and the British got hold of it in 1818. But hey, the coolest part is the steep and narrow rock-cut steps. Don't forget to check out the storage house, water cisterns, and a cave up top!
Kalsubai Trek:
If you're up for an adventure, head to the highest peak in the Sahyadri Ranges, the mighty Kalsubai, aka the Everest of Maharashtra! It's in Ahmednagar district, Maharashtra, and boasts an elevation of 5400 feet. The trek is no joke, taking 3 to 4 hours from Bari village to the summit. But the view is totally worth it! Oh, and there's a sweet little temple dedicated to Kalsubai herself up there, plus a flag waving high up on a metal ladder.
Trimbakeshwar:
This ancient temple town in Nashik, Maharashtra, is a super special place for Lord Shiva devotees. It's one of those twelve Jyotirlingas, super sacred to Hindus. And guess what? It's where the Godavari River starts, so it's like extra holy! The temple was built in the 18th century by Peshwa Balaji Baji Rao, and it's got this unique linga with three faces, representing Brahma, Vishnu, and Shiva. Pilgrims flock here, especially during the Kumbh Mela.
Bhandardhara:
Want a chill hill station and a sweet vacation spot? Bhandardhara's got you covered! It's in Ahmednagar district, Maharashtra, and sits right by the Pravara River at an altitude of 2500 feet. The place is a natural beauty, with waterfalls, lakes, dams, and forts all around. You can check out Wilson Dam, Arthur Lake, Randha Falls, and lots more. It's a nature lover's paradise!
---
Best Hotels and Resorts near Igatpuri Camping Location
Rainforest Resort and Spa: This is a 4-star resort that offers a pool, a spa, a restaurant, and a bar. It is located 3.4 km from Igatpuri station and has a good rating.
Tropical Retreat Luxury Resort & Spa: This is another 4-star resort that features a pool, a spa, a gym, and a games room. It is situated 2 km from Igatpuri station and has a good rating.
Mystic Valley Spa Resort: This is a 4-star resort that boasts a pool, a spa, a garden, and a terrace. It is located 3.2 km from Igatpuri station and has a good rating.
Hotel Ashwin: This is a budget-friendly hotel that offers free breakfast, free parking, and free wifi. It is situated 1.4 km from Igatpuri station and has a good rating.
---
Events by Mischief Treks
---
---
Following are the most sought-out one day treks in Maharashtra. These treks are suitable for a day visit and offer adventurous experience during Monsoon and Winter season.
Bhandardara Trek
Jivdhan Fort Trek
Karnala Bird Sanctuary
Karnala Fort Trek
Kataldhar Waterfall Trek
Koraigad Trek
Korigad Trek
Kundalika Valley Trek
Lohagad Trek
Madhe ghat Waterfall Trek
Nanemachi Trek
Raigad Fort Trek
Raireshwar Trek
Rajgad Fort Trek
Rajmachi Trek
Sanjay Gandhi National Park
Sinhagad
Sudhagad Fort Trek
Takmak Fort Trek
Waterfall Rappelling
---
September, 2023 Update: Weather conditions at Igatpuri
The weather in the month of September is pleasant, slight drizzle is expected late at night. The visibility is clear and night sky looks splendid. Average temperature for the day expected to be around 28°C. Chance of rain 20%.
Igatpuri Secret Camping and Water Sports, Sayde, Igatpuri, Maharashtra, India
View on Map
Cancellation, Rescheduling And Refund Policy
90% will be refunded if canceled 15 days (360+ hrs) in advance.
75% will be refunded if canceled 10 days (240+ hrs) in advance.
50% will be refunded if canceled 05 days (120+ hrs) in advance.
0% refund if canceled in less than 05 days (120 hours) of the event date and time.
0% refund if the participant drops out, misses bus pickup, does not reach the meeting point on the scheduled date and time.
If the event itself gets canceled, you will be given the option to switch to any other event or any other date, Or you can opt for 100% refund. If you need to cancel your current booking and/or reschedule your booking to any other date, it can be done free of cost if the rescheduling request is sent 120 hours prior to the trek. From 0hrs - 120 hours prior to the trek date and time free rescheduling is not permitted. It will be counted as cancellation done in less than 120hours of event date and time. It's a humble request, please do not give medical reasons, crib, argue or try to blackmail us if you drop out or cancel/reschedule the trek in the last 5days. The basis of the cancelation policy is to protect the participant and the organizers from undue financial losses arising out of unforeseen situations. If the event gets canceled due to the medical/personal emergency of the organising team member, the participants will not have to suffer financial loss. Similarly, if there is a medical/personal emergency at the participant's end, the organizing team will not have to suffer financial loss.