Midnight Cycling In Mumbai | Night Cycling
Join us for an epic Midnight Cycling adventure in Mumbai! This unique adventure takes you on a thrilling journey through the bustling streets and iconic landmarks of the city that never sleeps. Our experienced guides will lead the way, ensuring a safe and enjoyable ride for all participants.Whether you're a seasoned rider or a beginner, this event is suitable for all fitness levels, with frequent stops for refreshments and photo opportunities. Mumbai is known to be the City that never sleeps at night, the city of dreams. You can join our team at Midnight Cycling Point for the event which gives you a tour to the places of historic importance in Mumbai. We give you the chance to explore Mumbai when the pace of the city slows down. Exploring this epic city on a cycle is one thing that needs to be on your Checklist. This is one of the best ways to explore our City and at the best time - When the traffic on the streets is cleared.
Night Cycling tour experience in Mumbai starting Rs.299. Cycles also available on rent. Join Mischief Treks this weekend from Colaba and Marine Drive. This is not a Cycling Race on track so we'll have an ample number of breaks and spend time at the points covered by the team on the Midnight Cycling event. We'll be starting from Colaba heading towards Marine Drive, Girgaon Chowpatty, Hanging Garden, CSMT, Flora Fountain, Asiatic Library, Gateway of India, Taj Hotel and back to Colaba starting point on our Cycles. 
Information on Monsoon Night Cycling in Rain
Duration: 5 hours | Starting at 11:00 pm
Distance: 22 km 
Cycling Route: Colaba, Marine Drive, Girgaon Chowpatty, Hanging Garden, CSMT, Flora Fountain,  Asiatic Library, Gateway of India, Taj Hotel 
Cycle Availability: Only 30 Cycles are available for each batch.
Grade: Easy Cycle Ride
Charges for Monsoon Night Cycling: 
Without Rented Cycle: ₹299.00 - Charges Exclude rented cycles. Participants need to bring their own Cycle.
With Rented Cycle: ₹750.00 - Charges Include Cycle Rent, and Refreshment
With Rented Yulu Electric-bike: ₹ 1099.00 - Charges Include E-Bike rent, Refreshment, and participation charges.
This Event is conducted by Mischief Treks Crew. 
Click here for Photo album of the event.
5 Hours
07 Oct, 07 Oct, 07 Oct, and more
Colaba, Maharashtra
Highlights
What makes this event special
Thrill and adventure of riding the streets of Mumbai at Midnight.
Experiencing Monsoon in Mumbai on two wheels.
Experienced Lead-Rider to help you throughout the night. 
Cycle available on rent. 
Meet and gel with like-minded people.
Explore the actual Mumbai Crowd free at night.
Cycle route specially formulated for best experience.
Witness the real nightlife of Mumbai streets. 
Points covered : Colaba, Marine Drive, Girgaon Chowpatty, Hanging Garden, CSMT, Flora Fountain, Kala Ghoda, Asiatic Library, Gateway of India, Taj Hotel
Monsoon Midnight Cycling Point in Mumbai by Mischief Treks
Night Cycling in Mumbai starting 299/- per person. Cycle available on rent. Join Mischief Treks this weekend. From Colaba to Marine Drive, CSMT, to Gateway of India. This Mumbai Midnight Cycling event is safe and suitable for girls/women participating solo/alone, Group, and couples.
Yulu E-Bike - Join in for the ride with Electric Bike on rent.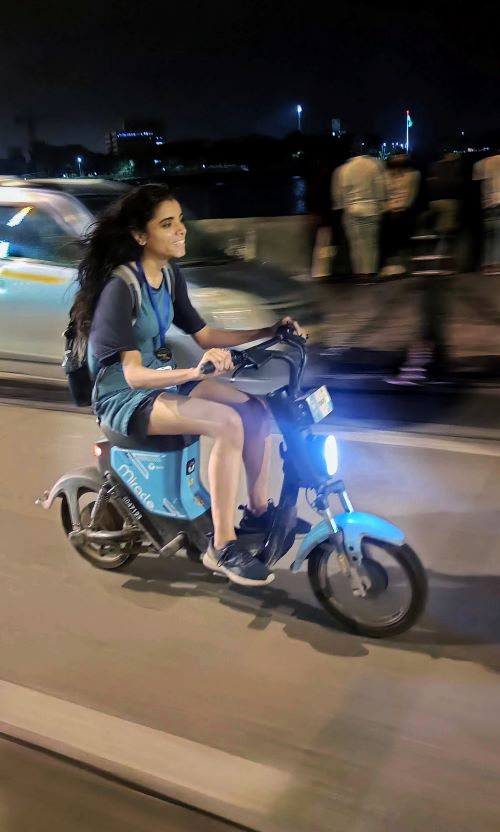 Itinerary
Timeline of the event.
Mumbai Midnight Cycling Timeline:
Meeting Point: Colaba Market, Mumbai.
Reporting Time: 10:45 pm.

Note: Exact map GPS location will be shared with you on WhatsApp Group which will be formed 3 hours prior to the event date and time.
We'll be meeting you at the GPS location shared in group, you need to reach there by sharp 10:45 pm. Once the clock hits 10:59 pm we will move out from meeting point.
After a short Safety and Introduction round, we would gear up, collect our cycles and start Cycling on a pre marked route.
We'll be taking breaks and stopping at all the points to spend good time at the location, click pictures and have loads of fun.
We'll be then having our Introduction round at Hanging Garden, you can have your refreshment break and munch on something to recharge your energy levels.
By 04:00 am we'll be reaching back to our starting point, hand over cycles and riding gear, and the ride ends with memories. You can opt to go to Marines or Girgaon Chowpatty or Head Back home.
 Points Covered during night cycling:
Colaba

Marine Drive

Girgaon Chowpatty

Hanging Garden

CSMT

Flora Fountain

Asiatic Library

Gateway of India

Taj Hotel
Note : We will be creating WhatsApp group at 7pm on event date for coordination purposes
Inclusions/Exclusions
What we'll give. What we won't
What is included in the tour
Geard and Non-Gear cycles
(if rental cycle opted)
Safety reflector jacket
Refreshment 
Expertise and administration charges.
Basic First Aid 
What is NOT included in the tour
Any personal expenses.
Cost incurred to carry cycle in taxi in case of issues during the ride.
Anything not specifically mentioned above.
Respect for Time-Management
Lot of enthusiasm and pleasant attitude.
Identity Proof (Mandatory)
Helmet (due to hygiene issue helmet not available on rent)
Riding gear and accessories (optional)
Water Bottle 1 Ltr (Mandatory)
Medicines that you might require (We do carry a general First Aid kit)
Chocolates or candy or things to munch on. You need to keep your tummy happy.
A Sling bag or backpack to carry your stuff
Avoid Bringing along:
Gold ornaments, precious items or fragile phone which might get damaged if you use it while cycling.
Loose clothes that may get stuck in chain or tyre.
Cranky or grumpy behavior which might get roasted by us.
date & duration
Variant
price
IMPORTANT NOTE REGARDING CYCLING EVENT: After you make payment and send us participant details, KYC details form link will be shared with you on whatsapp, it needs to be submitted immediately to avoid any inconvenience. The details need to be shared with us atleast 48 hours prior to event date and time. You need to submit accurate, correct, and authentic details while registering. Your name, phone, email needs to be your own. Without this authentic info, you will "Not" be allowed to participate in the event and no refunds will be provided in such case.
RAIN UPDATE: As this is a monsoon month night cycling event, rains are obviously expected. We will continue cycling in case of drizzle and mild rain. If it get too bad we will halt to seek shelter until deemed fit. Basically the idea is to get drenched and enjoy the rains to the fullest. Please do not book this event if you have any apprehensions regarding cycling in rain.
Please do not book this event if you are not physically fit to complete the event OR you do not have a sportsmanship spirit OR you haven't read and understood the details, FAQ, and terms mentioned on this page.
Outdoor activities are based on teamwork, and by registering for this event you will be part of a team. We haven't hired any slaves/servants to cater to anyone, this is an outdoor sports event wherein every participant is responsible for his/her place in the team. We do not welcome latecomers, so please report on time.
How to reach Midnight Cycling location in Mumbai
To get accurate travel info for reaching the Midnight Cycling Point in Mumbai, follow the steps mentioned below
Open Google search tab
Type the following words in the search window "My location to Midnight Cycling Point"
You shall get the exact time required to travel, modes of travel, and distance (kilometers) from your location.
How to reach night cycling location in Mumbai from Thane, Navi Mumbai, and Western line.
FAQ - Frequently Asked Questions
Night Cycling | FAQ'S about Midnight Cycling in Mumbai
Q. Can someone read out details for me on phone?
Ans. All the details are mentioned on this page itself, once you scroll up you will have all info on your screen. Sorry, we do not verbally provide the same details on the phone as it usually creates a lot of misunderstanding and miscommunication. Also, it's extremely important to "Read and Understand" all the details before you book the event so that you have absolute clarity. If something mentioned on this page is confusing, you can get clarity on chat by clicking on the "WhatsApp Chat" button on this page. To discuss things that are not mentioned on this website we can arrange a callback from one of our trek leaders.
Q. I have booked/paid for the event, is my booking confirmed for the event?
Ans. No !, your booking can become invalid if you do not submit the "Most Important Details" required for emergency situations. You are required to submit these details immediately to avoid any inconvenience. Submitting incomplete/incorrect/fake details in the form or not submitting the KYC form will make your booking invalid and no refund will be provided in such case. We do not allow anyone to participate in the event until we have complete and authentic details of the person. This info is crucial in case of an emergency and is a mandatory KYC parameter. The link for the "personal details KYC form" will be sent on WhatsApp after you complete the booking instructions mentioned on the website.
Q. Why is submitting emergency contact details and KYC information mandatory?
Ans. Its a standard protocol and also a guideline by Govt of India. We are accountable for every "Human-Body" present at our event. Each person is our responsibility and in case of any unfortunate event, we will be asked by authorities to provide all relevant information about you. In order to comply with the authorities, we need authentic information from you. Fake/Incomplete information or non-submission of the details will make your registration (paid amount) invalid and no refund will be provided in such case. You will not be allowed to participate in the event.
Q. Does the cancellation policy/rescheduling policy apply to me if I book on event day or last day?
Ans: Yes, the policy is applicable irrespective of the booking date. The cancellation / reschedule policy is applicable to everyone with immediate effect from the date and time of booking. The refunds/rescheduling requests will be processed based on the date and time of cancellation/reschedule request sent to us and the date and time of booking the event are irrelevant.
Q. What is the basis of cancellation/reschedule policy in case of medical or personal emergency of participant or organizing team?
Ans: The cancellation policy is based on fairness towards the participant and the organizing team. In case of medical/personal emergency, the loss arising out of cancellation/reschedule will be borne by the respective person. i.e. if the organizing team faces an emergency situation and the event gets canceled, the participant will not have to suffer financial loss. Similarly, if the participant faces an emergency situation, the organizing team will not have to suffer financial loss. The cancellation policy is designed with a completely unbiased approach towards the participant and organizing team and is aimed at fairness towards both.
Q. What is the minimum age for participating in night cycling?
Ans: All participants need to be 18 years and above. Those below 18 need to get an adult along with them or get a consent letter from parents. You need to keep up with the rest of the group.
Q. What if the cycle breaks down or gets punctured?
Ans: In case of cycle breakdown or puncture you need to hire a taxi and get a replacement from starting point of the cycling event. The cost of transport is to be borne by the participant. Mischief Treks does not rent cycles, We help you get a rented cycle and the rent paid by you gets passed on to the cycle vendor. in case of any issues with the cycle, you are required to get in touch with the vendor.
Q. Can I pay in cash on the spot for midnight cycling?
Ans: No, you have to book well in advance before seats get sold out and payment has to be made online. Cash payments are not accepted. Its Mandatory to make online payments using any payment app or net banking via UPI / NEFT / QR Code.
Q. Can I book unconfirmed slot on the same day the night cycling event is scheduled?
Ans: Generally, the event gets sold out 2-3 days in advance. Once the 30 tickets are sold, booking process stops. You are free to book as long as the slots are available. If slots are not available, you still can choose to make a payment and wait for 24 hours for confirmation on your unconfirmed booking. Within 24 hours we will provide you a confirmation in case we are able to adjust slots for you. Beware, this option is not recommended as it carries uncertainty. This option needs to be exercised only if you desperately want to participate and you have failed to book well in advance. During the waiting period of unconfirmed bookings, the cancellation policy shall apply and a cancellation/rescheduling request will be processed as per cancellation policy mentioned on this event details page.
Q. How do I book my ticket for the cycling event?
Ans: If you wish to participate in the cycling event in Mumbai, You need to logon to www.mischieftreks.com and select the cycling event of your choice and click on Book-Now button. The registration process and payment process for Night cycling event is secured by reliable payment processing system.
Q. What happens if the cycle gets punctured or suffers a breaks down?
Ans: You shall be provided a replacement cycle at the starting point. You need to get a taxi to starting point, and submit the punctured cycle to get a replacement. Once you have the replacement cycle you can use the same taxi to reach back to the group.
Q. How many people will be at the night cycling event?
Ans. The participant count for night cycling depends on the number of people booking the event. Generally, the batch size is approximately 20-30 participants. Mischief Treks does not believe in overcrowding the batch as its against the safety protocol.
Q. How many kilometers do we ride during the night cycling event?
Ans. The total distance covered during the night cycling event is approximately 18-20 km. The entire cycling track has multiple halt points and sufficient breaks are taken during the event to ensure comfort levels.
Q. What kind of cycles are used for the night cycling event? geared or non geared cycles?
Ans. We have both options available geared cycles and non geared cycles on rent. But, If you are not experienced enough to handle geared cycle we would advise you to opt for non-geared ones.
Q. How can I get cycles on rent for the night cycling event?
Ans. We do have the rented cycle option available. You need to log on to www.mischieftreks.com and wile registering yourself for the night cycling event, you need to select the relevant option for rented cycle. You don't need to have your own cycle we can arrange those for you.
Q. Is Midnight Cycling safe for solo participants?
Ans. Yes, mostly 30% of participants come up solo and blend in. It is safe to participate in the midnight cycling event. Apart from standard risks of any outing or sport event, no additional risks are involved. Mischief Treks crew will be there with the group all the time.
Q. Is Midnight Cycling in Mumbai safe for girls/women?
Ans. Apart from standard risks involved in any outdoor activity, no additional risks are involved. Mischief Treks has a track record of making our events extremely safe for females and especially males. Normally 60-75 percent of our participants are females.
Q. Can I request customised refreshments for cycling event?
Ans. Yes, you can request customised refreshments, anything that is available on the zomato app can be opted for. Additional handling charges of 300 per order would be applicable in addition to the zomato app order value.
Q. Can I quit in the middle of the night cycling event?
Ans. If you have your own cycle you can quit whenever you want to. But if you rent the cycle you need to pay for safely transporting rented cycle back to Colaba via a taxi, also you need to handover the cycle to designated person at the starting point and then you can leave.
Q. What if I don't reach the meeting point before reporting time 10.50pm?
Ans. If you do not report at the meeting point till 10.50pm, you will be considered dropout and the group will proceed as per the schedule. Its extremely important to be punctual, we will not be able to keep entire batch of punctual people standing on road for someone who did not respect time. All coordination will be done in the Whatsapp group which will be created approximately 3hours prior to event date and time. No phone calls will be made to inform the same. No refund will be provided in case of drop-outs.
Q. How can I ride a Cycle safely at night?
Ans: You should ride the cycle where you can be easily seen. Always wear reflective safety jackets, these jackets help other drivers to notice you as these jackets reflect when the light falls on them in the dark. Always wear a helmet to avoid any fatal damage to your head in case of an accident and ride with caution.
Q. What is provided as refreshment at the Cycling event?
Ans: You will be provided a tetra pack of juice or drink, along with a bakery item like cake or biscuits during the night cycling event.
Q. What is the best Energy food for Cycling?
Ans: You can try these 5 Energy Foods for high Endurance Cycling. Bananas are well-loved by most endurance athletes. Nuts and Seeds, Almonds, chia seeds, pistachios, Dried Fruits. Studies have shown that certain dried fruits like raisins and dates can improve endurance-related performance substantially. You can even carry Electrolyte Infused Water i.e. ORS.
Q. What should I drink after cycling?
Ans: Hydration is the key, staying hydrated while cycling and post cycling is also vital. If the ride was easy and under 90 minutes sipping a 500ml bottle of water or electrolyte drink should be sufficient to rehydrate. But if it was a long or intense session, aim to replace 100-150% of the fluid lost through sweat within one to four hours of hopping off your bike.
Q. Why do I feel hungry after cycling?
Ans: Cycling burns your calories, Burning calories through exercise disrupts the balance between caloric intake and caloric burn by increasing caloric burn. One way in which the body responds is by increasing the level of acylated ghrelin in the bloodstream. This makes you feel hungry.
Q. Is it safe to ride a cycle in Mumbai?
Ans: Cycling in Mumbai is quite safe during early mornings and late nights. There are a lot of cityscape views that you could enjoy on a cycle. Mumbai is also known as the city that never sleeps, you can join us for Midnight cycling every Saturday.
Q. Is night cycling allowed in Mumbai?
Ans: Yes Cycling is allowed in Mumbai during the nighttime. Mischief Treks arranges night Cycling / Midnight every Saturday at 11 pm You can join us for this exciting event. The official website of MischiefTreks has complete details of the Night-Cycling event and also has registration process explained.
Q. Can I bring my own cycle for Midnight cycling in Mumbai?
Ans: Yes you can bring your own cycle for the cycling event. Then you can meet us at the starting point and join everyone.
Q. Where can I cycle in Mumbai?
Ans: You can join Mischief Treks for Night cycling / Midnight cycling in Mumbai. We Ride from Colaba along the Marine Drive, mesmerizing queen's necklace all the way to the Gateway of India. The route is planned for you to check out various heritage sites.
Q. Is cycle available on rent in Mumbai?
Ans: You can join Mischief Treks for Night cycling / Midnight cycling in Mumbai. We ride from Colaba along the Marine Drive, mesmerizing queen's necklace all the way to the Gateway of India. The route is planned for you to check out various heritage sites. Cycle renting option for Mumbai cycling is also available on the official website of MischiefTreks.
Q. Why Cycling is good for your Joints?
Ans: You experience less joint stress when compared to other exercises, "Cycling is a low-impact exercise,". This means that cycling limits impact stress on weight-bearing joints, like your hips, knees, and feet. Plus, the movement helps lubricate the joints, which reduces pain and stiffness.
Q. Which is the nearest train station to Colaba Market?
Ans: The Colaba market is near to Chhatrapati Shivaji Maharaj Terminus, CSMT Train station on the Central line, and Harbour line. The travel distance from CSMT to Colaba market is 2.5km by road and takes approximately 15 minutes to reach. The nearest local train station on the Western line is Churchgate station. The travel distance from Churchgate station to Colaba market is 2.0 km by road and takes approximately 11 minutes to reach.
Q. What are the benefits of cycling?
Ans: Cycling helps you tune up your heart functioning and gives your lungs enough time to workup its capacity to handle additional requirement of oxygen intake. Apart from health benefits, cycling also keeps you in good physical shape and helps you have a confident look that improves your personality.
Q. Is cycling shorts for girls comfortable for Night Cycling in Mumbai?
Ans: Yes, any sports apparel that helps you have flexibility and gives you freedom of moving your limbs is good for night cycling in Mumbai. The padded version of cycling shorts helps provide extra comfort during cycling. Decathlon, Flipkart and Amazon have various options available for sale.
Q. Is there a maximum age limit for Midnight Cycling in Mumbai??
Ans: No there's no maximum age limit for Midnight Cycling in Mumbai, anyone who is fit can complete the event. we have teenagers who give up and don't complete the event whereas we have had many people who consider themselves old finish the event without any trouble.
Q. Is there a minimum age limit for Midnight Cycling in Mumbai??
Ans: No there's no minimum age limit for Midnight Cycling in Mumbai, anyone who is fit can complete the event. Age is no longer a barrier, we are in an era where kids are accomplishing great things at a very young age. When it comes to trekking and adventure, Kids have been scaling peaks of difficult grade treks too, Participants of any age with required fitness levels can register for the event, Kids below 10 years of age need to be accompanied with adult guardian.
---
Mumbai - Night Ride on Yulu Electric Bike (E-Bike)
We are happy to announce that Mischief Treks in Collaboration with Yulu will now provide Yulu E-Bikes on rent in Mumbai as a part of Night Cycling event conducted every weekend. Yulu Miracle GR will be part of the Midnight Cycling in Mumbai.
Features
A smart dockless electrical vehicle powered by state-of-the-art IoT technology.

Designed for urban traffic conditions with a maximum speed of 25 Km/h. No License required to ride the E-Bike.

Light Weight, lighter than a scooter, faster than a bicycle.

Unisex ultra comfortable bike for any height and weight.
Mumbai cycling tour
The bicycle tour of south Mumbai streets is designed to give you a glimpse of night life in Mumbai. The tour is scheduled for every Saturday night starting 23:00 hrs from Colaba market and covers Marine Drive, Girgaon Chowpatty, Malabar Hill, CSMT, Flora Fountain, Asiatic Library, and Gateway of India. This tour of 5 hours ends at 04:00hrs in Colaba market area. Online booking is compulsory to register for the Mumbai cycling tour. Mischief Treks official website www.mischieftreks.com can help you the booking process.
⭐⭐⭐⭐⭐
Aggregate Rating: 4.85 out of 5
Rating count: 2431
Places/Locations/Points covered during the Night-Cycling event in Mumbai
Colaba is renowned for high-end boutiques, major galleries, museums, Taj Mahal Palace, and amazing restaurants. It's also known as the art center of Mumbai. There are Four peninsulas in Mumbai i.e: Worli, Bandra, and Malabar Hill and Colaba. The area that is now Colaba was originally a region consisting of two islands: Colaba and Little Colaba. Places to see in Colaba include the art deco style Regal Theatre, the Taj Mahal Palace & Tower, Royal Bombay Yacht Club, Bademiya Restaurant, and Bagdadi restaurant, Colaba Causeway, Colaba Observatory, Cowasji Jehangir Hall, Ballard Estate, Cathedral of the Holy Name, Prong's Lighthouse, Gateway of India, Sassoon Docks, and David Sassoon Library.
Marine Drive is a favorite hangout spot of the Mumbaikars, it is a prime tourist attraction as well. The road flaunts the Art Deco architectural style. Marine Drive is a 3 km long Promenade along the Netaji Subhash Chandra Bose Road in Mumbai, India. Marine Drive, also called the Queen's Necklace, is one of the most easily recognizable landmarks in Mumbai, when viewed at night from an elevated point anywhere along the drive, the street lights resemble a string of pearls in a necklace. Bordering the Arabian Sea, this famous road is a popular spot for watching sunsets, and is gorgeous when lit up at night. The decoration style is prominent in many celebrated bayside boulevards around the world, including the seafronts of Alexandria, Miami, and Havana. These are the major attractions near Marine Lines: Chowpatty Beach, Taraporewala Aquarium, Shree Chandreshwar Mandir, St Teresa's Church, Wankhede Stadium, Chhatrapati Shivaji Terminus, Thomas Cathedral, Chhatrapati Shivaji Maharaj Vastu Sangrahalaya, Gateway of India.
Girgaon Chaupatti is a public beach along the Queen's Necklace adjoining Marine Drive in the Girgaon area of Mumbai. The beach is noted for its Ganesh Visarjan celebrations when thousands of people from all over Mumbai and Pune come to immerse the idols of Lord Ganesh in the Arabian Sea. It is also one of the many places in the city where the Ramlila play is performed on stage every year during Navaratri and an effigy of Ravana erected on the sand is burnt on Vijayadashami at the end of the 10-day performance. Known widely for its street food, Girgaon Chowpatty is not very popular for sunbathing or other water activities. You can watch the sunset and enjoy a plethora of Mumbai street food and fast food. From roasted peanuts to spicy chaat and mouth-watering bhelpuri to piping hot pav-bhaji, Girgaon Chowpatty street food vendors serve them all. Chowpatty Beach also acts as a stage for entertainment. Magicians and street artists keep you entertained while you relax after a day-long adventure in Mumbai.
The Hanging Gardens, in Mumbai, also known as Pherozeshah Mehta Gardens, are terraced gardens perched at the top of Malabar Hill, on its western side, just opposite the Kamala Nehru Park. The park was designed and laid out in 1881 by Ulhas Ghapokar over Bombay's main reservoir, some say to cover the water from the potentially contaminating activity of the nearby Towers of Silence. When seen from the air, the walkway inside the park, spell out the letters PMG in cursive. Over the years, this place has also turned into a major tourist attraction and a picnic spot. It is also frequented by shutterbugs who want to capture some stunning shots of the sun setting over the majestic Arabian Sea. More than anything else, the Hanging Gardens is a place where you can be close to nature, surrounded by greenery. Hanging Garden also has few attractions, A sundial made of marble and placed on an upright concrete slab, An attractive flower clock is situated in the middle of the garden, and Pramod Navalkar Viewing Gallery from where you can catch great views of Marine Drive, Chowpatty, and Mumbai Harbor. These are a few places that you can visit near Hanging Garden: Kamla Nehru Park, Haji Ali Dargah, Marine Drive, Nehru Planetarium, Chowpatty Beach, Crawford Market, Jehangir Art Gallery, Chhatrapati Shivaji Maharaj Vastu Sangrahalaya, Elephanta Caves, Gateway of India, Colaba Causeway, Worli Fort, Siddhivinayak Temple.
Mumbai, the bustling capital city of Maharashtra, is a marvelous blend of beaches, markets, heritage architecture, food and nightlife. Being an important metropolis, Mumbai has some of the most densely packed railway stations. Situated in the heart of Mumbai, the Chhatrapati Shivaji Terminus (CST) is a historic railway station and a UNESCO World Heritage site. Formerly known as Victoria Terminus (VT), the station was built in Victorian Gothic style of architecture to commemorate Queen Victoria's Golden Jubilee in 1887. One of the busiest railway stations in India, it serves as the headquarters of Central Railways. The terminus was designed by a British born architectural engineer Frederick William Stevens from an initial design by Axel Haig, in an exuberant Italian Gothic style.
Flora Fountain is a Fountain located at the Hutatma Chowk is an ornamentally sculpted architectural heritage monument located at the southern end of the historic Dadabhai Naoroji Road, at the Fort business district in the heart of South Mumbai, Mumbai, India. Flora Fountain was initially named after the Governor of Bombay, Sir Bartle Frere, but just before the fountain's inauguration in 1864, the name 'Flora' was bestowed on it, after the Roman Goddess of flowers and the season of spring. In 1960, the fountain became known as Martyr's Square, or Hutatma Chowk, with an impressive stone statue bearing a pair of torch-holding patriots, to honor the 105 members of the Samyuktha Maharashtra Samiti who lost their lives while fighting for a separate Maharashtrian state.
Mumbai has its own share of heritage and colonial buildings and the Asiatic Society Town Hall is one among them. Given its history and association with the British era, it becomes an important location that should not be missed by anyone visiting Mumbai. The Asiatic Society of Mumbai Town Hall was opened as a cultural center for the British officials residing in Bombay. The Town Hall saw all official announcements and live performances being conducted here since its completion in 1833. In the present day, it houses the Asiatic Society Library, the State Central Library and a Museum, Head Office of Directorate of Libraries Maharashtra State, Additional Controller of Stamps Office, Maharashtra State Women's Council, and a Post Office. The heritage building of Asiatic Society of Mumbai Town Hall is located in Fort area of Mumbai, overlooking the Horniman Circle and its grand flight of steps has been a prominent location for shooting many Bollywood movies. The Asiatic Society Town Hall of Mumbai was designed by one of the finest engineers of Bombay during the time, Colonel Thomas Cowper. There are fine marble statues and portraits of patrons of the Asiatic Society in the hallway and the Durbar Hall of the Town Hall Museum. Among the other artifacts of the museum, there is a huge collection of ancient coins and gold 'Mohurs' belonging to the Mughal era. Among the 'Mohurs', one of them is actually an exceptional one that once belonged to the Mughal Emperor Akbar.
The Gateway of India is an arch-monument built in the early 20th century in the city of Mumbai, also known as Bombay, India. It was erected to commemorate the landing of King-Emperor George V, the first British monarch to visit India, in December 1911 at Ramchandani Road near Shyamaprasad Mukherjee Chowk in Mumbai. After its construction, the Gateway was used as a symbolic ceremonial entrance to India for important colonial personnel. The Gateway is also the monument from where the last British troops left India in 1948, following Indian independence. It is located on the waterfront at an angle, opposite the Taj Mahal Palace and Tower Hotel, and overlooks the Arabian Sea. Today, the monument is synonymous with the city of Mumbai and is amongst its prime tourist attractions. The gateway is also a gathering spot for locals, street vendors, and photographers soliciting services. The Gateway of India is a monument that marks India's chief ports and is a major tourist attraction for visitors who arrive in India for the first time. The Elephant Caves are located very close to the Gateway of India, and tourists can travel on motorboats to reach the Elephant Islands. Statues of the Maratha leader Shivaji and Swami Vivekananda are installed at the entrance of the Elephant Caves. The Taj Mahal Hotel is India's most prestigious and luxurious hotel and is situated close to the Gateway of India.
The Taj Mahal Palace is a heritage, five-star, luxury hotel in the Colaba area of Mumbai, Maharashtra, India, situated next to the Gateway of India. Built-in the Saracenic Revival style, it opened in 1903 as the Taj Mahal Hotel and has historically often been known simply as "The Taj". The hotel is named after the Taj Mahal, which is located in the city of Agra approximately 1,050 kilometers (650 m) from Mumbai. It has been considered one of the finest hotels in the East since the time of the British Raj. The hotel was one of the main sites targeted in the 2008 Mumbai attacks. The hotel offers panoramic views of the Arabian Sea and the Gateway of India, the hotel is a city landmark.
---
Other options for outdoor adventure.
A handpicked collection of one day treks within a short distance from Mumbai, easy grade treks suitable for beginners. ( click here )
Best locations for Fireflies Festival selected based on terrain/landscape. Here is a list of trek and camping location for Fireflies Festival 2023 in/near Mumbai, Thane, Kalyan, Navi Mumbai, Vasai, Virar, and Dombivali.
Click Here Official Online booking link for Fireflies Festival 2023:
https://www.mischieftreks.com
---
Trek and Tour Events by Mischief Treks
---
September 30, 2023 Update: Weather conditions at Cycling Track in Mumbai
The weather in the month of September is pleasant, drizzle is expected late at night. The visibility is clear and night sky looks splendid. Average temperature for the day expected to be around 28°C. Chance of rain 80%.
---
Customise Mumbai Midnight Cycling Event by Mischief Treks
At Mischief Treks, we're all about providing Memorable experience to suit your preferences and requirements. Whether it's your preferred date or the number of participants, we've got you covered. Our Mumbai Midnight Cycling event can be easily customized to align with your chosen date and the size of your group. Just let us know your preferences, and we'll craft an adventure that's perfect for you, ensuring a seamless blend of flexibility and fun. Explore the freedom of personalized cycling adventures with us, designed to make your journey unforgettable.
Click on the link to apply for Customised event: https://www.mischieftreks.com/customised-private-tours-and-treks
Midnight Cycling Point, 3rd Pasta Lane, Badhwar Park, Apollo Bandar, Colaba, Mumbai, Maharashtra, India
View on Map
Cancellation, Rescheduling And Refund Policy
90% will be refunded if canceled 15 days (360+ hrs) in advance.
75% will be refunded if canceled 10 days (240+ hrs) in advance.
50% will be refunded if canceled 05 days (120+ hrs) in advance.
0% refund if canceled in less than 05 days (120 hours) of the event date and time.
0% refund if the participant drops out, misses bus pickup, does not reach the meeting point on scheduled date and time.
If the event itself gets canceled, you will be given the option to switch to any other event or any other date, Or you can opt for 100% refund. If you need to cancel your current booking and/or reschedule your booking to any other date, it can be done free of cost if the rescheduling request is sent 120 hours prior to the trek. From 0hrs - 120 hours prior to trek date and time, free rescheduling is not permitted. It will be counted as cancellation done in less than 120hours of the event date and time. If you book a unconfirmed ticket on last day, this cancellation policy will apply during the waiting period of confirmation. It's a humble request, please do not give medical reasons, crib, argue or try to blackmail us if you drop out or cancel/reschedule the trek in the last 5days. The basis of the cancelation policy is to protect the participant and the organizers from undue financial losses arising out of unforeseen situations. If the event gets canceled due to the medical/personal emergency of the organising team member, the participants will not have to suffer financial loss. Similarly, if there is a medical/personal emergency at the participant's end, the organizing team will not have to suffer financial loss.