Jog Waterfall and Murudeshwara Tour
Join us this monsoon season, to experience Karnataka in it's peak beauty. We'll be exploring Yana Caves, Murudeshwar Temple, Mangroves Park (We are sure you'll love this Location), Hidden Waterfall and Majestic Jog Falls. This trip is full of fun and excitement, from Ancient Yana Caves to Majestic Waterfalls we got everything covered in this tour. Hop in with your friends and family for this fun Vacation. Lets make this trip a memorable one!!
The best time to visit Jog Falls Waterfall is during June-October. Including Train tickets from Mumbai tour includes Murudeshwara, Eco Beach and Shiva Temple. We'll be visiting Yana Caves, Murudeshwar Temple, and Apsara Konda. This event is suitable for Kids, Solo travelers, Couple, Groups, Girls, Families. Train ticket dates available from Mumbai. 
Charges for Jog Falls Tour from Mumbai
Option A: ₹ 5999 (Without the train ticket.)
Option B: ₹ 6999 (With the train ticket from Mumbai.)
Kids Charges: ₹ 3999 (01 - 05 Years)
​⚠️ Booking closes once seats are sold out, book well in advance to avoid missing out on the slots. Later train tickets won't be available. Ideally, you need to book 1 month in advance for the train. Or depend on Tatkal train tickets or waiting list train tickets. 
Jog Waterfall, Karnataka Tour 2023 Information

| | |
| --- | --- |
| Tour Location | Jog Waterfall, Karnataka |
| Best Time to Visit | July to October |
| Difficulty Level | Easy - Tour  |
| Duration | 3 Nights | 2 Days |
| Charges/Fees | INR 3999 onwards |
| Batch Size | 20 Participants |
| Suitable For | All age groups |
| Tour Organised by  | Mischief Treks - Mumbai |
| Category | Group Tour including train tickets |
3 Nights 2 Days
06 Oct, 13 Oct, 20 Oct, and more
Jog Falls, Karnataka
Highlights
What makes this event special
Witness the spectacular view of ever-flowing Jog falls 
Walk in mangroves 
Visit Shamshi Hanging Bridge and Eco beach
Gigantic Shiva statue at Murudeshwar
Visit Murdeshwar Temple
Taste the local cuisine. 
Visit Apsara Konda 
Visit a hidden waterfall in a dense forest of Karnataka if time permits.
Play Mafia Game 
All the "Masti" which is a USP of Mischief Treks. 
Jog Falls , Karnataka Tour from Mumbai | Mischief Treks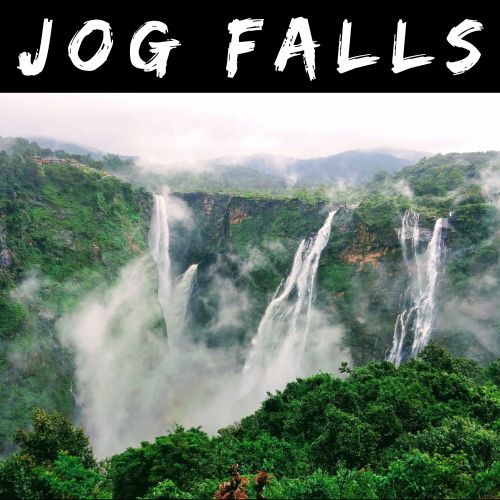 Click here for Photo album of our previous batches to Jog Waterfall: https://photos.app.goo.gl/c7JAcjFnPUtMqxFi9
Itinerary
Timeline of the event.
Detailed Itinerary - Jog Waterfalls, Apsarakonda Waterfall, Murudeshwara Temple
So what is the full Itinerary?
(Itinerary revised on 01-09-2023, Due to change in train timings)
Meeting Point: Kumta Bus Depot at 11:00 am. (For people travelling on their own)
Day 0 - 22 Sep, 29 Sep, 06 Oct, 13 Oct, 20 Oct, 27 Oct
09:00 pm - Meet us at CSMT train station,  and board train number 12133/Mangalore Express at 10:00 pm for an overnight journey
Alternatively, you can board the same train at Thane 22.42 and Panvel 23:22. 
Overnight Journey by Train
Day 1 :  23 Sep, 30 Sep, 07 Oct, 14 Oct, 21 Oct, 28 Oct
11:00 am - Reach Kumta and freshen up 
11:30 am - After breakfast we shall have an introduction and instruction session and move for Jog Waterfall sightseeing.
01:30 pm - Reach Jog Falls
02:30 pm – Post exploring the Falls have lunch at Jog
03:30 pm - Leave Bangaara Falls. (If time permits)
05.30 pm - Visit Shamshi Hanging Bridge over the Sharavati River
06:30 pm - Reach hotel and relax
08.30 pm – Have dinner, share stories, and it's time to play Mafia and have a "Masti" session. You are free to stay back with the group or get some sleep in your room. 
Day 2: 24 Sep, 01 Oct, 08 Oct, 15 Oct, 22 Oct, 29 Oct
06:00 am - Wake up call
07.00 am – Have breakfast and freshen up
07:45 am - Check out and move towards a special picturesque place... its time to make some reels and click pics
08:00 am - Visit to Murudeshwar temple and Beach.
10:00 am - We'll be visiting Apsara-Konda Waterfall and Our favourite location Mangroves Park and Eco beach.
01:00 pm - Lunch time
02:00 pm - We'll head towards Murudeshwar temple, View  Shiva Statue from 18th floor of Murudeshwara temple
05:00 pm - Catch 12620/Matsyagandha Express, Overnight Journey on the train
Day 3: 25 Sep, 02 Oct, 09 Oct, 16 Oct, 23 Oct, 30 Oct
05:53 am - Reach Thane Station
06:35 am - Reach LTT Station
Inclusions/Exclusions
What we'll give. What we won't
What is included in the tour
Train tickets (Non-AC sleeper) Mumbai-Mumbai ( If opted for )
AC Train Tickets to-and-fro will cost 3000 extra depending on availability. ( If opted for )
Local transport in a private bus/Taxi for 2 days.
One-night hotel stay on a triple sharing basis near Jog Falls. (Non AC- weather is already chilled )
You can upgrade to twin sharing room by paying ₹1000 per Couple extra charges and depending on availability. For AC room 500 per person needs to be paid extra.
Day 1: Breakfast, Lunch, Dinner (Veg)
Day 2: Breakfast, Lunch. (Veg)
Govt / Local charges as applicable
Expertise charges
Basic First Aid
What is NOT included in the tour
Meals during train travel. 
Any other expenses that are not mentioned above.
Identity proof.
Water (minimum 1 Ltrs) Compulsory.
Cap, sunglasses, scarf, extra clothes, floaters and toiletries.
Bedsheet/Sleeping bag for train travel.
Keep your phone fully charged.
Mosquito repellent (optional)
Some ready-to-eat food like biscuits, plum cake, etc to keep your tummy happy.
Rain coat/ Poncho/ Wind cheater
Medicines (if you need any), Glucon D / Electrol / Enerzyl Powder (We will have a basic first aid kit with us).
A haversack to put all your things. Your hands need to be free.
And most imp thing, carry a lot of enthusiasm and team spirit.
Jog Falls Train from Mumbai Schedule:
Manglore Express Train number 12133 starting at 22.02 Hrs from CSMT, Thane 22.42and Panvel 23:22. This train will be reaching Kumta at 10.48 am.
Return train number 12620 Matsyagandha Express.
Our crew will be traveling by train from Mumbai for the event, You may choose to join the group from Mumbai itself. We can help you with booking train tickets. The Tour Leader will be carrying the tickets with him and he will be coordinating with TTE too.
Stay Arrangement:
One-night hotel stay on a triple sharing basis at hotel (Non AC- weather is already chilled )
You can upgrade to twin sharing room by paying ₹1000 per Couple extra charges and depending on availability.
AC room can be availed for 500
Coordination:
We will be creating a WhatsApp group 3 days prior to the event date for coordination and final instructions. The batch coordinator will be carrying all train tickets and will meet you at the train station.
Kids Charges:
Below five years kids can join in free, provided additional space is not required for the kid during the entire tour and the kid will adjust in the space allocated to accompanying adult.
Kids Charges from 1 to 5 years will be considered as an individual person, and charges will be 3999 (including permission to travel with parent in train)
Above 5 years the charges will be same as adults.
IMPORTANT :
Please make sure you have gone through the entire details, disclaimer, and FAQ/Points to note, BEFORE booking the event.
We get the train tickets from online IRCTC, if you book late you will get RAC/Waiting List Ticket. Or You will have to opt for Tatkal ticket.
The organiser reserves right to make changes to the itinerary depending on the situation.
FAQ - Frequently Asked Questions
Points to Note and FAQ's about Jog Waterfall Tour
Following are the frequently asked questions regarding Jog Falls Tour
Q. Can someone read out event details for me on phone?
Ans. All the details are mentioned on this page itself, once you scroll up you will all info on your screen. Sorry we do not verbally provide details on phone as it usually creates lot of misunderstanding and miscommunication. Also, its extremely important to read and understand all the details before you book the event so that you have absolute clarity. If something mentioned on this page is confusing , you can get clarity on chat by clicking on chat with us button on top. To discuss things that are not mentioned on this website we can arrange a callback from one of our Tour leaders.
Q. I have booked/paid for the event, is my booking confirmed for the event?
Ans. No !, your booking can become invalid if you do not submit the "Most Important Details" required for emergency situations. For any Trek/Adventure event the organizers need to have your details at least 24 hours prior to the event. We do not allow anyone to the campsite until we have complete and authentic details of the person. This info is crucial in case of an emergency and is a mandatory KYC parameter. The link for the "personal details form" will be sent on WhatsApp immediately after you complete the booking instructions mentioned on the website. Submitting incomplete/incorrect/fake details in the form will make your booking invalid and no refund will be provided in such case.
Q. Why is submitting emergency contact details and KYC information mandatory?
Ans. Its a standard protocol and also a guideline by Govt of India. We are accountable for every "Human-Body" present at our campsite or trek is our responsibility and in case of any unfortunate event we will be asked by authorities to provide all relevant information about you. In order to comply with the authorities we have to take authentic information from you. Fake/Incomplete information or non-submission of the details will make your ticket (paid amount) invalid and no refund will be provided in such case. You will not be allowed to participate in the event.
Q. If I have opted for "with transport", which vehicle will be provided?
Ans. Transportation for this event is done via Bus/SUV/Jeep.
Q. Does the cancellation policy/rescheduling policy apply to me if I book on event day or last day?
Ans: Yes, the policy is applicable irrespective of the booking date. The cancellation / reschedule policy is applicable to everyone with immediate effect from the date and time of booking. The refunds/rescheduling requests will be processed based on the date and time of cancellation/reschedule request sent to us and the date and time of booking the event are irrelevant.
Q. What is the basis of cancellation/reschedule policy in case of medical or personal emergency of participant or organizing team?
Ans: The cancellation policy is based on fairness towards the participant and the organizing team. In case of medical/personal emergency, the loss arising out of cancellation/reschedule will be borne by the respective person. i.e. if the organizing team faces an emergency situation and the event gets canceled, the participant will not have to suffer financial loss. Similarly, if the participant faces an emergency situation, the organizing team will not have to suffer financial loss. The cancellation policy is designed with a completely unbiased approach towards the participant and organizing team and is aimed at fairness towards both.
Q. What if there is an issue with transport, i.e. the bus breaks down, AC is not working, tyre gets punctured? will we get a refund?
Ans. Mischief Treks as a team conducts treks/tours only. All the support functions like transport, food etc are sourced from various other vendors to help the participants have it streamlined. Equipment failure can happen any time with any piece of machinery and we can try to get a replacement/repair from the vendor. This may consume time and the trek/tour leader may decide to continue the event as deemed fit to get the event completed. We as well as the participants have to bare with it. There are no refunds possible in such case. The Trek/Tour leader's decision to terminate the event or continue the event with available resources will be final and binding.
Q. How many people will be coming for Jog Waterfall Tour?
Ans. Depends on the number of people booking the event. Generally, the batch size is approximately 15-20 participants.
Q. Is Jog Waterfall Tour safe for solo participants?
Ans. Yes is safe and comfortable. Mostly 40% of the participants come solo and blend in with the leaders and the rest of the group.
Q. Is Jog Waterfall Tour safe for girls?
Ans. Mischief Treks has a track record of making our events extremely safe for girls. Normally 60 – 75 % of our participants are females.
Q. Can we pay in cash or installment?
Ans. Sorry we do not accept cash payments. There are no installment scheme.
Q. What is the last date of booking the event?
Ans. Bookings close once tickets are sold out. Ideally you need to book atleast 1 month advance.
Q. How should I book Jog Waterfall Tour?
Ans. All you have to do is press the book now button on this page and follow the instructions.
Q. How do we get in touch after reaching meeting point?
Ans. We will be creating a whatsapp group for coordination where you will be provided all the necessary information regarding contact person, exact point to meet etc..
Q. Will we be returning at exact time mentioned in the itinerary?
Ans. The Itinerary is for reference purpose only, it is based on average time taken during our previous events. Actual timeline for a particular date depends on Weather conditions, Traffic Conditions, Participants speed and endurance.
⭐⭐⭐⭐⭐
Aggregate Rating: 4.85 out of 5
Rating count: 2431
---
Events by Mischief Treks
Jog Waterfall and Murudeshwara Temple Tour on September 29, 2023
Mischief Treks has lined up Jog Falls Tour from Mumbai with Train tickets special batch during long weekend. Includes Murudeshwara Temple, Apsarakonda Waterfall and visit to Mangroves.
---
Trivia about Jog Falls, Karnataka
Tallest Plunge Waterfall in India:
Jog Falls is the highest plunge waterfall in India, with a total height of approximately 253 meters (830 feet). You won't believe your eyes when you see this Gigantic wonder of nature! Jog Falls is like, It is an awe-inspiring sight as the water dramatically cascades down the rocky cliffs.
Four Distinct Cascades:
Jog Falls is unique as it is not a single stream of water but comprises distinct cascades of waterfalls. During the monsoon season, the waterfall roars with immense force, creating a mesmerizing spectacle. It's got four cascades - Raja, Rani, Roarer, and Rocket! It's like a water show with its own cast of characters!
Seasonal Variation:
The flow of water at Jog Falls varies significantly with the seasons. And guess what? It's got its moods! During monsoon season, Jog Falls is all like, "I'm unleashed, baby!" It roars and roars, showing off its epic might! It is at its most impressive during the monsoon season (July to September) when the river is in full flow, showcasing the true might of the falls.
Hydroelectric Power:
Hold up, Jog Falls is not just a pretty sight - it's a powerhouse too! The Sharavati River, which forms Jog Falls, is a major source of hydroelectric power in Karnataka. The water from the falls is harnessed for generating electricity through the Linganamakki Dam and other hydroelectric projects.
Attractions:
Oh, and guess what? Birdwatchers go gaga over this place! It's like a bird paradise, with all kinds of winged creatures strutting their stuff. Don't forget the religious vibes! Locals come here for blessings from the mighty Sharavati River. You might spot some traditional rituals too - it's like a spiritual party!. And calling all photographers - Jog Falls is a photo hotspot! Get ready to snap some Insta-worthy shots and make all your friends jealous!
Jog Falls, Jog Falls, Karnataka 577435, India
View on Map
Cancellation, Rescheduling And Refund Policy
90% will be refunded if cancelled 30 days (720+ hrs) in advance.
75% will be refunded if cancelled 20 days (480+ hrs) in advance.
50% will be refunded if cancelled 10 days (240+ hrs) in advance.
0% refund if cancelled in less than 10 days (240 hours) of the event date and time.
0% refund if the participant drops out, misses bus pickup, does not reach the meeting point on scheduled date and time.
If the event itself gets cancelled, you will be given the option to switch to any other event or any other date, Or you can opt for 100% refund.
The 100% refund is applicable after deduction of third-party cancellation charges i.e. train and stay. The cancellation charges of train tickets and stay need to be paid by the participant. For this event the stay cancellation charges are 500/- and train cancellation charges will be as applicable as per Indian Railways rules.
If you need to reschedule your booking to any other date, it can be done free of cost if the rescheduling request is sent 720 hours prior to the event date and time. From 00 hrs - 720 hours prior to the event date and time, free rescheduling is not permitted. It will be counted as cancellation done in less than 720hours of event date and time. It's a humble request, please do not give medical reasons, crib, argue or try to threaten/blackmail us if you drop out or cancel/reschedule the trek in the last 10 days. This mutually agreed cancellation policy is applicable to you and us as well. The Date and time of cancellation request sent to us will be considered for calculation of the applicable slab given above. The date and time of booking the event are not relevant for calculating the number of days and hours remaining between the event date and cancellation request.