Sikkim Backpacking Trip 2023
Sikkim is a mesmerizing state located in the northeastern region of India. It is surrounded by the mighty Himalayas, with snow-capped peaks, gushing rivers, and lush green valleys.The landscape of Sikkim is diverse, ranging from the subtropical forests in the south to the alpine meadows in the north. Exploring Sikkim can be a once-in-a-lifetime experience, with something for everyone. From adventure activities like trekking, rafting, and paragliding to spiritual experiences like visiting monasteries and meditation retreats, there is something to suit every taste. With its stunning natural beauty, vibrant culture, and warm people, Sikkim is a destination that will leave you with memories to cherish for a lifetime. 
Join us on a tour to Sikkim, it is best travel package customised for Holidays. We'll be visiting Gangtok, Lachen, Chungthang, Thangu Village, Chopta Valley, Gurudongmar Lake, Vimala Waterfalls, Yumthang Valley, Tashi view point, Rumtek Monastery/ Jhakri Falls , Institute of Tibetology, Orchid House, Tsomgo Lake, Pelling. This tour Package from Mumbai is specially designed for people from Mumbai. Tour is safe and suitable for Kids, Families, Couples, Solo, Girls, and Group. 
Travel: Once you book the event we will be assisting you for traveling to meeting point in Bagdogra. The Train and flight tickets to reach Bagdogra from Mumbai can be booked along with the group. 
Sikkim Tour Information

| | |
| --- | --- |
|  Tour Location | Sikkim |
|  Best Time to Visit | Sep to Feb |
|  Difficulty Level | Easy - Tour  |
|  Duration | 6N|7D |
|  Charges/Fees | INR 25500 onwards |
| Batch Size | 20 Participants |
|  Suitable For: | All age groups |
|  Tour Organised by  | Mischief Treks |
|  Category | Group Tour |
6 Nights 7 Days
Available on request
Bagdogra, West Bengal
Highlights
What makes this event special
Experience the highest and biggest freshwater lake, Gurudongmar in Sikkim
Enjoy the scenic alpine flower valley, Yumthang in North Sikkim
Learn about the Buddhist culture and traditions at Namgyal Institute of Tibetology, Sikkim
Experience one of the largest and oldest Rumtek Monastery, Sikkim
Enjoy the picturesque Tsomgo Lake, one of the highest altitude Himalayan Lake.
Experience the border gate between India and China at Nathula Pass
Sikkim Tour By Mischief Treks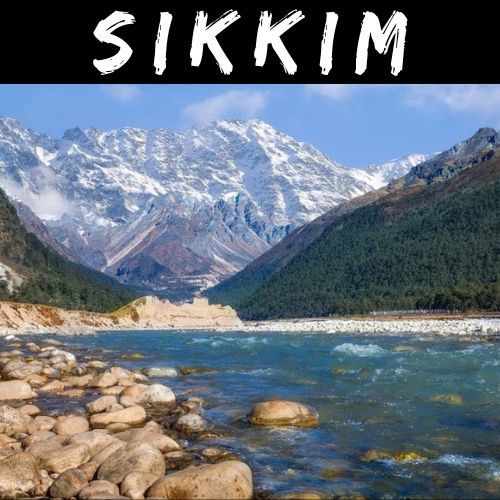 ..
Album link:
Charges for Sikkim Waterfall Trek:
Ex Bagdogra: ₹ 25500
(Adults above 11 Years)
Ex Bagdogra: ₹ 23000
(Kids below 10 Years)
Itinerary
Timeline of the event.
Day 1: 
Bagdogra to Gangtok 
Arrive at Bagdogra Airport or NJP Railway Station by 12:30 PM, where our team will greet you. From there, start our journey with a scenic drive to Gangtok, the capital of Sikkim. After checking into your hotel, take the evening to explore the vibrant streets, shop for local handicrafts, and savor Sikkimese cuisine. Gangtok's lively atmosphere and nightlife offer plenty of options for a delightful evening. Later, return to our hotel for a comfortable overnight stay. Our Sikkim adventure begins here!
Day 2: 
Gangtok to Nathula Pass 
An early morning wake-up call sets the stage for an unforgettable day. Start from Gangtok to Nathula Pass, standing tall at 14,400 feet above sea level, where you'll be mesmerized by snow-clad peaks. Then, Tsomgo Lake, a pristine glacial lake, awaits, its beauty changing with the seasons. Pay your respects at Baba Mandir, a site rich in history and spirituality. As the day concludes, return to Gangtok, where you'll spend another peaceful night at your hotel.
Day 3: 
Gangtok to Lachen
Get ready for another early start with a wake-up call at 4:00 AM. Today, you'll journey from Gangtok to the picturesque town of Lachen, spanning 120 kilometers. Nestled in the Himalayas, Lachen promises serene landscapes and a peaceful retreat. After a day of travel, settle in at your Lachen hotel for a relaxing overnight stay.
Day 4: 
Lachen to Lachung
Set your alarm for a 4:00 AM wake-up call as your journey continues from Lachen to Lachung, covering a scenic 50 kilometers. Lachung, nestled amidst the Himalayas, offers its own unique charm and natural beauty. After a day of exploration, find relaxation at your Lachung hotel, where you'll enjoy a comfortable overnight stay.
Day 5: 
Lachung to Gangtok
Your day starts early with a 4:00 AM wake-up call as you get on a 110-kilometer journey from Lachung back to Gangtok. The road offers captivating views as you descend from the Himalayan heights. Upon your return to Gangtok, settle in at your hotel, where you'll spend a comfortable night, reminiscing about your Sikkim adventure.
Day 6: 
Gangtok to Pelling
Prepare for another early start with a 4:00 AM wake-up call as you journey from Gangtok to Pelling, covering 125 kilometers of scenic terrain. Pelling, known for its stunning views of the Kanchenjunga mountain range, promises a serene escape. After a day of travel, relax and rejuvenate at your Pelling hotel, where you'll spend a peaceful night.
Day 7: 
Pelling to Namchi via Ravangla
Get ready for a 100-kilometer journey from Pelling to Namchi, with a stop in the charming town of Ravangla along the way. As you travel, soak in the stunning Himalayan vistas. Upon reaching Namchi, check in at your hotel for a comfortable overnight stay, continuing your exploration of this beautiful region.
Day 8: 
Namchi to Bagdogra
Your final day begins with a 4:00 AM wake-up call in Namchi. After breakfast, get ready for our last drive on this tour, we start our scenic 100-kilometer drive to Bagdogra. Along the way, savor the last views of the Himalayas and the beautiful landscapes of Sikkim. You'll reach Bagdogra around 2:00 PM. Our team will drop you off at Bagdogra Airport or NJP Railway Station, ensuring a smooth departure for your journey back home. This marks the end of your memorable Sikkim adventure.
Inclusions/Exclusions
What we'll give. What we won't
What is included in the tour
Bagdogra to Bagdogra transportation
Accommodation on Triple Sharing Basis
Breakfast and Dinner 
Entry fees for museums
All Transfers and Sightseeing by Non-Ac Vehicle
All Toll, Parking Fee, Driver Bata & Fuel Cost
All Taxes
What is NOT included in the tour
Lunch are Excluded
Any personal expenses made during the Sikkim backpacking trip
Anything apart from the inclusions
Valid Identity Proof (Passport / Voter ID Card), along with 5 Photocopies for each document.
5 Passport Size Color Photographs
Water Bottles
A light-weighted Haversack or Backpack, and a smaller Day Sack
Good pair of trekking shoes, and a pair of flip-flops
Woolen Gloves, woolen socks, Monkey Cap/Balaclava, Neck Scarf
Thermal Inners
Snow Jackets and Fleece Jackets
Waterproof gloves and windcheater/poncho
Personal clothing (Dressing Moderately is mandatory to visit Monasteries and Dzongs)
Cap, sunglasses, scarf
Camera, Binoculars (Optional)
Toiletries – Sunscreen, Moisturizer, Light towel, Lip balm, Wet wipes, Toothbrush, Toothpaste, Hand Sanitizer
Extra Polythene Bags (To segregate used/ unused garments, wet/ dry clothing)
Any medicines that you consume normally, post consulting a doctor
Mosquito repellent
Snacks & Biscuits to munch on (Optional)
Enerzyl Powder or Glucon D powder
Sorry no more public batch Events available. You could get in touch with us at mischieftreks@gmail.com if you'd like to make a private batch booking.
FAQ - Frequently Asked Questions
Points to Note and FAQ's about Sikkim Tour
Following are the frequently asked questions regarding Tour
Q. How do I get all the details about the tour, like charges, meeting time, pickup time and location, inclusion, exclusion, things to carry, etc? Can someone read it out for me on phone?
Ans. All the details are mentioned on this page itself, once you scroll up you will all info on your screen. Sorry we do not verbally provide details on phone as it usually creates lot of misunderstanding and miscommunication. Also, its extremely important to read and understand all the details before you book the event so that you have absolute clarity. If something mentioned on this page is confusing , you can get clarity on chat by clicking on chat with us button on top. To discuss things that are not mentioned on this website we can arrange a callback from one of our Tour leaders.
Q. I have booked/paid for the event, is my booking confirmed for the event?
Ans. No !, your booking can become invalid if you do not submit the "Most Important Details" required for emergency situations. For any Trek/Adventure event the organizers need to have your details at least 24 hours prior to the event. We do not allow anyone to the campsite until we have complete and authentic details of the person. This info is crucial in case of an emergency and is a mandatory KYC parameter. The link for the "personal details form" will be sent on WhatsApp immediately after you complete the booking instructions mentioned on the website. Submitting incomplete/incorrect/fake details in the form will make your booking invalid and no refund will be provided in such case.
Q. Why is submitting emergency contact details and KYC information mandatory?
Ans. Its a standard protocol and also a guideline by Govt of India. We are accountable for every "Human-Body" present at our campsite or trek is our responsibility and in case of any unfortunate event we will be asked by authorities to provide all relevant information about you. In order to comply with the authorities we have to take authentic information from you. Fake/Incomplete information or non-submission of the details will make your ticket (paid amount) invalid and no refund will be provided in such case. You will not be allowed to participate in the event.
Q. If I have opted for "with transport", which vehicle will be provided?
Ans. Transport from travel city is generally provided by bus. The bus capacity varies with reference to participant count. 17 seater, 26 Seater, 32 seater etc .. , if the participant count is low we may opt for Qualis/Sumo/ Tavera for transport
Q. Does the cancellation policy/rescheduling policy apply to me if I book on event day or last day?
Ans: Yes, the policy is applicable irrespective of the booking date. The cancellation / reschedule policy is applicable to everyone with immediate effect from the date and time of booking. The refunds/rescheduling requests will be processed based on the date and time of cancellation/reschedule request sent to us and the date and time of booking the event are irrelevant.
Q. What is the basis of cancellation/reschedule policy in case of medical or personal emergency of participant or organizing team?
Ans: The cancellation policy is based on fairness towards the participant and the organizing team. In case of medical/personal emergency, the loss arising out of cancellation/reschedule will be borne by the respective person. i.e. if the organizing team faces an emergency situation and the event gets canceled, the participant will not have to suffer financial loss. Similarly, if the participant faces an emergency situation, the organizing team will not have to suffer financial loss. The cancellation policy is designed with a completely unbiased approach towards the participant and organizing team and is aimed at fairness towards both.
Q. What if there is an issue with transport, i.e. the bus breaks down, AC is not working, tyre gets punctured? will we get a refund?
Ans. Mischief Treks as a team conducts treks/tours only. All the support functions like transport, food etc are sourced from various other vendors to help the participants have it streamlined. Equipment failure can happen any time with any piece of machinery and we can try to get a replacement/repair from the vendor. This may consume time and the trek/tour leader may decide to continue the event as deemed fit to get the event completed. We as well as the participants have to bare with it. There are no refunds possible in such case. The Trek/Tour leader's decision to terminate the event or continue the event with available resources will be final and binding.
Q. How many people will be coming for the tour?
Ans. Depends on the number of people booking the event. Generally, the batch size is approximately 20-25 participants.
Q. Is Tour safe for solo participants?
Ans. Yes is safe and comfortable. Mostly 40% of the participants come solo and blend in with the leaders and the rest of the group.
Q. Is this tour safe for girls?
Ans. Mischief Treks has a track record of making our events extremely safe for girls. Normally 60 – 75 % of our participants are females.
Q. Can we pay in cash or installment ?
Ans. Sorry we do not accept cash payments. There are no installment scheme.
Q. What is the last date of booking the event?
Ans. Bookings close once tickets are sold out. Ideally you need to book atleast 1 month advance.
Q. How should I book the event?
Ans. All you have to do is press the book now button on this page and follow the instructions.
Q. How do we get in touch after reaching meeting point?
Ans. We will be creating a whatsapp group for coordination where you will be provided all the necessary information regarding contact person, exact point to meet etc..
Q. Will we be returning at exact time mentioned in the itinerary?
Ans. The Itinerary is for reference purpose only, it is based on average time taken during our previous events. Actual timeline for a particular date depends on Weather conditions, Traffic Conditions, Participants speed and endurance.
⭐⭐⭐⭐⭐
Aggregate Rating: 4.85 out of 5
Rating count: 2431
Bagdogra International Airport, Bagdogra, West Bengal, India
View on Map
Cancellation, Rescheduling And Refund Policy
90% will be refunded if cancelled 30 days (720+ hrs) in advance.
75% will be refunded if cancelled 20 days (480+ hrs) in advance.
50% will be refunded if cancelled 10 days (240+ hrs) in advance.
0% refund if cancelled in less than 10 days (240 hours) of the event date and time.
0% refund if the participant drops out, misses bus pickup, does not reach the meeting point on scheduled date and time.
If the event itself gets cancelled, you will be given the option to switch to any other event or any other date, Or you can opt for 100% refund.
The 100% refund is applicable after deduction of third-party cancellation charges i.e. train and stay. The cancellation charges of train tickets and stay need to be paid by the participant. For this event the stay cancellation charges are 500/- and train cancellation charges will be as applicable as per Indian Railways rules.
If you need to reschedule your booking to any other date, it can be done free of cost if the rescheduling request is sent 720 hours prior to the event date and time. From 00 hrs - 720 hours prior to the event date and time, free rescheduling is not permitted. It will be counted as cancellation done in less than 720hours of event date and time. It's a humble request, please do not give medical reasons, crib, argue or try to threaten/blackmail us if you drop out or cancel/reschedule the trek in the last 10 days. This mutually agreed cancellation policy is applicable to you and us as well. The Date and time of cancellation request sent to us will be considered for calculation of the applicable slab given above. The date and time of booking the event are not relevant for calculating the number of days and hours remaining between the event date and cancellation request.