Mumbai to Hampi Backpacking Trip
Join us from Mumbai to Hampi Backpacking Trip including AC Sleeper Bus Tour Package to the Heritage locations with stay in best Resort/Hotel/Hostel. Get ready for an enchanting journey through the historic and mystical land of Hampi. Our guided tour takes you on an exploration of the iconic Virupaksha Temple, the mysterious Underground Temple, the breathtaking views from Hemakuta Hills, and the ancient charm of Hampi Bazaar. Enjoy an adrenaline rush with cliff jumping and a serene Coracle Ride. Delve into the history at the Kings Balance, Stone Car, and Monolithic Nandi. Marvel at the architecture of Vitthal Temple, Badavi Lingam, and Lotus Mahal. Discover the rich heritage of the Elephant Stables, Hajari Rama Temple, and the Watch Tower. Hampi is waiting to reveal its treasures, and we're ready to guide you through this extraordinary experience
Also check:
Other plans and tour packages for Hampi on link below 
https://www.mischieftreks.com/collections/hampi-tour-packages-and-group-tour-karnataka
3 Nights 3 Days
12 Jan, 09 Feb, 23 Feb, and more
Hampi, Karnataka
Highlights
What makes this event special
Ancient Ruins: Explore the awe-inspiring ruins of the Vijayanagara Empire, a UNESCO World Heritage Site.
Virupaksha Temple: Visit this beautiful temple dedicated to Lord Shiva, which is still in use after centuries.
Hampi Bazaar: Stroll through the bustling market area with a vibrant atmosphere and an array of local goods.
Hemakuta Hill: Hike up for panoramic views of the city and its stunning rock formations.
Achyutaraya Temple: Admire the intricate architecture and stunning carvings of this temple.
Vijaya Vittala Temple: Witness the iconic stone chariot and musical pillars in this incredible temple complex.
Lotus Palace: Discover the lotus-shaped palace known for its graceful architecture.
Queen's Bath: Explore the grand royal bathing complex that reflects the opulence of the past.
Local Cuisine: Savor traditional South Indian dishes and local specialties in Hampi.
Coracle Ride on Tungabhadra River: Enjoy a unique boat ride in circular vessels on the river.
Mumbai to Hampi Trip Package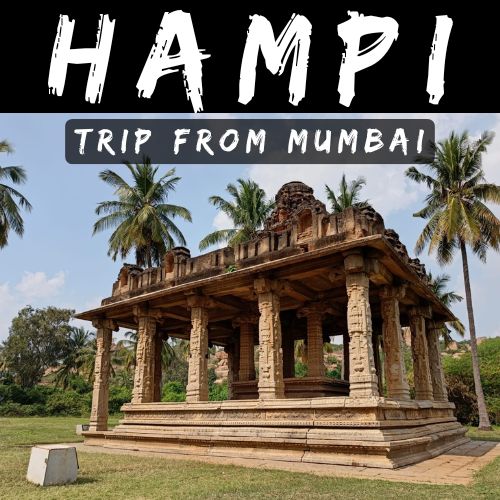 Photo Album Link: Click here for Photo Album of Hampi Tour
Charges:
From Hospet: ₹ 4,999.00 per person
With Sleeper Bus from Mumbai: ₹ 8,999.00 per person
Twin Sharing: ₹ 500 per person extra
Partial Payment: Reserve your seat at just ₹2000/- and pay the rest 25 days before the trip date.
| Date | Time | Status |
| --- | --- | --- |
| 12-Jan-2024 | 03:30 PM | Available |
| 09-Feb-2024 | 03:30 PM | Available |
The Event dates mentioned above are for the travel starting from Mumbai.
Itinerary
Timeline of the event.
Day 1: Mumbai to Hampi Trip 
The adventure begins as we set out for Hampi from our respective pick-up points. Buckle up and get ready for the road trip of a lifetime, filled with laughter and stories. Check out the Bus pickup timing starting from Borivali at 03:30 PM in sleeper AC Bus. 
Day 2: Arrival at Hampi | Hippie Island Experience
We arrive in Hospet around 9:00 AM, just in time for a hearty breakfast.
After fueling up, we head to Hippie Island. Check-in at our hotel and drop off your bags. It's time to explore!
First stop: the Lake viewpoint for some breathtaking scenery. For the adrenaline junkies among us, there's cliff jumping – a thrilling way to wake up your adventurous spirit.
Next, we embark on a unique coracle ride, visiting Anegundi village to get a taste of the local culture.
As the day comes to a close, we'll take a short hike to Bala Hanuman Temple, where you'll witness a mesmerizing sunset.
The night is for music, dance, and making new friends at the hotel or homestay. Who says adventures can't be comfy too? Overnight stay.
Day 3: Exploring Hampi's Treasures
Rise and shine! After a delightful breakfast, we check out by 07:30 hrs to kick off a day of exploration.
We start at Hampi Bazaar, followed by Hemakuta Hills, where ancient history and stunning views come together.
Next up, we'll visit the majestic Virupaksha temple, marvel at the colossal Monolithic Nandi, and discover the intriguing Kings Balance.
Our journey continues with stops at the Stone Car, Vitthal Temple, Badavi Lingam, Ugranarsimha, and the mysterious Underground Temple.
You'll also get to see Pushkarni, the graceful Lotus Mahal, Elephant Stables, Hajari Rama Temple, and the Watch Tower for panoramic views.
At 5 PM, it's time to wrap up our Hampi adventure. You'll be heading back to your hometowns with memories to last a lifetime.
Day 4: Return to Mumbai
We return to Mumbai around 9:00 AM, bringing back not just souvenirs but also the priceless memories of our incredible journey. Until the next adventure calls!
Inclusions/Exclusions
What we'll give. What we won't
What is included in the tour
Transportation in Sleeper buses from Mumbai
Transportation from Hospet to Hampi
2 days sightseeing tour
Accommodation (Twin Sharing: ₹ 500 per person extra)
Entry charges to the monuments
Breakfast for day 2
Coracle ride
Cliff Jump
Local travel for sightseeing.
Bike Rental charges
1 litre petrol
All internal transfers
What is NOT included in the tour
Personal expenses.
Any other expenses not mentioned in the inclusions.
Identity Proof (must)
Torch with extra battery (Must)
Extra pair of clothes
Camera / Scarf / Towel / Sunglasses / Slippers
Some ready-to-eat food. Plum cakes, Biscuits etc.
Medicine that you require usually (We do have a basic first aid kit)
Please avoid wearing Gold and other ornaments or carrying precious items.
AC Sleeper Bus Timetable for Mumbai to Hampi Trip

Bus Pickup
Timings From
Mumbai to
Hampi

3:30 pm Borivali
3:35 pm Kandivali
3:40 pm Malad
3:45 pm Goregaon
3:50 pm Jogeshwari
4:10 pm Andheri
4:15 pm Vile Parle
4:20 pm Santacruz
4:25 pm Bandra
5:00 pm Sion Chunabatti
5:10 pm Chembur
5:20 pm Vashi
5:25 pm Sanpada
5:30 pm Juinagar
5:35 pm Nerul
5:40 pm Belapur
5:45 pm Kharghar
5:50 pm Kalamboli
5:15 pm Khalapur Toll Naka
Coordination:
We will be creating a WhatsApp group 3 days prior to the event date for coordination and final instructions. The batch coordinator will be carrying all train tickets and will meet you at the train station. Please keep in mind that the pickup points may change based on the transportation company rules. Its just like hiring ola/uber. This is just a help we offer to make your travel more convenient.
Stay
Stay at Hampi is on Triple sharing basis at Whispering Rocks
Location: Hampi, Karnataka
Google Map Link:
https://maps.app.goo.gl/sHpzSM9PeeF1CoMH6
How to reach Hampi:
To get accurate travel info for reaching Hampi as well as driving directions follow below mentioned steps
Open Google search tab
Type the following words in the search window "My location to Hampi Karnataka distance"
You shall get the exact time required to travel, modes of travel, and distance (kilometers) from your location.
The distance from Mumbai to Hampi is 745 km which takes around 13 Hours 15 minutes to reach by road.
FAQ - Frequently Asked Questions
Points to Note and FAQ's about Mumbai to Hampi Backpacking Trip
Following are the frequently asked questions regarding Hampi Tour
Q. I have booked/paid for the event, is my booking confirmed for the event?
Ans. No !, your booking can become invalid if you do not submit the "Most Important Details" required for emergency situations. For any Tour event the organizers need to have your details at least 48 hours prior to the event. We do not allow anyone to the event until we have complete and authentic details of the person. This info is crucial in case of an emergency and is a mandatory KYC parameter. The link for the "personal details form" will be sent on WhatsApp immediately after you complete the booking instructions mentioned on the website. Submitting incomplete/incorrect/fake details in the form will make your booking invalid and no refund will be provided in such case.
Q. Why is submitting emergency contact details and KYC information mandatory?
Ans. Its a standard protocol and also a guideline by Govt of India. We are accountable for every "Human-Body" present at our campsite or trek is our responsibility and in case of any unfortunate event we will be asked by authorities to provide all relevant information about you. In order to comply with the authorities we have to take authentic information from you. Fake/Incomplete information or non-submission of the details will make your ticket (paid amount) invalid and no refund will be provided in such case. You will not be allowed to participate in the event.
Q. Does the cancellation policy/rescheduling policy apply to me if I book on Hampi Tour event day or last day?
Ans: Yes, the policy is applicable irrespective of the booking date. The cancellation / reschedule policy is applicable to everyone with immediate effect from the date and time of booking. The refunds/rescheduling requests will be processed based on the date and time of cancellation/reschedule request sent to us and the date and time of booking the event are irrelevant.
Q. What is the basis of cancellation/reschedule policy in case of medical or personal emergency of participant or organizing team?
Ans: The cancellation policy is based on fairness towards the participant and the organizing team. In case of medical/personal emergency, the loss arising out of cancellation/reschedule will be borne by the respective person. i.e. if the organizing team faces an emergency situation and the event gets canceled, the participant will not have to suffer financial loss. Similarly, if the participant faces an emergency situation, the organizing team will not have to suffer financial loss. The cancellation policy is designed with a completely unbiased approach towards the participant and organizing team and is aimed at fairness towards both.
Q. What if there is an issue with transport, i.e. the bus breaks down, AC is not working, tyre gets punctured? will we get a refund?
Ans. Mischief Treks as a team conducts treks/tours only. All the support functions like transport, food etc are sourced from various other vendors to help the participants have it streamlined. Equipment failure can happen any time with any piece of machinery and we can try to get a replacement/repair from the vendor. This may consume time and the trek/tour leader may decide to continue the event as deemed fit to get the event completed. We as well as the participants have to bare with it. There are no refunds possible in such case. The Trek/Tour leader's decision to terminate the event or continue the event with available resources will be final and binding.
Q. Can someone read out details for me on phone?
Ans. We understand that you may have questions about the event, and we're here to help. However, we want to ensure that you have the most accurate and clear information. That's why we encourage you to at least once Read the details on this page. You'll find all the information you need to know, right on your screen.
If you find something on this page that is confusing, or not mentioned on the page, Click on the "WhatsApp icon on this page" and our team will be happy to provide clarification in writing.
We don't provide details over the phone because doing so can lead to misunderstandings and miscommunication. To avoid situations like "Mujhe laga ki aap ne aaise bola tha" or "Mujhe phone pe 10 baate bataai, to phir ye 4 point kyu nahi bataye" it's recommended to once check for clarification provided on this page. It's crucial to have a complete understanding of all the aspects of this event before making a booking to ensure you have absolute clarity.
For any questions or concerns that aren't covered on this website, we can arrange a callback from one of our experienced Trek leaders. All you need to do is, let us know your query (which is not already clarified on this page) and we shall get a callback arranged.
Q. Can we make partial payment or pay in installment for Hampi Tour?
Ans. You can opt for partial payment if you book in advance. Balance payment needs to be paid at least 20 days prior to event date and time.
Q. How many people will be coming for Hampi Tour?
Ans. Depends on the number of people booking the event. Generally, the batch size is approximately 20-25 participants.
Q. Is Tour safe for solo Hampi Tour?
Ans. Yes is safe and comfortable. Mostly 40% of the participants come solo and blend in with the leaders and the rest of the group.
Q. Is Hampi Tour safe for girls?
Ans. Mischief Treks has a track record of making our events extremely safe for girls. Normally 60 – 75 % of our participants are females.
Q. Can we pay in cash for Hampi Tour?
Ans. Sorry we do not accept cash payments.
Q. What is the last date of booking Hampi Tour?
Ans. Bookings close once tickets are sold out. Ideally you need to book atleast 1 month advance.
Q. How should I book Hampi Tour?
Ans. All you have to do is press the book now button on this page and follow the instructions.
Q. How do we get in touch after reaching meeting point?
Ans. We will be creating a whatsapp group for coordination where you will be provided all the necessary information regarding contact person, exact point to meet etc..
Q. Will we be returning at exact time mentioned in the itinerary?
Ans. The Itinerary is for reference purpose only, it is based on average time taken during our previous events. Actual timeline for a particular date depends on Weather conditions, Traffic Conditions, Participants speed and endurance.
⭐⭐⭐⭐⭐
Aggregate Rating: 4.85 out of 5
Rating count: 2431
Update as on November 20, 2023: Weather conditions at Hampi
The weather in the month of November is pleasant, the night breeze is getting colder as we approach the month of December. The climate is getting colder, The visibility is clear and night sky looks splendid. Average temperature for the night is expected to be around 26°C. Chance of rain 0%. The long weekend dates November 24-27, 2023 will be peak dates for this tour. One needs to get the bookings confirmed well in advance to avoid missing out on slots.
Hampi, Karnataka, India. Postal Code 583239
View on Map
Cancellation, Rescheduling And Refund Policy
90% will be refunded if cancelled 30 days (720+ hrs) in advance.
75% will be refunded if cancelled 20 days (480+ hrs) in advance.
50% will be refunded if cancelled 10 days (240+ hrs) in advance.
0% refund if cancelled in less than 10 days (240 hours) of the event date and time.
0% refund if the participant drops out, misses bus pickup, does not reach the meeting point on scheduled date and time.
Cancellation based on External Factors like Weather, Train, or Natural Calamities.
The calculation will be based on total tour cost that you have booked. Incase you have paid only a partial amount, the partial payment (if any) is not taken into consideration for calculating refund percentage based on total tour cost.
If the event itself gets cancelled by Mischief Treks, The participant will be given the option to switch to any other event or any other date, Or you can opt for 100% refund. No charges will be deducted and the Participant will gets full refund of the amount paid by him/her.
If the Participant has initiated the cancellation request, The percentage of refund is applicable after deduction of third-party cancellation charges i.e. bus and stay. The cancellation charges of bus tickets and stay need to be paid by the participant. For this event the stay cancellation charges are 1500/- per person and bus cancellation charges will be as applicable as per Transport/Travels company rules.
Based on availability the Participant may be provided an option to reschedule the tour for a later date. The Rescheduling will be done as per residual amount after deducting stay cancellation charges and this would require differential charges to be paid by the participant.
Rescheduling request by Participant
If you need to reschedule your booking to any other date, it can be done after paying cancellation charges for stay and travel, booked for the given date.
Rescheduling can only be done based on availability for the given date.
NOTE: Please do not book this event if you do not agree to the terms and details mentioned on this page. This mutually agreed cancellation policy is applicable to the participant and us as well. The Date and time of cancellation request sent to us will be considered for calculation of the applicable slab given above. The date and time of booking the event are not relevant for calculating the number of days and hours remaining between the event date and cancellation request. It's a humble request, please do not give medical reasons, crib, argue, or try to threaten/blackmail us for refunds if YOU drop out or cancel/reschedule the trek due to the situation at your end .
The basis of the cancelation policy is to protect the participant and the organizers from undue financial losses arising out of unforeseen situations. If the event gets canceled due to the medical/personal emergency of the organising team member, the participants will not have to suffer financial loss. Similarly, if there is a medical/personal emergency at the participant's end, the organizing team will not have to suffer financial loss.