Garbett Plateau Trek Matheran
Nestled amidst the picturesque hills of the Western Ghats, this trek offers a perfect blend of adventure, natural beauty, and historical significance. As you ascend the rugged trails, you'll be greeted by panoramic views of the surrounding valleys and lush greenery. The monsoon season adds a touch of magic to the trek, with mist-covered landscapes and cascading waterfalls creating a breathtaking ambiance. Garbett point is located on the South-west side of Matheran with a grand view of the plateau. The place is cool and pleasant even when the scorching sun raises the temperature in Mumbai. Deep forest runs through the Matheran, which covers approx 8 sq Kms in the Sahyadris. This Trek is one of the best treks for Monsoon Season. Join us for this adventurous trek filled with beautiful streams, lush green forest, and Mesmerizing View.  
The best time to visit Garbett Plateau for a day trek is June-October. At a short distance from Mumbai with Easy-beginner difficulty its suits all age groups. Its safe and suitable for girls, women, and solo travelers. Other popular locations are One Tree Hill, Echo Point, Khandala Point, Kalanantin, Sondai, Irshalgad, Bhivpuri
One Day Trek
Available on request
Garbett Plateau, Maharashtra
Highlights
What makes this event special
The thrill of walking through a forest 
View the Garbett point is bliss
360 degree view of Matheran
Dhom Lake traverse 
Photography - be ready to get clicked.
All the "Masti" which is a USP of Mischief Treks. 
Garbett Plateau In Matheran Trek By Mischief Treks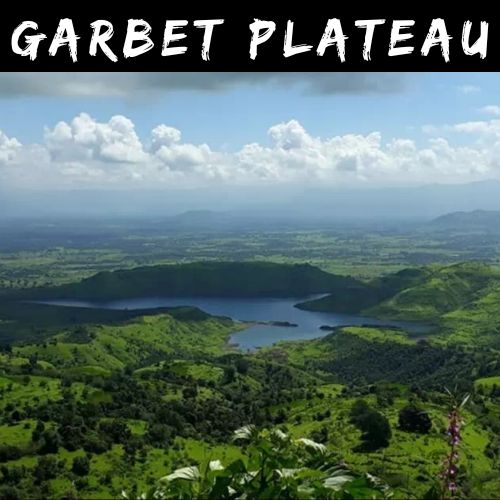 ...
Charges for Garbett Plateau Trek:
Per Person: ₹750
​...
Garbett Plateau Trek Information

| | |
| --- | --- |
| Height/Altitude | 800 Meters (2625 feet) |
| Base Village | Diksal | Ashane |
| Best Time to Visit | June to October |
| Difficulty Level | Easy |
| Garbett Plateau Trek Distance | 6 Kilometers |
| Duration | 5 hours |
| Charges/Fees | INR 750 onwards |
| Batch Size | 25 Participants |
| Trek Organised by | Mischief Treks |
Itinerary
Timeline of the event.
Meeting Point:
Train Pickup: Bhivpuri - 07:58 am
Self Drive: Those coming by own car need to reach Bhivpuri Station Meeting Point by 07:45 am and join us from there for a walk to reach base village. (Those travelling by own vehicle to the base village).  
Three hours prior to the event date and time, we will be creating a WhatsApp group for coordination purposes. Exact GPS locations for each pickup point, coordinator contact,  etc will be shared in the group. 
Train Timetable:  
Catch Karjat Fast Local Train from your nearest Station.
06:10 am CSMT 
06:24 am Dadar
06:31 am Kurla
06:35 am Ghatkopar
06:49 am Thane 
07:05 am Dombivali 
07:15 am Kalyan
07:58 am Bhivpuri
Garbett Plateau Trek Schedule:
The train is expected to reach Bhivpuri station at 07:58 am. Once the Train reaches, the Trek Leader from Mischief Treks will meet you at the station at 08:00 am and the group will move out and have Breakfast nearby station.
Post Breakfast we will start walking towards our trek starting point which is at 10/15 mins walk from the breakfast stop.
We'll reach our Garbett Plateau trek starting point by 08:45 am, Once we reach there we shall have a short safety and introduction round and start the trek by 09:00 am. 
We will be walking through the Lush green forest region to reach Garbett Plateau by 01:00 pm.
Then we'll have Dabba Party at Garbett plateau and then move towards Garbett point by 01:45 pm
We'll be reaching Garbett point by 02:45 pm and witness beautiful panoramic view of Matheran.
By 03:15 pm we will start our Descend, reach Dasturi Naka and continue our journey to Neral station, We'll be reaching Neral by approx 05:00 pm.
Once we reach we'll be continuing our return journey to Mumbai via Train.
Inclusions/Exclusions
What we'll give. What we won't
What is included in the tour
Dasturi Naka to Neral - Transportation 
Breakfast and Tea
Entry Charges
Govt / Local Body Charges as applicable
Trek expertise charges
Basic First Aid
What is NOT included in the tour
Bottled water.
Any other expenses that are not mentioned above in inclusion section.
Any emergency evacuations/rescue (if required)
Identity proof.
Reliable shoes with good grip and extra pair of floaters.
Water (minimum 3 Ltrs) Compulsory.
Rain gear - windcheater/raincoat/poncho.
Keep your phone fully charged.
Mosquito repellent (optional)
Some ready-to-eat food like biscuits, plum cake, etc to keep your tummy happy.
Medicines (if you need any), Glucon D / Electrol / Enerzyl Powder (We will have a basic first aid kit with us).
A haversack to put all your things. Your hands need to be free while trekking.
And most imp thing, carry lot of enthusiasm and team spirit.
Sorry no more public batch Events available. You could get in touch with us at mischieftreks@gmail.com if you'd like to make a private batch booking.
Please do not apply to join our group if the terms and details mentioned on this page are not agreeable to you.
Fitness: Please make sure you are Physically Fit to complete the event and BEFORE Booking you have gone through all the details, FAQ, Points to note, About Us, and Disclaimer.
Food: The food during the event is home cooked food provided by local villagers living in tribal (Aadivasi) region. If you are choosy, cranky and grumpy about food, please avoid joining this event.
Transport: Mischief treks does not own busses, Jeeps, Trains, or Flight. The transport options are hired by us just like people hire Ola/Uber/Auto/Taxi/Train. Any issues regarding the transport vehicles need to be addressed to concerned transport service provider. Pickup-and-Drop for the event is arranged only as "help" towards common means to travel together, Mischief Treks does not provide transport services or takes any liability regarding the same. Our role and responsibility starts from base village where the trek conducted by us begins.
Trekking Shoes: Wear reliable shoes with good grip, the sole of the shoe gets ripped off if the shoe is not in good condition.
About us: Don't forget to check the About-Us page if you are new to trekking in Maharashtra.
Punctuality: In any adventure or sport event punctuality and discipline is utmost important. If you are late in catching the train/bus/cab, you will miss-out the pickup and will be considered dropout. If you are travelling in your vehicle, you may miss joining the group you are late. This is a group event and will not be personalized as per your timing.
Discounts: To be honest, Discounts and coupon codes are just a marketing trick to fool people. No one offers something below the pre-decided rate slab. The charges on website haven't yet been adjusted (inflated) to provide for discounts. Mentioned amount is the lowest actual charges and hence discounts are currently not possible. Each organiser charges a certain amount based on his understanding regarding 'Worth' of his own event.
Batch Size: We Do-Not conduct trek with 100-150 people in the group. Our batch size is limited and we prefer to have a Non-Crowded group for safety reasons.
KYC Form: Once you have paid for the event you will receive a KYC form on WhatsApp as soon as your payment is verified by system. You need to submit this form within 3 hours of receiving the form. If you have booked for your friends too, you need to ask each of your friend to get this done. If you are booking just 1 day prior to event, the form needs to be submitted immediately to avoid any inconvenience (Refer FAQ section below)
CAUTION: Please be aware that even the easiest trek is fundamentally a "Trek," not a Tour, Hike, or Picnic. It's crucial to understand that an unfit individual might struggle to complete even half of an easy trek. Based on our prior experiences, an unfit person might perceive an easy-grade trek as the most difficult trek. Prior to making a booking for the event, ensure that you are in good physical and mental condition for trekking.
​To understand What is Trek ( click here )
FAQ - Frequently Asked Questions
Points to Note and FAQ's For Garbett Plateau Trek
Q. How do I get all the details about the trek, like charges, meeting time, pickup time and location, inclusion, exclusion, things to carry, etc? Can someone read it out for me on phone?
Ans. All the details are mentioned on this page itself, once you scroll up you will all info on your screen. Sorry we do not verbally provide details on phone as it usually creates lot of misunderstanding and miscommunication. Also, its extremely important to read and understand all the details before you book the event so that you have absolute clarity. If something mentioned on this page is confusing , you can get clarity on chat by clicking on chat with us button on top. To discuss things that are not mentioned on this website we can arrange a callback from one of our trek leaders.
Q: I have booked/paid for the event, is my booking confirmed for the event?
Ans. No !, your booking can become invalid if you do not submit the "Most Important Details" required for emergency situations. For any Trek/Adventure event the organizers need to have your details at least 24 hours prior to the event. We do not allow anyone to the campsite until we have complete and authentic details of the person. This info is crucial in case of an emergency and is a mandatory KYC parameter. The link for the "personal details form" will be sent on WhatsApp immediately after you complete the booking instructions mentioned on the website. Submitting incomplete/incorrect/fake details in the form will make your booking invalid and no refund will be provided in such case.
Q. Why is submitting emergency contact details and KYC information mandatory?
Ans. Its a standard protocol and also a guideline by Govt of India. We are accountable for every "Human-Body" present at our campsite or trek is our responsibility and in case of any unfortunate event we will be asked by authorities to provide all relevant information about you. In order to comply with the authorities we have to take authentic information from you. Fake/Incomplete information or non-submission of the details will make your ticket (paid amount) invalid and no refund will be provided in such case. You will not be allowed to participate in the event.
Q. If I have opted for "with transport", which vehicle will be provided?
Ans. Transport from Mumbai is generally provided by bus. The bus capacity varies with reference to participant count. 17 seater, 26 Seater, 32 seater etc .. , if the participant count is low we may opt for Qualis/Sumo/ Tavera for transport
Q. Does the cancellation policy/rescheduling policy apply to me if I book on event day or last day?
Ans: Yes, the policy is applicable irrespective of the booking date. The cancellation / reschedule policy is applicable to everyone with immediate effect from the date and time of booking. The refunds/rescheduling requests will be processed based on the date and time of cancellation/reschedule request sent to us and the date and time of booking the event are irrelevant.
Q. What is the basis of cancellation/reschedule policy in case of medical or personal emergency of participant or organizing team?
Ans: The cancellation policy is based on fairness towards the participant and the organizing team. In case of medical/personal emergency, the loss arising out of cancellation/reschedule will be borne by the respective person. i.e. if the organizing team faces an emergency situation and the event gets canceled, the participant will not have to suffer financial loss. Similarly, if the participant faces an emergency situation, the organizing team will not have to suffer financial loss. The cancellation policy is designed with a completely unbiased approach towards the participant and organizing team and is aimed at fairness towards both.
Q. What if there is an issue with transport, i.e. the bus breaks down, AC is not working, tyre gets punctured? will we get a refund?
Ans. Mischief Treks as a team conducts treks only. All the support functions like transport, food etc are sourced from various other vendors to help the participants have it streamlined. Equipment failure can happen any time with any piece of machinery and we can try to get a replacement/repair from the vendor. This may consume time and the trek leader may decide to continue the trek as deemed fit to get the event completed. We as well as the participants have to bare with it. There are no refunds possible in such case. The Trek leader's decision to terminate the trek or continue the trek with available resources will be final and binding.
Q. We are coming by our own vehicle for the event, where should we reach for Garbett Plateau Trek?
Ans. You need to reach the Meeting point at scheduled meeting time. This is where we will be meeting, from here you can follow our vehicles. You will be given exact coordinates after you finish booking formalities. We will be creating a WhatsApp group for coordination, you will be provided all relevant details in the group. Please do not be late, we cannot keep other participants waiting. If you are not able to reach on time you will be considered a Drop-Out and no refund will be provided in such case.
Q. How many people will be coming for Garbett Plateau Trek?
Ans. Depends on the number of people booking the event. Generally, the batch size is approximately 20-25 participants. It is a Public place and we have no access to data on other organizers' bookings hence we cannot comment on the exact number of people planning to visit this place on a given date.
Q. Can kids participate in Garbett Plateau Trek?
Ans. Age does not matter, Fitness and adaptation is extremely Important. Once we had a 4 year old girl who completed entire trek easily, and sometimes even 22-25 year old people cant complete 10% of the event . If you are planning to trek with a kid , I recommend you to go through this Check this Blog: https://www.mischieftreks.com/can-kids-trek-in-maharashtra
Q. Is Garbett Plateau Trek safe for solo participants?
Ans. Yes Trek is safe and comfortable. Mostly 40% of the participants come solo and blend in with the trek leaders and the rest of the group.
Q. Is Garbett Plateau Trek safe for girls?
Ans. Mischief Treks has a track record of making our trekking and camping events extremely safe for girls. Normally 60 – 75 % of our participants are females. Apart from standard risks of any adventure activity, Mischief Treks events are safe for girls, women, kids and especially Men.
Q. How long is the Garbett Plateau Trek?
Ans. Normally it takes two hours to ascend and two hours to descend.
Q. Can we pay in cash or installment for Garbett Plateau Trek?
Ans. Sorry we do not accept cash payments. For installment scheme you will have to pay one-time processing fee of Rs.500 per person.
Q. What is the last date of booking the Garbett Plateau Trek?
Ans. Bookings close once tickets are sold out. Ideally you need to book atleast 2-3 days in advance.
Q. How should I book the Garbett Plateau Trek?
Ans. All you have to do is press the book now button on this page and follow the instructions.
Q. How do we get in touch after reaching meeting point?
Ans. We will be creating a whatsapp group for coordination where you will be provided all the necessary information regarding contact person, exact point to meet etc..
Q. Will we be returning at exact time mentioned in the itinerary?
Ans. The Itinerary is for reference purpose only, it is based on average time taken during our previous events. Actual timeline for a particular date depends on Weather conditions, Traffic Conditions, Participants speed and endurance.
⭐⭐⭐⭐⭐
Aggregate Rating: 4.85 out of 5
Rating count: 2431
---
Events by Mischief Treks
---
September, 2023 Update: Weather conditions at Garbett Plateau Trek
The weather in the month of September is pleasant, slight drizzle is expected late at night. The visibility is clear and night sky looks splendid. Average temperature for the day expected to be around 28°C. Chance of rain 20%.
Garbett Plateau, Sondewadi, Maharashtra, India
View on Map
Cancellation, Rescheduling And Refund Policy
90% will be refunded if canceled 15 days (360+ hrs) in advance.
75% will be refunded if canceled 10 days (240+ hrs) in advance.
50% will be refunded if canceled 05 days (120+ hrs) in advance.
0% refund if canceled in less than 05 days (120 hours) of the event date and time.
0% refund if the participant drops out, misses bus pickup, or does not reach the meeting point on the scheduled date and time.
If the event itself gets canceled, you will be given the option to switch to any other event or any other date, Or you can opt for 100% refund. If you need to cancel your current booking and/or reschedule your booking to any other date, it can be done free of cost if the rescheduling request is sent 120 hours prior to the trek. From 0hrs - 120 hours prior to the trek date and time free rescheduling is not permitted. It will be counted as cancellation done in less than 120hours the of event date and time. It's a humble request, please do not give medical reasons, crib, argue or try to blackmail us if you drop out or cancel/reschedule the trek in the last 5days. The basis of the cancelation policy is to protect the participant and the organizers from undue financial losses arising out of unforeseen situations. If the event gets canceled due to the medical/personal emergency of the organising team member, the participants will not have to suffer financial loss. Similarly, if there is a medical/personal emergency at the participant's end, the organizing team will not have to suffer financial loss.